"The best instruction happens when a caring, skilled instructor uses every resource at his or her disposal to help students learn — including the power of technology. …Technology empowers teachers like never before to support their personal mission of providing the best possible education to their students."
— U.S. Secretary of Education Arne Duncan
As more and more teachers turn to computers, software and the Internet to augment their lesson plans, many are already benefiting from new technologies spawned by the Digital Promise initiative.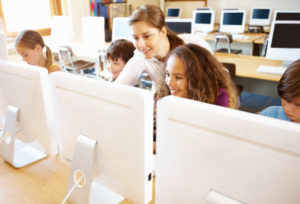 What It's About
As described in its bipartisan charter, Digital Promise is a non-profit corporation authorized by Congress "to support a comprehensive research and development program to harness the increasing capacity of advanced information and digital technologies to improve all levels of learning and education, formal and informal, in order to provide Americans with the knowledge and skills needed to compete in the global economy."
Key Elements of the Initiative
To identify breakthroughs and cutting-edge technologies. The Digital Promise national research center will partner with tech firms, developers and educators to identify new trends in learning and determine how best to integrate these trends into technology platforms.
Finding out quickly what works and what doesn't. While Internet startups take only months to establish and upgrade their services, research and development cycles in education can take years to complete, which often means that by the time a particular technology is fully implemented, it's already obsolete. A major component of Digital Promise is to establish faster, more efficient methods for evaluating and debugging classroom technology.
Transforming the market for learning technologies. With more than 14,000 school districts in the country — many of which still utilize cumbersome, outdated procurement methods — entrepreneurs are often discouraged from entering the educational technology market. Also, the mechanisms for vetting new technology can be stifling. (It's estimated that the U.S. invests just 0.2 percent of total spending on K-12 R&D, compared to 10 to 20 percent of revenue spent on private-sector R&D in software and biotech.) Digital Promise will work with school districts and companies to create a "smart demand" culture to spur rapid procurement and implementation.
The League of Innovative Schools. School districts and charter school networks across the U.S. have come together to launch the League of Innovative Schools, a coalition dedicated to promoting innovation in learning technology and to improving educational outcomes. Key functions of the league will be to:
Perform rapid, coordinated testing of promising new technologies where schools work in unison to accelerate the R&D timetable
Create a "buyers consortium" to negotiate better prices and demand higher quality
Establish an "advance market commitment" incentive for entrepreneurs by promising to buy large quantities of product currently in the development pipeline
How Digital Promise Came About
Seeking to find new ways in which digital technology could benefit the public interest, the Carnegie Corporation of New York launched the Digital Promise project in 1999, in partnership with other leading foundations. They recruited the talents of former FCC Chairman Newton N. Minow and former NBC News and PBS president Lawrence K. Grossman to co-chair the effort. In 2001, Minow and Grossman published groundbreaking recommendations in the book, A Digital Gift to the Nation.
Ideas in the book spurred further proposals from The Learning Federation of the Federation of American Scientists, and their recommendations morphed into a 2004 report to Congress. From there, a bipartisan effort in 2008 authorized the National Center for Research in Advanced Information and Digital Technologies, Section 802 of the Higher Education Opportunity Act, which was signed into law by then-President George W. Bush that same year.
Last September, following a major speech by President Barack Obama to a joint session of Congress, Education Secretary Arne Duncan inaugurated the new Digital Promise initiative by announcing the first round of awards totaling $15 million in the National Science Foundation's "Cyberlearning: Transforming Education" program.
Additional support for Digital Promise comes from the Department of Education, the Carnegie Corporation of New York, William and Flora Hewlett Foundation, and Bill & Melinda Gates Foundation.