An Interview with Jamie Forshey By Leslie Griffy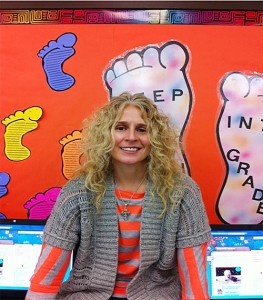 The next generation of citizens will need more than just civics courses. They are going to be netizens, as well. Their education should integrate core lessons with the technology they already use in their every day lives, said Jamie Forshey, an instructional technology coach and teacher in Pennsylvania.
"You can't teach them 21st century skills without the technology piece," Forshey said. "If we can tap into what these kids do outside these four walls, we can really do something important."
In her job and for fun, check out her blog, Forshey is always looking for new ways to combine technology with the core standards her students learn.
And, this year, some new tools earned a spot in Forshey's classroom, integrating storytelling, persuasive writing and research with something fun – technology.
On her blog, she collected her top tools of 2012.
Tools that made the list play well with other technologies, allowing them to be added to or embedded in other programs.
For example, blogs created on blogster can be embedded into a student's wikispace.
Another trait Forshey prized in tech tools in 2012 is the ability to share with a larger audience. With effective technology, Forshey said, grandparents in other states can see a student's work and teachers can share ideas virtually.
Topping her list for 2012:
Thinglink, which allows teachers and students to embed videos, links or other information into photos.
Edmodo, which engages her students with its personalization opportunities like avatars and makes sharing resources easy.
In 2013, Forshey believes that even more educators will discover the power of Thinglink.
She's also looking forward to adopting other technologies into the classroom including
New uses for Pinterest, such as student developed reference boards for research projects.
MentorMob, which allows teachers to create playlists of educational activities that students can complete at the their own pace.
A limited Twitter or program that allows teachers some control over how much of the world to let into the classroom through the vital microblogging service.
Finding new ways to use mobile technologies for education.
"I know that a lot of these tools weren't developed for education, but once teachers get their hands on them they can find new ways to use them," Forshey said. "And that's really exciting."
Want to follow Forshey's adventures in 2013? She's on Twitter at @Edutech20