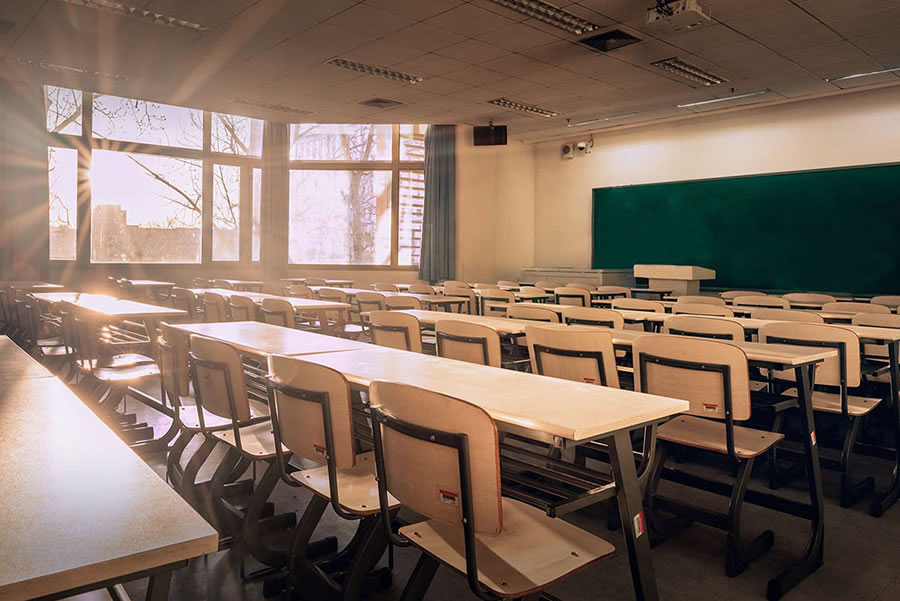 Master's in Early Childhood Education
Your guide to graduate degrees in early childhood education
If you're thrilled, fascinated and energized by the mere thought of helping the youngest children learn how to learn, there's a good chance you're already working in early childhood education. And if you want to get better at your job and take more of a leadership role in your profession, you probably can't help wondering about pursuing an advanced degree in early childhood education.
This guide will help you figure that out. It takes a substantial commitment of time, passion and money to earn an advanced degree in any profession. You must ask yourself tough questions and make sure you're ready before deciding to pursue a graduate degree in ECE.
Does earning a master's degree in early childhood education align with your personal and professional interests?
Do you love children and care about their early development?
Does it excite you to see a child grasp a new concept for the first time?
Do you like working with toddlers, very young children and their families?
Do you like the idea of working in a field that has a lifelong impact on children and the communities they live in?
Will an early childhood education master's degree help you meet your personal and professional goals?
Are you working in a preschool now and would like to move into an administrative role?
Do you have a deep, enduring interest in early childhood education curriculum design?
Would you like to increase your earning power while still working with young children?
Are you interested in moving beyond teaching and into research or the development of educational legislation?
Would you like to share your experience and expertise by training the next generation of early childhood education teachers?
A lot of "yes" answers to these questions makes you a good candidate for a master's degree in early childhood education. A lot of "no" answers means the opposite. It's crucial to be absolutely honest with yourself — you don't want to embark on a costly mistake!
How do I choose the best graduate early childhood education program for me?
So, your answers to these questions helped you make up your mind to seek an advanced degree in early childhood education. What's next?
Not if, but which: There's a wide variety of master's degree programs in early childhood education. Which is the right one for your interests and goals? Let's start with program titles.
By any other name: early childhood education program titles
Every college has a unique idea of how to develop and teach an early childhood education master's program. Some schools offer a master of education or a master of arts, for example, while others offer specialties like curriculum development or childhood leadership.
These are some of the most common master's programs:
Master of Education in Early Childhood Education
Master of Education in Curriculum and Instruction: Early Childhood Education
Master of Arts in Early Childhood Leadership
Master of Science in Education: Early Childhood Education Specialization
Master of Arts in Infant Mental Health
Master of Science in Early Childhood Studies
Master of Arts in Early Childhood Special Education
What kinds of early childhood education master's programs are available? What can I expect to learn in them?
For all the variety in master's programs focused on early childhood education, they all have a foundation in several core courses. Make sure these courses are interesting enough to explore further
Common coursework in early childhood education master's programs
Most graduate-level early childhood education programs include these courses:
Teaching and learning theory – These courses usually cover the latest research in learning theory and cognitive development for infants and very young children. They explore the psychology of learning and prepare master's candidates for implementing these findings in their own classrooms.
Educational thought – These classes explore pros and cons of the latest educational trends. They also usually cover the impacts of educational reform and legislation on classrooms and children who study in them.
Play and learning – Young children learn best through play. And, the younger the child, the more important it is to know how to make learning fun. This type of course will cover ways to integrate learning experiences into fun and engaging activities for children.
Assessment and intervention – Early identification and intervention are critical for special-needs children. These courses cover the right tests for very young children and how to identify those who have special needs. Classes also cover the legal rights of special-needs children and their parents.
Variations in coursework of early childhood education programs
Besides core courses, early childhood education master's programs usually focus on a variety of specialties. Reviewing specialized courses can help you narrow your decision and ensure you're choosing the program that comes closest to matching your goals.
What makes each graduate-level early childhood education program unique?
Some early childhood education master's programs are designed for people who want to pursue curriculum development or administrative positions, while others focus more deeply on classroom challenges. The needs of the children being served also play a role.
Curriculum development – These courses are ideal for teachers who want to have far-reaching impact on early childhood learners. These programs will teach you to research and design the hands-on learning experiences that are such a vital part of early childhood education programs. You will also learn how to participate in early childhood education advocacy at the local and national levels.
Administration – To be an effective early childhood education administrator, you need to understand the field and learn techniques for working with others from diverse backgrounds. These skills will help you create a supportive, effective workplace.
Teaching – These courses help you improve your teaching technique, classroom preparation, assessment and testing, and methods of getting parents and the community involved.
Special education – These courses will show how to create individualized learning experiences for special-needs children. You will also learn how to work effectively with their parents and other caregivers.
Make sure you explore all the courses in a program before you enroll, and that every course you take gets you closer to your personal and professional goals.
Try not to think of all of these choices as overwhelming. Rather, look at them as a challenge that will help you zoom in on the ideal program for your needs.
Career opportunities for early childhood education master's graduates
A master's degree in early childhood education can be the gateway to higher salaries, more fulfilling jobs and richer career opportunities. Next up, we'll take a look at some of the jobs available to people with this degree.
Who employs master's in early childhood education graduates? What kinds of jobs are available to them?
Your master's degree in early childhood education can help you land jobs in both public and private schools. Some people with this degree work in child development programs in preschools and even hospitals. They can also have a hand in legislative choices and public policy design. Here are some specific jobs available to people with this degree:
Hospital preschool director – Large hospitals often have learning centers for children, especially those in long-term care. Programs focus not only on learning, but also on recovery from trauma and pain.
Private preschool owner – A master's degree in early childhood education can be excellent preparation for owning and operating a private preschool.
Higher education instructor – Colleges will need more instructors to train people in the burgeoning field of early childhood education (the Bureau of Labor Statistics expects openings for preschool center directors to grow by 17 percent in the next 10 years).
Professional development coordinator – Educators at all levels of early childhood education need to stay up to date on the latest learning trends, legislation and research. Professional development coordinators help lead continuing education programs in the field.
Preschool program director – Highly trained program directors are needed for both public and private preschool programs. The director organizes the classes, schedules and curriculum of the program and sets a positive tone for staff, students and parents.
Advisor to local, state and national policymakers – Every level of government, from local school boards to the U.S. Department of Education, needs the guidance and expertise of professionals with advanced degrees in early childhood education.
Textbook author or consultant – Because scholarship on early childhood education is always changing, publishers need well-educated professionals to keep textbooks current.
Source
Universities With Master's Degree Programs in Early Childhood Education
Featured School
Master of Arts in Educational Leadership
Designed for educators with a desire to improve our schools and school systems, this 18-month, 100% online program will prepare you to transform the future of education policy, advocacy, and practice through a curriculum rooted in social justice and reflective leadership.
Featured School
Earn your MAT online from the top-ranked USC Rossier School of Education in as few as 12 months. This program offers Multiple-Subject (Elementary) and Single-Subject (Secondary) concentrations. Students may also pursue a CA Education Specialist Credential or CA Bilingual Authorization in Spanish.
Location: Valdosta, GA - Google Maps

Quick summary about the university:
Annual Net Tuition (full-time student): $2,499
Student Aid Calculator: www.wiregrass.edu
Accreditation: Southern Association of Colleges and Schools Commission on Colleges
---
Location: Waycross, GA - Google Maps

Quick summary about the university:
---
Location: Clyde, NC - Google Maps

Quick summary about the university:
Annual Net Tuition (full-time student): $1,125
Student Aid Calculator: https://www.haywood.edu/npcalc.htm
Accreditation: Southern Association of Colleges and Schools Commission on Colleges
---
Location: Torrington, WY - Google Maps

Quick summary about the university:
---
Location: Green Bay, WI - Google Maps

Quick summary about the university:
---
Location: Dobson, NC - Google Maps

Quick summary about the university:
---
Location: Hudson, NC - Google Maps

Quick summary about the university:
---
Location: Aurora, CO - Google Maps

Quick summary about the university:
---
Location: Graham, NC - Google Maps

Quick summary about the university:
---
Location: Seattle, WA - Google Maps

Quick summary about the university:
---
Location: Cincinnati, OH - Google Maps

Quick summary about the university:
---
Location: Tuscaloosa, AL - Google Maps

Quick summary about the university:
Admissions Rate: 53%
Annual Net Tuition (full-time student): $13,574
Student Aid Calculator: financialaid.ua.edu/net-price-calculator/
Accreditation: Southern Association of Colleges and Schools Commission on Colleges
---
Location: Seattle, WA - Google Maps

Quick summary about the university:
---
Location: Cincinnati, OH - Google Maps

Quick summary about the university:
---
Location: Tuscaloosa, AL - Google Maps

Quick summary about the university:
Admissions Rate: 53%
Annual Net Tuition (full-time student): $13,574
Student Aid Calculator: financialaid.ua.edu/net-price-calculator/
Accreditation: Southern Association of Colleges and Schools Commission on Colleges
---
Location: Lincoln, NE - Google Maps

Quick summary about the university:
Admissions Rate: 64%
Annual Net Tuition (full-time student): $9,764
Student Aid Calculator: wam.unl.edu/cost/calculator.jsp
Accreditation: Higher Learning Commission
---
Location: Morgantown, WV - Google Maps

Quick summary about the university:
---
Location: Miami, FL - Google Maps

Quick summary about the university:
---
Location: Wichita, KS - Google Maps

Quick summary about the university:
Admissions Rate: 94%
Annual Net Tuition (full-time student): $8,568
Student Aid Calculator: webapps.wichita.edu/netprice/
Accreditation: Higher Learning Commission
---
Location: Greensboro, NC - Google Maps

Quick summary about the university:
Admissions Rate: 78%
Annual Net Tuition (full-time student): $6,059
Student Aid Calculator: https://fia.uncg.edu/net-price-calculator/
Accreditation: Southern Association of Colleges and Schools Commission on Colleges
---
Location: Toledo, OH - Google Maps

Quick summary about the university:
---
Location: Virginia Beach, VA - Google Maps

Quick summary about the university:
Admissions Rate: 78%
Annual Net Tuition (full-time student): $12,361
Student Aid Calculator: www.regent.edu/admin/finaid/calculator.cfm
Accreditation: Southern Association of Colleges and Schools Commission on Colleges
---
Location: Brookings, SD - Google Maps

Quick summary about the university:
---
Location: Mount Pleasant, MI - Google Maps

Quick summary about the university:
---
Location: Kearney, NE - Google Maps

Quick summary about the university:
---
Location: Mississippi State, MS - Google Maps

Quick summary about the university:
---
Location: Honolulu, HI - Google Maps

Quick summary about the university:
---
Location: Fresno, CA - Google Maps

Quick summary about the university:
---
Location: Flagstaff, AZ - Google Maps

Quick summary about the university:
---
Location: Orange City, IA - Google Maps

Quick summary about the university:
---
Location: Lakewood, CO - Google Maps

Quick summary about the university:
---
Location: Richmond, KY - Google Maps

Quick summary about the university:
Admissions Rate: 87%
Annual Net Tuition (full-time student): $6,904
Student Aid Calculator: finaid.eku.edu
Accreditation: Southern Association of Colleges and Schools Commission on Colleges
---
Location: Stevens Point, WI - Google Maps

Quick summary about the university:
---
Location: Hays, KS - Google Maps

Quick summary about the university:
---
Location: Prescott, AZ - Google Maps

Quick summary about the university:
---
Location: Mount Vernon, OH - Google Maps

Quick summary about the university:
Admissions Rate: 77%
Annual Net Tuition (full-time student): $12,619
Student Aid Calculator: https://calculator.mvnu.edu/
Accreditation: Higher Learning Commission
---
Location: Riverside, CA - Google Maps

Quick summary about the university:
---
Location: Clemson, SC - Google Maps

Quick summary about the university:
Admissions Rate: 47%
Annual Net Tuition (full-time student): $16,723
Student Aid Calculator: workgroups.clemson.edu/A_A_5690_OIR/cunpc/
Accreditation: Southern Association of Colleges and Schools Commission on Colleges
---
Location: Fullerton, CA - Google Maps

Quick summary about the university:
Admissions Rate: 46%
Annual Net Tuition (full-time student): $5,693
Student Aid Calculator: www.fullerton.edu/financialaid/calculator/
Accreditation: Western Association of Schools and Colleges Senior Colleges and University Commission
---
Location: Lincoln, NE - Google Maps

Quick summary about the university:
Admissions Rate: 64%
Annual Net Tuition (full-time student): $9,764
Student Aid Calculator: wam.unl.edu/cost/calculator.jsp
Accreditation: Higher Learning Commission
---
Location: New Ulm, MN - Google Maps

Quick summary about the university:
---
Location: Irvine, CA - Google Maps

Quick summary about the university:
Admissions Rate: 68%
Annual Net Tuition (full-time student): $14,705
Student Aid Calculator: brandman.studentaidcalculator.com/survey.aspx
Accreditation: Western Association of Schools and Colleges Senior Colleges and University Commission
---
Location: Muncie, IN - Google Maps

Quick summary about the university:
---
Location: Columbia, MO - Google Maps

Quick summary about the university:
---
Location: West Chester, PA - Google Maps

Quick summary about the university:
---
Location: Greensboro, NC - Google Maps

Quick summary about the university:
Admissions Rate: 78%
Annual Net Tuition (full-time student): $6,059
Student Aid Calculator: https://fia.uncg.edu/net-price-calculator/
Accreditation: Southern Association of Colleges and Schools Commission on Colleges
---
Location: Auburn, AL - Google Maps

Quick summary about the university:
---
Location: Fairfax, VA - Google Maps

Quick summary about the university:
---
Location: Statesboro, GA - Google Maps

Quick summary about the university:
---
Location: Dayton, OH - Google Maps

Quick summary about the university:
---
Location: Manhattan, KS - Google Maps

Quick summary about the university:
---
Location: Lynchburg, VA - Google Maps

Quick summary about the university:
---
Location: Grand Forks, ND - Google Maps

Quick summary about the university:
---
Location: Kennesaw, GA - Google Maps

Quick summary about the university:
Admissions Rate: 61%
Annual Net Tuition (full-time student): $6,409
Student Aid Calculator: financialaid.kennesaw.edu/npcalc/npcalc.htm
Accreditation: Southern Association of Colleges and Schools Commission on Colleges
---
Location: University, MS - Google Maps

Quick summary about the university:
Admissions Rate: 84%
Annual Net Tuition (full-time student): $10,716
Student Aid Calculator: https://finaid.olemiss.edu/calculator/
Accreditation: Southern Association of Colleges and Schools Commission on Colleges
---
Location: Carrollton, GA - Google Maps

Quick summary about the university:
---
Location: Denver, CO - Google Maps

Quick summary about the university:
---
Location: Flagstaff, AZ - Google Maps

Quick summary about the university:
---
Location: Birmingham, AL - Google Maps

Quick summary about the university:
Admissions Rate: 92%
Annual Net Tuition (full-time student): $11,612
Student Aid Calculator: uab.studentaidcalculator.com/survey.aspx
Accreditation: Southern Association of Colleges and Schools Commission on Colleges
---
Location: Lexington, KY - Google Maps

Quick summary about the university:
Admissions Rate: 96%
Annual Net Tuition (full-time student): $12,543
Student Aid Calculator: https://npc.collegeboard.org/student/app/uky
Accreditation: Southern Association of Colleges and Schools Commission on Colleges
---
Location: Mobile, AL - Google Maps

Quick summary about the university:
Admissions Rate: 82%
Annual Net Tuition (full-time student): $9,198
Student Aid Calculator: usadev.southalabama.edu/npc/
Accreditation: Southern Association of Colleges and Schools Commission on Colleges
---
Location: Portland, OR - Google Maps

Quick summary about the university:
Admissions Rate: 92%
Annual Net Tuition (full-time student): $9,208
Student Aid Calculator: www.pdx.edu/finaid/net-price-calculator
Accreditation: Northwest Commission on Colleges and Universities
---
Location: Bowling Green, KY - Google Maps

Quick summary about the university:
---
Location: Toledo, OH - Google Maps

Quick summary about the university:
---
Location: Orono, ME - Google Maps

Quick summary about the university:
Admissions Rate: 92%
Annual Net Tuition (full-time student): $10,635
Student Aid Calculator: www.umaine.edu/netpricecalculator/
Accreditation: New England Commission on Higher Education
---