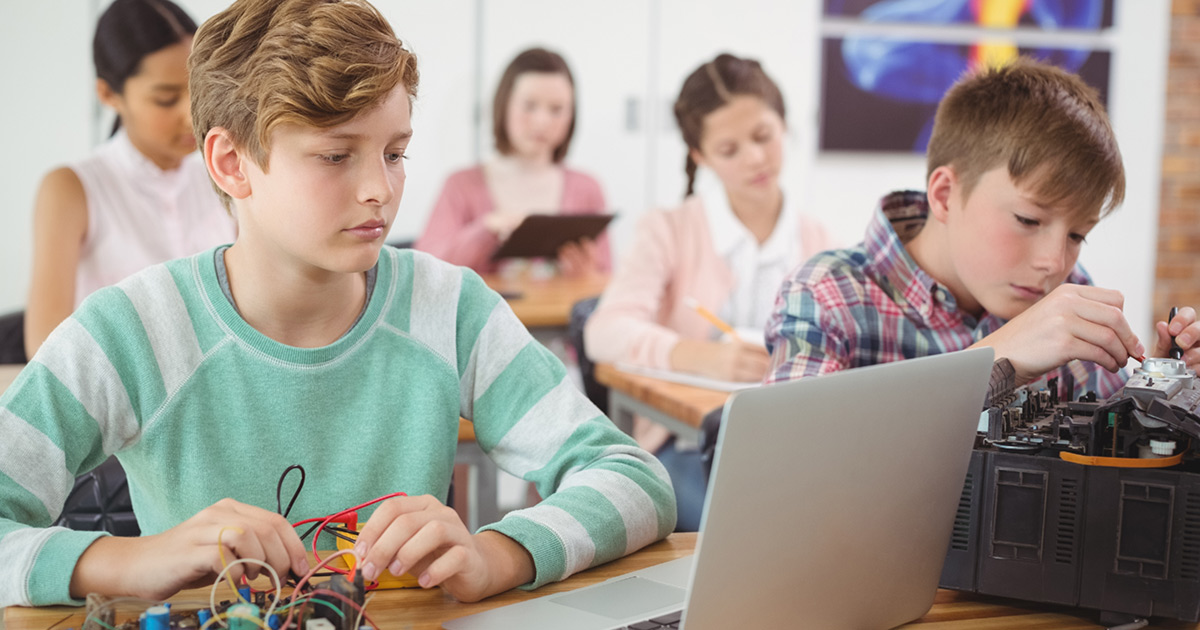 Your guide to undergraduate degrees in secondary
As a high school teacher, you have the incredible opportunity to help guide young men and women through the turbulent teen years and into adulthood. Secondary educators teach subjects such as math, literature, technology, and history, as well as larger lessons about organization, responsibility, and life that can stay with students as they move to college and beyond.
The most memorable teachers have a passion for their subject that they share with students. You may find you remember the student whose interest was sparked in your classroom, leading to an enthusiasm, and possibly a career, in a subject that you love.
Whether you want to teach music, science, or English, a bachelor's degree in secondary education can open up opportunities to help nurture the minds of young people. The Bureau of Labor Statistics states that demand for secondary teachers will continue to grow and an undergraduate degree is the first step in your teaching career.
Is an undergraduate degree in secondary education right for you?
Does a bachelor's in secondary education suit your personal and professional interests?
For people who want to teach at the secondary level, a bachelor's degree in secondary education is an excellent starting point. Although there are other pathways to teaching in high schools, a secondary education degree gives prospective teachers the knowledge they need to guide teenagers through their education. The degree also prepares you for meeting the licensing requirements in the state where you wish to teach. If you're not sure whether a teaching career is for you, start by considering your personal and professional interests.
Does a bachelor's in secondary education fit your career goals?
When deciding whether to earn a bachelor's in secondary education, it can help to investigate the attributes of a great teacher. Are these attributes that you have or can acquire? There are other questions you can ask yourself to determine if you have the drive to succeed in this field, including:
Do you have a passion for learning, and a wish to share that passion with others?
Do you enjoy making connections with young people and helping guide them on their journey towards adulthood?
Are you comfortable working with a wide range of personalities and adapting your methods to suit their needs?
Can you adapt to meet the changing needs of the classroom, including new curricula and technologies?
How do I choose an undergraduate-level secondary education program?
So, you know why earning a bachelor's degree is good for your career, and you're pretty sure that a bachelor's degree in secondary education meshes with your interests and goals. This is a great start, but there's still more to think over.
First off, you need to explore the many program options in secondary education. It is important to note that while an advanced degree in secondary education may be well suited to teachers (especially those in the middle and high school grades), these programs also could be suitable for people in the corporate world.
Educational program titles — what you need to know
Undergraduate-level secondary education programs can have different titles. Some institutions prefer to use a unique name, and different naming conventions may reflect different specializations. Some of the more common program titles are:
Secondary Education
Secondary Education – English
Secondary Education – Science
Education
Teacher Education
Education Studies
Secondary education degrees also come in different varieties. Most education degrees lean towards liberal arts, and undergraduates receive a Bachelor of Arts in Secondary Education. However, Bachelor of Science degrees are also available, especially from schools that focus on training teachers in science, technology, and math fields. Many schools also offer a Bachelor of Education.
What kinds of courses are offered in bachelor's in secondary education programs? What do they teach?
No matter how a secondary education program is titled, it will include both foundation curriculum and hands-on learning that lets you try different strategies for sharing career-related knowledge with students of all abilities.
Sample courses in secondary education programs:
Foundations of Education — This course examines philosophical, social, and historical perspectives in education, introducing students to teaching as a profession and current trends in education.
Curriculum Development — This course introduces students to a range of curriculum development models. It details how to design and evaluate a curriculum, develop instructional materials, and assess student learning. Students also learn how to develop course outlines and lesson plans.
Technology in the Classroom — This course explores the range of technologies available to use in modern classrooms, and how they can help keep tech-minded students engaged. Students also learn how to integrate technology into the classroom in a way that improves student experiences and learning outcomes.
Human Growth and Development — This course covers the process of human development from conception to old age. A range of theories helps prospective teachers understand the periods of childhood, adolescence, and adulthood, and how humans change as they age.
Variations in coursework in secondary education programs
Program curricula will vary depending on the school's goals. Some of the factors of your decision will include cost and time to complete, but you cannot underestimate the importance of the coursework in the program. Make certain to research all the courses in a program you're considering to make sure they are relevant to your goals.
What else makes undergraduate secondary education programs unique?
Student Teaching — Most state licensing boards require new teachers to have classroom experience. Schools provide student teaching opportunities, either in the final year of study or throughout the degree program, allowing students to gain that experience. Student teaching also gives students increased confidence and networking or mentoring opportunities.
Subject Specialization — Secondary teachers specialize in different subjects, often called an area of endorsement. Students in a secondary education program can pursue the subject they're passionate about and learn how to teach the topic to others. Many students do a double major, giving them a second area of expertise.
PRAXIS Tests — PRAXIS tests measure the knowledge and skills of teacher candidates and are a license requirement in many states. They cover both general and subject-specific knowledge. A secondary education degree provides students with all the information needed to pass the test, and many also offer test preparation classes.
When it comes to finding the right secondary program, options are a very good thing. Do your research and find the best match for your interests and goals.
What jobs are available to people with a bachelor's in secondary education?
Education – PreK-12 and universities or colleges
Schools at all levels are realizing the benefits of secondary programs. You may be able to offer career-related education for students at nearly any level.
High School Teacher
Teach students in large and small groups
Evaluate students and monitor progress to assess strengths and weaknesses
Communicate with parents about students' progress
Develop curricula and lesson plans to meet learning outcomes
Middle School Teacher
Keep control of a classroom through enforcement of rules
Grade students' assignments to monitor progress
Prepare students to take standardized tests
Adapt teaching methods to meet the needs of individual students
School Administrator
Manage policies, events, and budgets
Ensure compliance with relevant rules and regulations
Organize continuing education opportunities for teachers
Help create the school curriculum
Other corporations and businesses
Organizations in other sectors realize the benefit of secondary training for employees at all levels. They want to boost their existing workforce by providing quality teachers. This is another employment opportunity for those with a teaching background.
Curriculum Developer
Write curriculum for specific subjects
Choose textbooks and other instructional materials
Evaluate the effectiveness of teaching methods
Ensure curriculum meets local, state, and national standards
Corporate Trainer
Identify company training needs
Supervise training budgets
Develop and implement a training curriculum
Train employees through seminars, workshops, lectures, and individual training sessions
---
Source
---