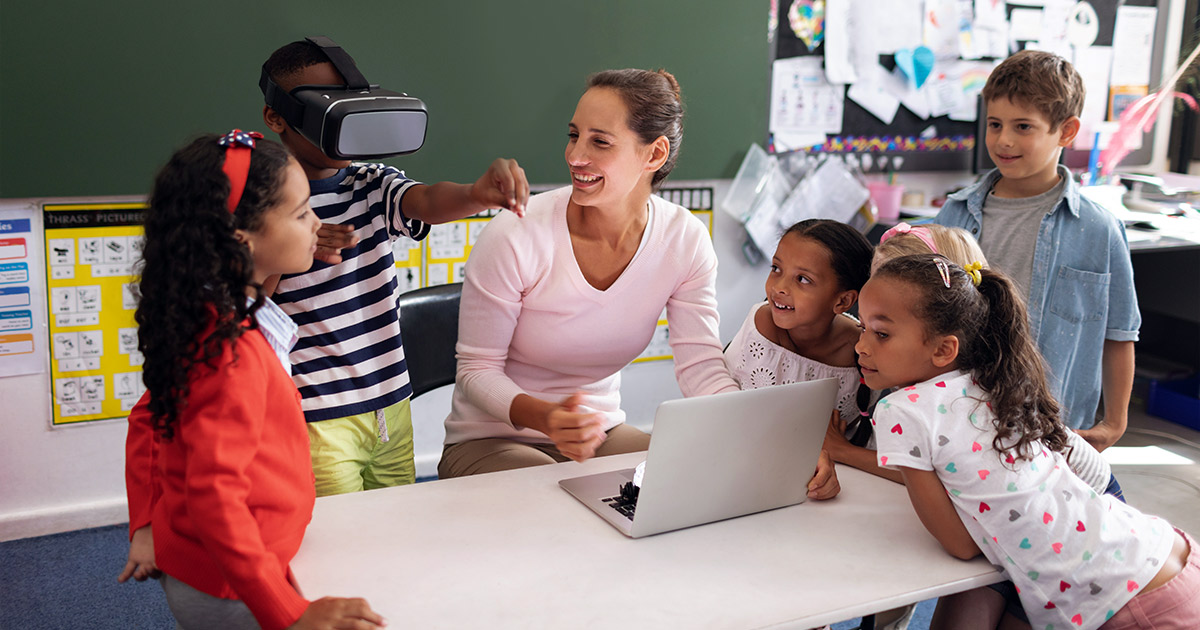 Your guide to graduate degrees in educational technology
It's hard to believe how fast we've gone from computers and laptops to smartphones and tablets within just a decade. Waves of companies have emerged to capitalize on rapid technological growth and the pace is only accelerating. Those who learn to use and embrace these new devices and applications will shape the future by teaching others to do the same.
Universities are the forefront of the technology education movement. Graduate degree programs in educational and instructional technology are teaching students how to apply technology to improve organizations and outcomes. Whether you're a teacher or a corporate trainer, instructional technology expertise helps you create more productive learners.
Is an advanced degree in educational technology right for me?
There's a lot to think about as you look for the right graduate degree program. We cover the basics here. Everything you decide has to reflect two of the most critical factors:
Your personal/professional interests
Your personal/professional goals
How to tell if a master's in educational technology matches your interests:
Are you generally excited to use new devices and applications?
Do you enjoy helping others learn and use technology in creative ways?
Are you a whiz at using technology to get things done, better and faster?
How to be sure an educational technology master's programs meets your goals:
How will you use your refined knowledge of technology to enhance your organization?
Can you make an impact in your community through integrated technologies?
Are you okay becoming the go-to person in your family to explain why the Internet is not working?
The word education in the degree title does not mean advanced educational technology programs are only for schoolteachers. Though many programs are indeed crafted for K-12 and higher education classrooms, lots of degrees are suitable for corporate environments.
How do I choose a graduate education technology program?
You'll need to explore the variety of programs that fall under the banner of educational technology. We'll present some the most common options and critical factors that will help you decide on the right program.
By any other name: educational technology program titles
We're talking about "educational technology" programs because that's the most common, recognizable name for this learning category. Just bear in mind that educational technology graduate programs have all sorts of names. Why? Two simple reasons: Different programs serve different purposes, and each school interprets its program in a unique manner.
These are some of the more common program titles:
Educational technology
Instructional technology
Instructional systems technology
Integrated learning technology
Instructional design technology
Learning design technology
Digital learning and teaching
Online/distance learning and teaching
Wondering about the variations in MEd and MAT programs? Here's a quick guide to explain the similarities and differences in master's of education program titles.
What kinds of master's in instructional technology programs are available? And what will I learn?
Common coursework in learning technology programs
Regardless of program title, degrees in the educational technology category include a foundational curriculum that strengthens your understanding of learning pedagogy through technology. These programs answers two core questions: Why is technology such a great tool for learning, and how can we best leverage technology to learn?
Here is a sampling of coursework in graduate instructional technology programs:
Instructional technology design and delivery: There's more to educational technology than just PowerPoint. You'll learn the various communication media and instruction modes possible in today's wired (and wireless) world. Understanding when and where to use synchronous vs. asynchronous teaching/learning methods is another foundational component in these courses.
Learning theories and cognitive sciences: These courses teach you how humans learn and absorb information. Tech-specific coursework includes research on psychological and neurological response to engaging stimuli such as videos, games and other digital media. For example, you'll learn the science behind the correlation between video games and enhanced productivity.
Technology integration and leadership: Not everyone buys into new ways of teaching and learning. These courses will help you advocate for technology education. You'll learn to lead and work with others to develop a strategy for technology integration in your school or organization, including planning for budgets and security threats.
Evaluation and outcomes: You'll establish learning assessments of your instructional technology lessons and training programs. Assessments cover your audience's learning outcomes and the effectiveness of your training program. These courses teach you ways to objectively measure students' success so you can continually enhance your curriculum.
Variations in coursework among educational technology programs
Curricula will vary depending on the goals of your graduate instructional technology program. You can't just focus on cost, time-to-completion and other variables — actual coursework must be a significant factor in your decision. Make sure you research the specific courses to find the right program for your goals.
So, what makes each graduate educational technology program unique? The most common differentiators are the kinds of learners your technology will help, and the types of locations where they will study and work:
Learner varieties: Coursework typically focuses on either the pre-K-12 spectrum or adult learners. Some courses cater to a specific subset of learners, such as elementary-aged or high school students.
Workplace settings: Curriculum may cover one or more types of workplace environments, including classrooms, lecture halls and professional organizations.
Online/distance learning: Some programs specifically focus on online/distance instruction. Online learning and teaching are covered in most programs to a certain extent — many others cover educational technology only in the scope of distance learning.
Information technology: Certain programs incorporate information technology and computer systems coursework into the instructional technology master's coursework. These types of programs are geared toward systems administrators and database managers, and are less common in programs oriented toward educators and trainers.
Degree options are great when we're choosing an instructional technology program. Research carefully to decide on the best option for you.
Career opportunities for educational technology master's graduates
Graduate degrees generally open the door to promotions, higher salaries and expanded professional responsibilities. In case you missed it, here's a link to our overview of career benefits for obtaining your advanced degree. We have no doubt that your instructional technology master's degree will make you better at your present job or help you land a better one.
If you're venturing out from your current job or looking at a different industry altogether, this section is for you. We highlight several distinct career possibilities that are within your grasp if you earn a master's in educational technology. Note that official positions/titles differ from organization to organization.
Who employs master's in instructional technology graduates? And what jobs are available?
Educational technology master's programs benefit professionals across multiple industries. Here are some industries to consider, and some in-demand jobs for today's graduates.
Education: pre-K-12 schools and universities/colleges
All schools benefit from educators and administrators with an instructional technology background. Employers include preschools, elementary, middle and high schools, higher education institutions, and career colleges. Prospective professions are just as varied.
Director/supervisor of education technology

Job description:

Establish rules and guidelines for technology usage across school(s)
Implement and manage upkeep of various learning management systems
Lead and consult with faculty and staff in the use of technologies in support of teaching and learning

eLearning curriculum designer and developer

Job description:

Create high-quality online learning experiences for teachers and students
Design curriculum across different modalities, including fully online, hybrid, video conferencing, etc.
Tailor and tweak layout and design to engage specific student demographics

Online professional development specialist

Job description:

Design and develop engaging online courses to show teachers how to integrate technology into their curriculum, teaching and assessments
Build and maintain strong relationships with educators from all levels of instruction
Provide technical support and guidance on instructional technology software
Businesses, nonprofits, government, military
Organizations across all sectors are turning to educational technologists to integrate proven tech-based teaching practices to support and enable a higher-quality workforce. Traditional trainers with an ed-tech-savvy background produce more relevant programs aligned with high-performing teams.
Corporate trainer/instructor

Develop and deliver training and workshops to help integrate technology into day-to-day business functions
Teach and lead teams within classrooms and Web-based seminars on latest product versions and technologies
Monitor and report the effectiveness of online educational tools and modify technologies or recommend new approaches

Director of learning and development

Create multi-platform content to targeted audiences to drive adoption of company-wide technologies
Apply various communication and management technology systems to streamline productivity
Design technology-enabled learning, online/digital learning, blended learning and media guides

Instructional technology and design consultant

Guide clients through latest corporate learning management systems and software
Work with designers and subject experts to develop and maintain training and learning platforms
Review, assess and modify instructor and student training guides
---