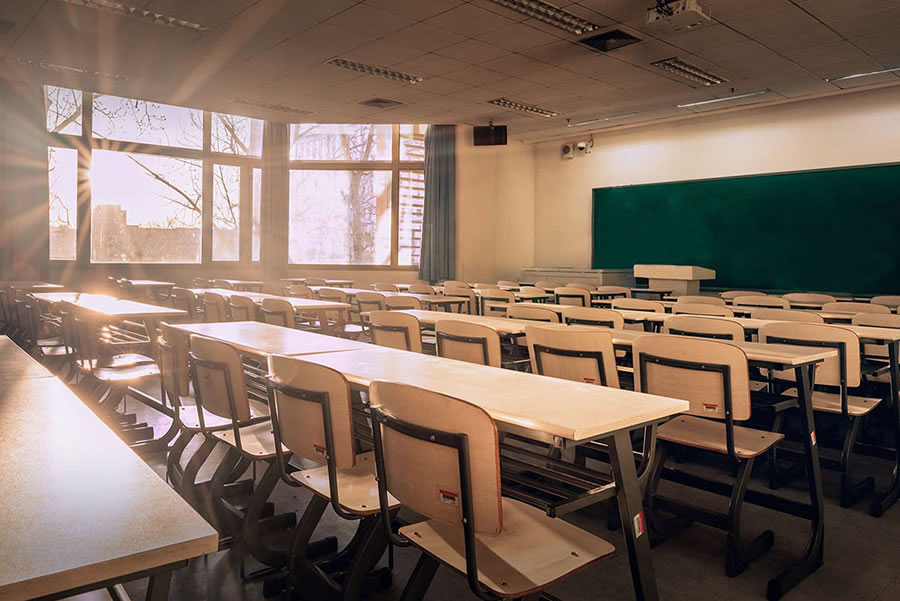 Master's in Career and Technical Education
Your guide to graduate degrees in career and technical education
As a teacher in the middle or high school grades, it's your job to shape young minds and help them learn important lessons that will serve them for a lifetime.
It's great to teach math, science, literature and language, but what about preparing them for life after the 12th grade? That's the job of people with advanced degrees in career and technical education (CTE).
No matter what type of school environment you work in, you have opportunities to help students define their career goals and figure out how to pursue them. Earning a graduate degree in career and technical education will give you the foundation to develop future leaders in many fields.
Is an advanced degree in career and technical education right for you?
The vast multitude of graduate degree programs out there will give you a lot to think about. This article will help you decide whether career and technical education is the best focus for the graduate degree program you choose. To start with, you have to consider two major factors:
Your personal and professional interests
Your career goals
Does a master's in career and technical education suit your personal and professional interests?
Ask yourself these questions to determine if you have the true passion and drive required to thrive in this field:
Are you interested in career-related topics?
Do you enjoy making connections in the community?
Are you comfortable with technology's impact on today's career?
Do you want to help make CTE a major part of learning for students and adults?
Does a master's in career and technical education fit your career goals?
You also need ask if you could see yourself devoting your life's work to career and technical education:
Can the skills you learn help you grow your own career?
Can you make a difference in the community and with your students?
Are you okay with being a "go-to" person for career training and education?
Consider these questions a starting point. After all, your own needs and desires are certainly unique, so there may be more you need to ask yourself. It's crucial to be honest with yourself and to ask probing questions that will help you decide if this is the right educational path for you.
How do I choose a graduate-level career and technical education program?
So, you know why earning a master's degree is good for your career, and you're pretty sure that a master's degree in career and technical education meshes with your interests and goals. This is a great start, but there's still more to think over.
First off, you need to to explore the many program options in career and technical education. It is important to note that while an advanced degree in career and technical education may be well suited to teachers (especially those in the middle and high school grades), these programs also could be suitable for people in the corporate world.
Educational program titles — what you need to know
Graduate-level career and technical education programs go by many names because they serve different purposes, and the schools that offer them often use unique naming systems.
These are some of the more common program titles:
Career and Leadership Education
Career Technology
Career Instructional Technology
Career Technology Education
Business and Industry Technology Education
Digital Career Education
You'll also notice the many varieties of master's degrees. With variation such as MA, MAT, MEd and more, it can be a bit overwhelming. Check out our guide explaining the differences and similarities in each type of master's program.
What kinds of courses are offered in master's in career and technical education programs? What do they teach?
No matter how a career and technical education program is titled, it will include both foundation curriculum and hands-on learning that lets you try different strategies for sharing career-related knowledge with students of all abilities.
Sample courses in career and technical education programs:
Basic Teaching Skills — This fundamental class covers a variety of instructional strategies that will help you teach career-related skills to students of all ages and abilities.
Introduction to Career and Technical Education — This course gives you a set of research-based components of instruction in four domains: planning and prep, the classroom, instruction and detailed professional responsibilities.
Literacy in Career and Technical Education — Expect to learn how to weave vital literacy skills into a CTE program. This class, like others, uses Common Core standards, so you will always meet state and national standards.
CTE Capstone — The Capstone course is a forum that allows you and fellow students to demonstrate what you've learned across the entire CTE program.
Variations in coursework in career and technical education programs
Program curricula will vary depending on the school's goals. Some of the factors of your decision will include cost and time to complete, but you cannot underestimate the importance of the coursework in the program. Make certain to research all the courses in a program you're considering to make sure they are relevant to your goals.
What else makes graduate career and technical education programs unique?
Community partnerships — Some programs center only on teaching within a school, while others focus on establishing partnerships with businesses and professionals in the community.
Understanding of CTE legislation — CTE is a growing and changing field. Some programs will have more of a focus on analyzing and understanding these important details, so you can advocate for the contributions you and your colleagues make.
Technology and CTE — Certain programs incorporate modern technology into the coursework. This will be especially useful as the Internet and mobile computing have ever greater impacts on career seekers in years to come.
Math and literature — Learning how to incorporate literature, math and other learning with career-related learning can be important for teachers who don't teach career training exclusively. This type of curriculum focus can be extremely valuable.
When it comes to finding the right career and technical education program, options are a very good thing. Do your research and find the best match for your interests and goals.
Career opportunities for graduates with a master's in career and technical education
Graduate degrees open the door to promotions, raises and expanded responsibilities. Check out this link to review the career benefits of advanced degrees. We are certain that your career and technical education master's degree will help you do your current job better or help you land your dream job.
If you are considering moving to a new job, here are a few career possibilities that can be more easily achieved when you have a master's in career and technical education. Remember, these titles may vary from one region or employer to another.
What jobs are available to people with a master's in career and technical education?
Education – PreK-12 and universities or colleges
Schools at all levels are realizing the benefits of CTE programs. You may be able to offer career-related education for students at nearly any level.
Director of career and technical education

Establish career-training programs across multiple schools
Implement career-training management systems
Consult with other staff members about career-related curriculum within other classes

Career and technical education teacher

Teach classes related to career training
Design curriculum for students at all levels
Tweak existing programs to better meet the needs of today's students

Online career and technical education specialist

Work online to teach students career-related skills
Design online curriculum and lesson plans that integrate today's technology with career-related lessons
Provide technical support on software used in online programs

STEM/STEAM or Robotics Teacher

Weaves the fundamentals of physics, mathematics, and technology with art and design for the reinforcement of STEM subjects.
Other corporations and businesses
Organizations in other sectors realize the benefit of career and technology training for employees at all levels. They want to boost their existing workforce by providing quality teachers. This is another employment opportunity for those with a teaching background.
Corporate trainer

Develop and provide training and seminars to help integrate career training into day-to-day business functions
Teach classrooms and Web-based seminars, focusing on latest technologies
Monitor and report on online educational tools and modify existing lesson plans

Director of career learning and development

Create training content across all platforms
Apply technology systems to existing learning plans to boost productivity
Design technology-enabled learning for employees at all levels
Source
Universities With Master's Degree Program in Career and Technical Education
Location: Logan, UT - Google Maps

Quick summary about the university:
Admissions Rate: 89%
Annual Net Tuition (full-time student): $6,286
Student Aid Calculator: www.usu.edu/netprice/
Accreditation: Northwest Commission on Colleges and Universities
---
Location: Richmond, KY - Google Maps

Quick summary about the university:
Admissions Rate: 87%
Annual Net Tuition (full-time student): $6,904
Student Aid Calculator: finaid.eku.edu
Accreditation: Southern Association of Colleges and Schools Commission on Colleges
---
Location: Menomonie, WI - Google Maps

Quick summary about the university:
---
Location: Murray, KY - Google Maps

Quick summary about the university:
---
Location: Norfolk, VA - Google Maps

Quick summary about the university:
---
Location: Terre Haute, IN - Google Maps

Quick summary about the university:
---
Location: Warrensburg, MO - Google Maps

Quick summary about the university:
---
Location: Fort Collins, CO - Google Maps

Quick summary about the university:
---
Location: Flagstaff, AZ - Google Maps

Quick summary about the university:
---
Location: Morehead, KY - Google Maps

Quick summary about the university:
---
Location: San Marcos, TX - Google Maps

Quick summary about the university:
Admissions Rate: 73%
Annual Net Tuition (full-time student): $8,234
Student Aid Calculator: www.finaid.txstate.edu/more-info/npc.html
Accreditation: Southern Association of Colleges and Schools Commission on Colleges
---
Location: Denton, TX - Google Maps

Quick summary about the university:
---
Location: Durant, OK - Google Maps

Quick summary about the university:
---
Location: Campbellsville, KY - Google Maps

Quick summary about the university:
---
Location: Detroit, MI - Google Maps

Quick summary about the university:
---
Location: Fayetteville, AR - Google Maps

Quick summary about the university:
---
Location: Muncie, IN - Google Maps

Quick summary about the university:
---
Location: Portales, NM - Google Maps

Quick summary about the university:
---
Location: Winston-Salem, NC - Google Maps

Quick summary about the university:
Admissions Rate: 57%
Annual Net Tuition (full-time student): $7,934
Student Aid Calculator: netprice.salem.edu/
Accreditation: Southern Association of Colleges and Schools Commission on Colleges
---
Location: Philadelphia, PA - Google Maps

Quick summary about the university:
---
Location: Oswego, NY - Google Maps

Quick summary about the university:
---
Location: Orlando, FL - Google Maps

Quick summary about the university:
Admissions Rate: 50%
Annual Net Tuition (full-time student): $5,720
Student Aid Calculator: finaid.ucf.edu/net-price-calculator/
Accreditation: Southern Association of Colleges and Schools Commission on Colleges
---
Location: Ypsilanti, MI - Google Maps

Quick summary about the university:
Admissions Rate: 45%
Annual Net Tuition (full-time student): $10,343
Student Aid Calculator: www.emich.edu/finaid/calculator/
Accreditation: Higher Learning Commission
---
Location: Tampa, FL - Google Maps

Quick summary about the university:
Admissions Rate: 44%
Annual Net Tuition (full-time student): $7,059
Student Aid Calculator: usfweb2.usf.edu/finaid/npc/npcalc.htm
Accreditation: Southern Association of Colleges and Schools Commission on Colleges
---
Location: Lynchburg, VA - Google Maps

Quick summary about the university:
---
Location: New Castle, DE - Google Maps

Quick summary about the university:
---
Location: Athens, AL - Google Maps

Quick summary about the university:
---