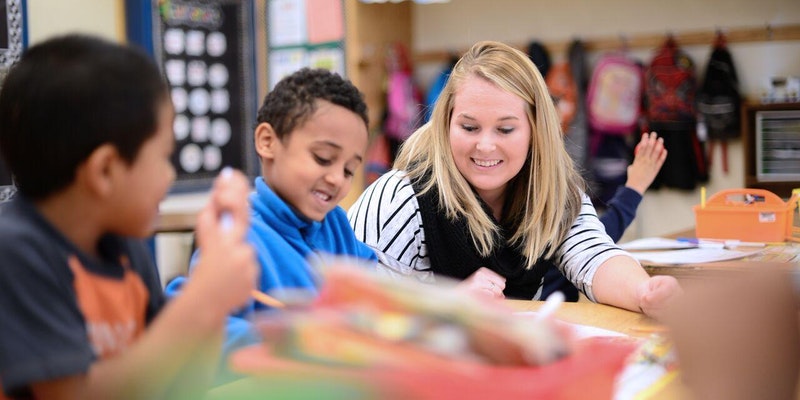 A parent going off to war. A car accident. Abuse. And now, a global pandemic. Nearly two out of three students experience trauma and it often openly or subtly affects their focus, behavior, and success in the classroom. These kids need a teacher, a principal, a guidance counselor, a school nurse — someone at school with extensive knowledge on how to recognize and respond to trauma. And if that person is you, building strength in your students is as important as cultivating it in yourself. That's why this groundbreaking topic is unique, imperative, and timely. Learn how you can bring life-changing knowledge to your school and, at the same time, care for yourself.
Why choose a master's degree with a trauma-informed specialization?
Master's programs in trauma-informed teaching and education will help you examine what is becoming a central concern and focus for schools and communities: effective responses to student trauma and the resilience necessary to thrive in the classroom. You'll become a more effective school, district, or community leader with the understanding and use of trauma-informed and resilience-building practices, and you'll also study the importance of self-care throughout it all.
The impact of trauma
Studies of childhood trauma indicate dire trends among our students and, ultimately, our communities. As the patterns and impact of trauma have surfaced to a national level, many schools and colleges are beginning to introduce trauma-focused curricula and coursework into their academic portfolio. Master's degree programs in trauma-informed education are still relatively new, and we applaud the pioneering schools that have recognized the critical need for trauma-informed training for both students and teachers alike.
Trauma-informed strategies benefit students
A 2016 study by the CDC shows that 64% of children have adverse childhood experiences — commonly referred to as ACEs. These include neglect, abuse, and challenging household circumstances such as divorce. Children impacted by trauma are more likely to be labeled with learning disorders or behavioral problems, sometimes developing anxiety, depression, and other mental health conditions. Over the long term, many children with ACEs have poorer educational outcomes over the course of their life.
Trauma stemming from ACES — in social, emotional, and physical forms — can alter a young person's brain functions, which impacts learning and behavior. Yet, teachers are often ill-equipped and underprepared to identify and address these challenges. The growing field of trauma-informed education recognizes that children who experience trauma need to see their school as a safe place filled with adults they can trust. And trauma-informed master's degree programs tackle these very challenges and are ideal for educators and other professionals who work with students in and out of the classroom setting.
Trauma-informed education also benefits teachers
Trauma affects teachers. Already taxed with heavy workloads, educators bear the additional burden and strains associated with secondary traumatic stress. Burnout is a reality for (at least) 40% of teachers, and these elevated stress levels, coupled with feelings of inadequate support lead to costly teacher attrition. Coursework helps teachers strengthen their ability to identify and adapt to their own trauma — whether direct or secondary — and, in turn, build resilience in themselves through mindfulness and self-care.
How to choose a master's in trauma-informed education
There are many factors to consider during your research. (Check out our Degree Research articles for general advice around funding, career potential, and more.) In this section, we'll cover the more nebulous areas and share our perspectives to guide your exploration. As you explore your options, keep your career goals and personal and professional interests in mind.
Does a master's in trauma-informed education fit your career goals?
These questions can help you determine if you have the passion and drive needed to succeed in this field:
Do you want to help children impacted by trauma get the most from their education?
Are you interested in the physiological changes that occur when people experience trauma and how that affects learning?
Do you want to learn practical strategies that lead to improved learning outcomes for all students in your classroom?
Do you want to help make trauma-informed practices a major part of school environments?
Consider these questions a starting point. After all, your own needs and desires are certainly unique, so there may be more you need to ask yourself. It's crucial to be honest with yourself and to ask probing questions that will help you decide if this is the right educational path for you.
How do I choose a trauma-informed master's degree program?
So, you know why earning a master's degree is good for your career, and you're pretty sure that a master's degree in trauma-informed education meshes with your interests and goals. This is a great start, but there's still more to think over.
Program titles — what you need to know
Trauma-informed education is a relatively new field of study, and this is reflected in the wide range of program titles. Different program titles may also indicate a different focus — or it could simply be a school's use of unique naming systems.
These are some of the more common program titles:
Trauma-Informed Education
Trauma-Informed Practices Education
Trauma-Informed Education and Resilience
Trauma and Resilience
Trauma-Informed Education and Intervention
Trauma and Resilience in Educational Environments
Most trauma-informed programs lead to MA or MEd degrees. Take the time to research the differences between the degrees to make sure you find one that can help you along your chosen career path.
Keep in mind: While an advanced degree in trauma-informed teaching and leadership education may be well suited to teachers (especially those in the middle and high school grades), these programs could also be suitable for individuals in many other non-profit and corporate settings.
Types of trauma-informed master's programs
Master of Education (MEd) and Master of Arts in Education (MAEd) programs
When most educators think about graduate education, Master of Education (MEd) programs are typically top-of-mind. And for good reason — these programs cover classroom pedagogy, effective approaches to classroom instruction, and the theory and practice of teaching more broadly. Most MEd programs include specialization options where a handful of courses are laser-focused on the particular subject matter. You can expect the majority of today's trauma-informed master's programs to fall into this category.
Here's a rundown of notable programs:
Bellarmine University
Master of Arts in Education (MAEd), Trauma-Informed Practices [ONLINE]
Columbia College
Master of Education in Trauma-Informed Education [ONLINE]
Eastern Mennonite University
Master of Arts in Education Diverse Needs: Trauma and Resilience in Educational Environments
Eastern University
Master of Education in Multicultural Education [ONLINE]
Mills College
Master of Arts in Educational Leadership [ONLINE]
Pacific Oaks College
Master's Degree in Early Childhood Education: Trauma Studies
Fully online options
Keep in mind that Master of Education degree programs focused in the trauma-informed approach are not abundant — yet. Fortunately, a few of the aforementioned programs do offer fully online options.
We've seen a rise in schools offering graduate certificates in trauma-informed teaching, and we've seen trauma-informed professional development emerge as well. We fully anticipate the number of master's programs options to increase in the coming months and years. And with the trend toward online education, we also expect programs to be available in both online and traditional modalities.
(Something missing? Let us know: social[at]resilienteducator.com)
Master's programs in non-education departments
Though trauma-related programs are still emerging within the traditional MEd space, many schools offer related programs in non-education departments. In particular, master's programs in counseling and social work are further along in the inclusion of trauma-informed curricula. These types of programs are worth exploring; but be sure the core coursework and intended outcomes meet your specific goals.
Here's a handful of programs that are relevant for educators:
What kinds of courses are offered in master's in trauma-informed education programs?
No matter how a trauma-informed master's program is titled, it will include both foundation curriculum and hands-on learning that lets you try different strategies for sharing career-related knowledge with students of all abilities.
Look for programs covering essential coursework:
For your students

Trauma-informed strategies for the classroom
Adverse Childhood Experiences (ACE) and its implications and long-term effects on students

For you

Self-care, well-being, and resilience-building for educators
Advocacy and strategies for creating trauma-informed schools
Here are excerpts from three sample courses:
Bellarmine University – EDUG 675: Foundations of Trauma Informed Practices and Wellness: This course content addresses the types of trauma and the influences of trauma on K-12th grade students –socially, emotionally, physically and academically. Topics include trauma's effect on brain development, indicators of trauma in students, the impact of violence and other stress on learning, trauma stewardship, the risk of secondary trauma and burnout, tools for coping, and other strategies that support teachers. Exploration of resilience as a factor in responding to trauma is addressed. Additionally, practical application of teacher and student wellness strategies is explored.
Eastern Mennonite University – EDDA 541 Self-Care and Resilience for Educators: This course is designed to enhance self-awareness and care of self as foundational for understanding and caring deeply for others as a basis for effective teaching. The components of Emotional Intelligence will be a significant frame of reference for achieving this goal.
Pacific Oaks College – Separation, Deployment Trauma, and Early Development: This course will examine the different ways trauma can affect young children. Students will also understand the impact of deployment on children and will learn to understand the effects of the separation of the child from the parent both in the short or long term. Topics in this course will include causes of stress for children and childhood of trauma. Students will learn ways of enhancing resilience in young children. In this course, students will learn to find referral services for young children who have been exposed to trauma. They will learn about the cycle and stages of deployment, the difficulties faced by the deployed parent and the child, ways to speak to children about deployment, and ways to recognize warning signs of trauma in young children.
Variations in coursework
Program curricula will vary depending on the school's goals. Some of the factors of your decision will include cost and time to complete, but you cannot underestimate the importance of the coursework in the program. Make certain to research all the courses in a program you're considering to make sure they are relevant to your goals.
What else makes graduate trauma-informed education programs unique?
Self-Care and Resilience for Educators — Many programs explore how caring for the self is essential to being able to support others going through trauma, and they provide practical strategies to developing self-awareness and resilience.
Practical Applications — Programs focus on research-based practices and strategies to take back to classrooms and schools. The practical applications give students a framework for making changes to develop trauma-sensitive schools.
Leadership Skills — Programs help teachers develop leadership and collaboration skills so they can advocate in schools and the community for trauma-sensitive approaches to education.
When it comes to finding the right trauma-informed program, options are a very good thing. Do your research and find the best match for your interests and goals.
What jobs are available to people with a master's in trauma-informed education?
The subject is open to a wide range of education and related professionals, including:
Expert Teacher in Trauma-Informed Care
Trauma-Informed Practices Curriculum Developer
Counselor in Trauma-Informed Care
Social Worker in Trauma-Informed Care
In addition, there are many specific tracks within school and non-school settings.
Education – PreK-12 and universities or colleges
Schools at all levels are realizing the benefits of trauma-informed teaching and leadership programs. You may be able to offer career-related education for students at nearly any level.
Juvenile Detention Teacher
Work with students in groups and one-on-one to develop educational skills and learn topics as required by the curriculum
Adapt teaching methodologies to cater to students with different learning styles and cultural backgrounds who have experienced trauma
Advocate for individual and collective student needs with parents, representatives from other educational institutions, correctional facility staff, and others
Maintain a cohesive school atmosphere conducive to learning and adherence to behavioral expectations and detention rules
Trauma-Informed Schools Coach
Work collaboratively with schools throughout the district to implement comprehensive trauma-informed approaches in schools
Design and facilitate professional development that supports implementation of trauma-sensitive practices
Work with administrative district, union, and school leadership staff to ensure policies and procedures reflect an understanding of the impact trauma has on student behavior
Provide coaching to teachers, administrators, and other staff that encourages the development of trauma-informed mindsets, systems, practices, and school-community partnerships
School Counselor
Value and respond to the diversity and individual differences of students and ensure equitable access to opportunities
Counsel individuals and small groups on the basis of individual and school needs
Teach students and staff about specific topics, including bullying, drug abuse, and career planning
Identify issues that impact school performance such as parent deployment, poverty, or poor classroom attendance
Non-profits and other businesses
Organizations in other sectors realize the benefit of trauma-informed training for employees at all levels. Many of these roles are potential employment opportunities for those with a teaching background as well.
Social Worker in Trauma-Informed Care
Work collaboratively with clients, medical staff, counselors, and families to develop goals for recovery and a treatment plan to achieve those goals
Educate clients about community resources available to them, including financial, housing and child care assistance
Foster a culture of resilience that demonstrates to clients that they can overcome, survive, and thrive
Provide treatment strategies to clients and empower them to choose the direction and focus of treatment
Trauma-Informed Care Coordinator
Coordinate events, including workshops and conferences, to educate staff and the community about trauma-informed care
Assess physical spaces in the organization for potentially triggering or distressing stimuli that may prompt counterproductive emotional responses in clients
Act as an advocate and resource person on issues relating to clients affected by trauma, effective coping mechanisms, and trauma recovery procedures
Work collaboratively with colleagues to develop a trauma-informed workplace culture
---