Innovation is the mark of a good teacher — no matter the class or subject. However, special education teachers often find themselves in need of exciting, innovative techniques for their classrooms. Thanks to technology, those innovations are now often no more than a tap away. The following are just a few of the many iPad apps that special education teachers can integrate into their classrooms for the benefit of those students who just seem to respond better when technology is involved.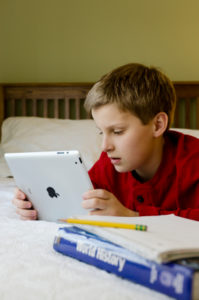 iPad apps for communication
Grace is an invaluable tool for teachers with non-verbal students. Specifically designed for students with autism, Grace provides a series of pictures that allow all students who have difficulty communicating with words to make their thoughts and desires known. The app won the 2010 United Nations World Summit Award Mobile.
Tap to Talk is similarly aimed at non-verbal students. This free program is beneficial because it allows teachers and students to create an efficient, personalized communication system for students with any non-verbal condition.
iCommunicate allows teachers to create flash cards and other lessons that they can use with individual students in their classrooms.
iPad apps for behavior
First Then Visual Schedules is an excellent product for special education teachers because it helps them mitigate one of the most common triggers — transitions — with easy-to-understand schedules.
Autism Express is a free app that offers ever-present flashcards that can help autistic students understand emotional expression. The device replicates the paper flashcards that so many special education teachers use, making it easier for teachers to access them.
Earn It Stars is a cost-effective app that makes it easy for teachers to keep track of their students' positive actions and rewards, making paperwork and incentives easier to track.
iPad apps to help develop motor skills
Dance Party Zoo is a fun, interactive way to encourage kids to practice gross motor skills by dancing along with zoo animals.
iDress for Weather is an application that teaches students practical dressing skills that can help them become independent. The cartoonish graphics help kids enjoy the app.
iWriteWords helps children learn fine motor skills, handwriting and literacy through entertaining games. It's a perfect individual seat work activity for the student who struggles with traditional worksheets.