DIRECTIONS – Part 1
In the My Responsibilities section in the diagram, write your duties: the things that you must do and are responsible for doing (i.e., schoolwork, chores, etc.).
In the My Activities section, write the things you like doing (e.g., riding your bike, making art, playing games, etc.). In the middle of the diagram, write the things that are both things you must do and like doing.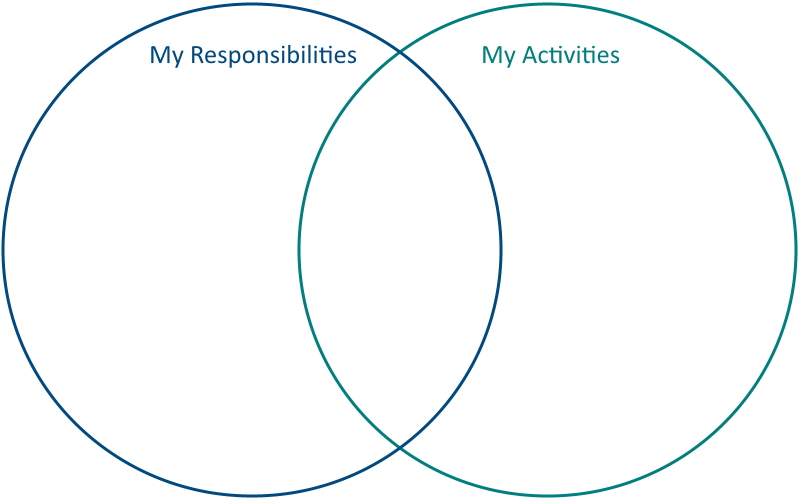 DIRECTIONS – Part 2
Take a look at your diagram. What do you notice? Does anything seem out of balance to you?
Put a "plus" sign next to the things you'd like to do more of
Put a "minus" sign next to things you'd like to do less of, or things you can ask for help with
Think of one thing you can change based on your plusses and minuses. Complete the following sentence. (Hint: Be very specific in what you'll change!):
I can make my life feel more balanced by …



Download your own version of the materials!
Kelly Mendoza is Senior Director, Education Programs at Common Sense Education where she oversees education programming and content strategy, including the Digital Citizenship Curriculum, interactive games, and online professional development for schools. She has developed research-based curricula in digital citizenship, media literacy, information literacy, and social-emotional learning (SEL). She develops programs that help students and schools create a positive culture around learning and technology. She has also developed educational resources and curriculum for Lucas Learning, the Media Education Lab, and PBS Frontline. Kelly has a PhD in Media & Communication from Temple University. Follow her on Twitter: @kellymendoza