Current Events
AP Students Not OK With Oklahoma Legislator's Bill to Defund APUSH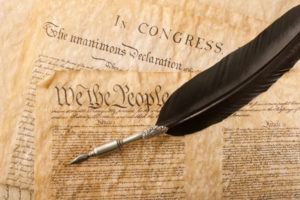 Last October in Colorado, Jefferson County student protests brought national attention to their school board's decision to assess the College Board's Advanced Placement United States History (APUSH) curriculum to ensure that it would "present positive aspects of the United States and its heritage."
Conservative school boards and politicians increasingly oppose AP U.S. History curriculum
Nicknamed "Little Rebels" by international media, Jeffco students staged walkouts and protests against this movement, fearing that it would lead to censorship of their history classes. The Jeffco school board listened to hours of testimony regarding APUSH, then voted in support of investigating the curriculum.
The school board's decision was representative of a growing movement of criticism and rejection of the College Board's 2014 APUSH curriculum framework. Conservative political groups have identified the APUSH framework as placing an unreasonable focus on the negative aspects of American history.
Dan Fisher, R-Oklahoma: Prohibit state funding for APUSH courses
Recently, Oklahoma state legislator Daniel Fisher expanded the anti-APUSH discussion into the Oklahoma legislature. Introduced as an emergency bill, Fisher's HB 1380 sought to prohibit state funding of any APUSH courses and design an alternative curriculum that would place increased focus on documents and speeches specifically included in the bill including the Federalist Papers and George W. Bush's 9/11 address.
The Education Committee passed Fisher's legislation, despite its $3.8 million anticipated fiscal impact for framework, assessment development, and various other associated expenditures. These expenses largely came from the bill's attempt to create a replacement version of the class, though it did not contain information on how the replacement course could receive the type credit-granting relationships the College Board has established with a large list of colleges and universities.
Oklahoma History Teacher of the Year: 'The ideals set forth during the foundation of this country influence who we aspire to be'
Oklahoma history educators fought back, saying that critics of the course did not understand the APUSH framework and that its newfound focus on critical thinking was representative of college-level history work. James LeGrand, the 2014 Oklahoma History Teacher of the Year, noted that the process of teaching APUSH exposed students to a variety of primary sources and then encouraged them to use critical thinking to develop a vision of American history from multiple perspectives. LeGrand went on to say, "I tell my students the ideals set forth during the foundation of this country influence who we aspire to be. It's a process and we don't always live up to those aspirations."
Criticism of HB1380 was significant — and not limited to Oklahoma teachers. APUSH headlines again reached the national and international news media, and online petitions garnered thousands of signatures in support of the APUSH framework. Critics of the bill included Oklahoma APUSH students, who, like Jeffco's Little Rebels, are now armed with experience in civic engagement in addition to critical thinking skills.
After criticism, HB1380 pulled for revision
In response to criticism of his bill, Fisher swiftly pulled it, saying that it was poorly worded and "we're going to clear it up so folks will know exactly what we're trying to accomplish and it's not to hurt AP. We're very supportive of the AP program."
If HB1380 was intended to support AP U.S. History courses, it is in need of radical revision. As of now, it has been pulled for revision, but the larger movement behind rejection of the APUSH curriculum remains.
Banning or de-funding APUSH curriculum has a significant impact on AP students
Risks of changing the curriculum are significant: Schools could be dropped by the College Board and students could find themselves scoring poorly on AP exams, thus not getting credit for their studies when they attend college. Meddling with the framework also infringes upon the rights of advanced placement students to use their critical thinking abilities when learning about America not only as it is, historically, but as it aspires to be in their future.
Monica Fuglei is a graduate of the University of Nebraska in Omaha and a current faculty member of Arapahoe Community College in Colorado, where she teaches composition and creative writing.