Current Events
Teachers, Educational Organizations, and the White House Seek More Arts in Curriculum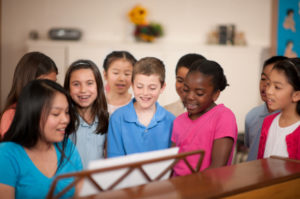 Arts education in American schools has become a hot topic of discussion that has reached even the doors of the White House. What are the reasons for such discussion? Many other schools around the world are surpassing American education on several subjects, including arts education.
According to the National Endowment for the Arts' Survey of Public Participation in the Arts, most American schools taught some type of arts education to children — up to the age of 18 — from 1930 to 1970. These forms of art education included:
creative writing
music
visual arts
theater
dance
But after 1985, arts education declined in schools, specifically music and visual arts. By 2008, most children did not receive any arts education when reaching the age of 18. This also becomes most prevalent based on ethnic backgrounds with African American and Hispanic children receiving the least amount of arts education, close to 49 percent and 40 percent respectively.
The basic reason for the decline of art education classes involves school budget cuts. When schools receive less funding, classes seen as extracurricular or not being an important part of a child's educational future to pursue a professional business career become cut out of the basic curriculum.
Why Arts Education is Important
Even government officials and the president in the White House agree that arts education is important to the American youth. Students who have some type of arts education enjoy their classes as they become more engaged in lessons, will have better test scores, and are less likely to drop out of school, according to The White House Blog.
Research performed by the President's Committee of the Arts and the Humanities has shown that arts education stimulates creativity and innovation, allowing students to develop critical thinking skills that will help them achieve life goals. While arts education should be an important part of the curriculum, it falls upon the teachers and schools to decide how they will teach America's youth about the arts so that the students will take away valuable lessons that will be useful in their lives.
How Arts Education Should Be Taught
Teachers will always fight an uphill battle in teaching the arts to their classes. Each student comes from a culturally and economically diverse situation, knowing different skill levels and learning styles. So the teacher must become culturally diverse to recognize and acknowledge the differences inside each student while providing instruction that further develops the student's skills, according to the Annenberg Learner.
While teachers learn and adapt their lesson plans to educate the most students concerning arts education, it also has to be decided on what they should teach and how to integrate arts education with other school subjects during an overly busy school day. Many people would argue that the historical core of the arts should be taught, since students are virtually devoid in knowing the many famous artists and musicians who influenced the American arts culture, according to Quincy Jones on The Huffington Post.
Other educators, such as Dean Richard Kessler from Mannes College, the New School of Music, wonder how to integrate types of art education into the curriculum for schools focused on teaching quality education. On his blog, Kessler asks how can teachers in the K-12 grades focus on rigorous arts education without shortchanging other school subjects or even on specialized art instruction that emphasizes practical art or music training?
As it becomes debated on what types of arts education to provide, everyone agrees that some form is needed in the classroom. This means that schools should not be so quick as to cut out the arts from classes when funding is reduced. Instead, they should encourage students to take part in after-school programs and extra-curricular activities to receive quality arts education.