Current Events
White House Student Film Festival: Technology and Education ConnectED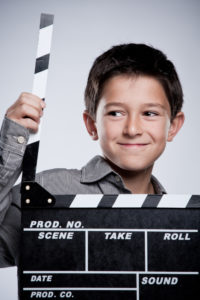 Students and scientists flocked to the nation's capital for the first annual White House Student Film Festival on Feb. 28, 2014. Last November, the White House asked students to describe technology's role in their learning experience and how education will change as a result of access to technology.
The response was overwhelming, with more than 2,500 entries of short films created by K-12 students. As the White House noted, student films "showed us how they learn."
White House Student Film Festival explores education technology through the eyes of K-12 filmmakers
High-profile guests such as Neil deGrasse Tyson and Bill Nye introduced each of the selected films to an audience of parents, teachers and students. The festival included a screening of Tyson's new television series, "Cosmos: A Space-Time Odyssey."
Entries in the film festival covered four categories: Young Visionaries, Future Innovators, World of Tomorrow, and Building Bridges. Each one speaks to the role of technology in learning.
These impressive student films are worth watching and sharing with students. Many of the videos feature students demonstrating how technology helped them engage with subjects like science and engineering, made collaborative learning fun, or increased their enjoyment of school. In addition, seeing films made by students like themselves can encourage and inspire young viewers.
Highlights among the film selections include"Technology and Me," in which first-graders explain the technology of past and present classrooms and predict how it will be used in the future; "Hello from Malaysia," a narrative short about an exchange student's struggle to relate to her American classmates; and "A Day In the Life of Kyle," a documentary about Kyle Weintraub, a seventh grader who attends class via robot while he undergoes treatment for lymphoma.
Because many entries deserved recognition even if they were not an official selection, the White House also created a YouTube playlist of 131 student films that received honorable mentions.
ConnectED campaign seeks to improve student access to technology
In his remarks at the festival, President Barack Obama outlined the ConnectED campaign, an initiative to expand high-speed digital Internet access in schools so that 99 percent of students are covered within the next five years. ConnectEd will also train educators on using technology to improve performance and spur private-sector innovation in order to provide 21st-century education and opportunities to all students.
The president shared the goal of creating a world-class education for all American students, saying, "One of the ways we deliver the best education in the world is by empowering our students with the best technology in the world."
Monica Fuglei is a graduate of the University of Nebraska in Omaha and a current adjunct faculty member of Arapahoe Community College in Colorado, where she teaches composition and creative writing.