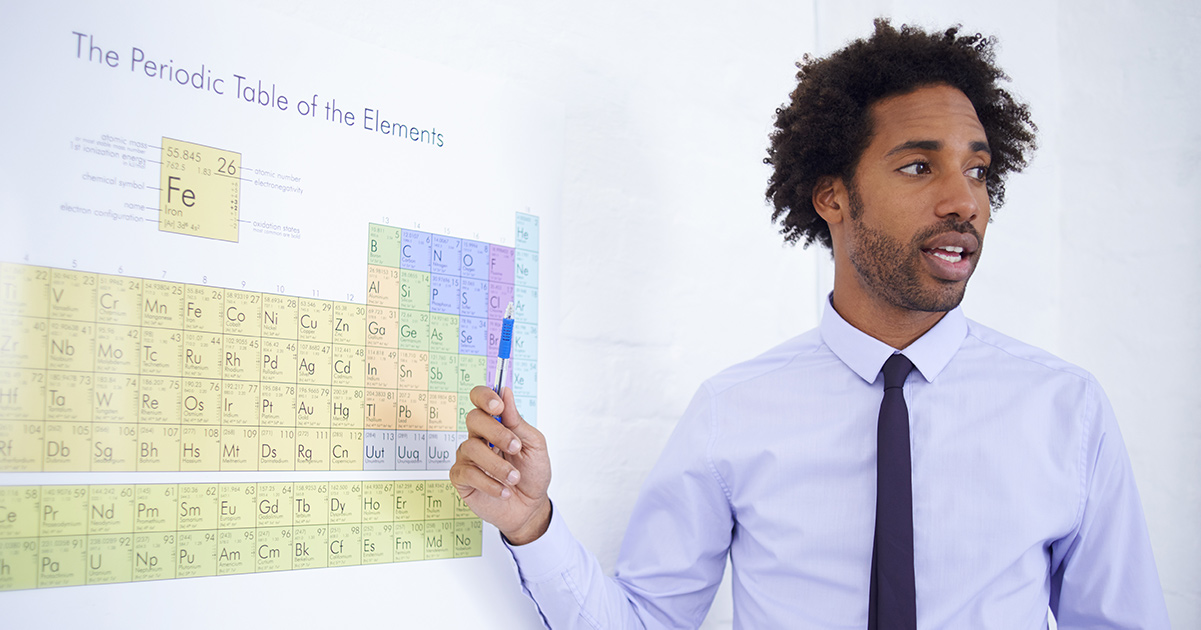 Your guide to graduate degrees in curriculum and instruction
Remember how different the average classroom was 20, even 10 years ago? Curriculum seems like it has changed as quickly as the faces that passed through your classroom. To keep up, the best teachers have learned to adapt, finding better ways to lead their classrooms and boost student performance while transforming themselves into forward-thinking educational leaders. 
One of the toughest jobs for today's teachers is bridging the gap between curriculum requirements and the demands of the daily classroom. This is where a graduate degree in curriculum and instruction can be a huge help — enabling you to create winning approaches in any classroom and giving you the tools and education you need to support today's learners.
Whether the lessons are happening in an elementary school classroom or a state-of-the-art university lab, teachers who understand how to bring elements of curriculum and instruction together are more likely to improve the knowledge and skills of their students. That's the whole point of an advanced degree in curriculum and instruction.
But are you the right person for this degree, and is it the right degree for you? Let's find out.
Is an advanced degree in educational curriculum and instruction the best option for me?
You don't just dive into a graduate degree program. You have to weigh the pros and cons and make sure it's worth your investment of time, effort and money. A graduate degree program has to answer two questions:
How well does it mesh with your personal and professional interests?
Will it help you achieve your personal and professional goals?
How can you tell if your personal/professional interests are a good match for a master's in educational curriculum and instruction? See how you answer these questions:
Are you always looking for ways to increase student interest and performance in your classroom?
Do you believe continuous improvement is possible in all things?
Do you enjoy learning about theories and methods in education and teaching?
What about your personal and professional goals? These are your key questions:
Can an advanced degree in curriculum move your career in the direction you want to go?
Will a greater understanding of instruction methodologies make you a better teacher?
Are you interested in moving outside of the classroom to work on curriculum development and instruction at a schoolwide or district level?
These questions are just a starting point. Answer them carefully. Be honest with yourself and let those answers lead you to other questions that are relevant to your life and your career. Getting a graduate degree is a big step, so you have to choose carefully.
How do I choose a graduate-level education curriculum and instruction program?
Okay, so you've thought it over and you're convinced that you want to pursue a graduate degree in education curriculum and instruction. Now you're ready to move on to more specific considerations.
Not if, but which: If you're ready to take the plunge, it's time to explore your options. You'll have plenty of universities to choose from when you start scouting for master's-level curriculum and instruction programs. We'll look at some options and explore the important factors that will help you make the best possible decision.
By the way, teachers aren't the only ones who can benefit from an advanced educational curriculum and instruction degree. School leaders, curriculum program directors and people working in textbook publication also might get a boost from these degrees. Furthermore, corporate trainers, college administrators and anyone working in knowledge management might be good candidates for an educational curriculum degree.
By any other name: educational curriculum and instruction titles
We're using the phrase "educational curriculum and instruction" in this guide because it is one of the most common titles for these programs. However, you might find similar programs under a number of names because different programs have specific purposes and universities all have unique ideas about the right way to title their degree programs.
Typically, a curriculum and instruction degree will include a specialization. For example, you might find a master of science curriculum and instruction degree. Other specializations include:
Common Core
Technical
Career and Training
English
Math
Reading
STEM
Teacher Leadership
Equity and Justice
English for Speakers or Other Languages
Degrees lead to a variety of credentials including MA, MEd and MAT. When selecting a program, you need to be familiar with the differences between various master's in education titles.
What kinds of courses will I study in a master's of education curriculum and instruction program? What will I learn?
The abundance of specialized degrees in curriculum and instruction gives you a lot of options. Nevertheless, most programs are founded on similar core concepts. The specializations merely help you apply what you learn to a well-defined niche.
Sample courses in curriculum and education programs
All curriculum and instruction programs offer advanced insights on foundational theories and how to apply them. The programs address developing curriculum, meeting disparate student needs within curriculum and evaluating curriculum against multiple factors, including government requirements.
These are some of the courses you are likely to find in a graduate educational curriculum and instruction program:
Curriculum theory — A curriculum isn't designed simply because someone likes a topic and wants it included in the local school. It is designed and developed based on an understanding of accepted theories about the best way to create, manage and teach curriculum. Theory courses will help you understand and apply these theories.
Educational psychology — Teachers need to know how learners interact with materials, how to present materials for better engagement, and how psychology affects the educational process. Most advanced-degree programs include classes relevant to specific kinds of learners and show how to incorporate their needs when developing and managing curriculum.
Research and analysis — Professionals must be able to conduct research, apply knowledge and analyze performance based on benchmarks, trends and specific data points. Classes might include research foundations, research design, analysis and statistics.
Curriculum evaluation — Teachers often have to work with an existing curriculum. These courses show teachers how to evaluate a curriculum and adapt it to the specific requirements of their schools or classrooms.
Curriculum design — Some people move beyond the classroom to design and develop curriculum. Design classes show how to meet requirements while turning students into better learners, creating materials that work well for both teachers and students, and updating materials they are already using.
Specializations create huge variations in educational curriculum and instruction programs
Once the bases are covered, the many specializations create immense diversity in the coursework covered in curriculum and instruction programs. This makes it imperative that you understand the coursework being offered. If you're interested in working in English development, don't enroll in a program that specializes in math or science.
While some programs provide a general advanced degree, others dive deeply into a specific niche. For instance, a STEM-based curriculum and instruction program, lessons might be targeted to National Science Education Standards or the standards published by the National Council of Teachers and Mathematics. A a specialization in Early Childhood Education is more likely to incorporate the concept of play into curriculum and instruction practices, while a specialization in career education might focus more on developing curriculum with a hands-on approach.
Make no mistake: Choosing the wrong program can be an expensive waste of time and money. Take your time and research these programs carefully. Read the descriptions of every course a program offers to make sure you choose the program most likely to fulfill your personal interests and professional goals.
Career opportunities for professionals with advanced education curriculum and instruction degrees
You already know that graduate degrees open doors. Whether you're hoping for a future increase in pay, expanded responsibilities or a promotion, here's a link to benefits you might enjoy after earning an advanced degree.
While many curriculum and instruction degrees are designed for teachers, you don't have to stay in your current specialty or career to benefit from such a program. Here's a list of a few career possibilities that an advanced degree in curriculum and instruction can unlock for you.
Who hires people who have master's in curriculum and instruction? What kinds of jobs can I get with such a degree?
Educational curriculum and instruction degrees are generally designed for people working in schools, but they also can help people working in government and corporate environments. Here's a look at some of the most prominent career possibilities.
Education: preK-12 schools and universities/colleges
Advanced degrees make teachers more effective at integrating published curriculum into learning environments. They also help school leaders and auxiliary staff achieve learning goals.
Teacher or Department Supervisor

Job description:

Establish department goals and priorities
Help other teachers apply curriculum to individual classrooms
Evaluate and select curriculum for use by teachers
Ensure curriculum meets local, state and federal requirements

Special Education Coordinator

Job description:

Evaluate curriculum for special learning needs
Help other educators apply curriculum to specific situations and learners
Work with teachers and administrators to choose curriculum that includes provisions for all learners

Principal or School Administrator

Job description:

Manage the adoption of curriculum within a school
Help teachers and others use curriculum within classrooms
Ensure curriculum is taught so that it meets requirements
Businesses, nonprofits, government, military
Learning keeps happening throughout our lives, which is why organizations that do the best job of conveying knowledge and skills through training often are the most successful. To that end, professionals with advanced degrees in educational curriculum and instruction can often find jobs in the private and public sector outside of schools.
Editor of curriculum or textbooks

Develop or review material for inclusion in published curriculum or textbooks
Fact-check material
Ensure published material serves learning needs in keeping with current theories on curriculum

Director of corporate training

Create learning programs that apply curriculum and instruction theories to corporate environments
Write or manage the creation of training documents
Supervise corporate trainers

Director of education, government agency

Create curriculum guidelines
Advise schools, publishers and educational providers
Act as a liaison between government and education leaders
---