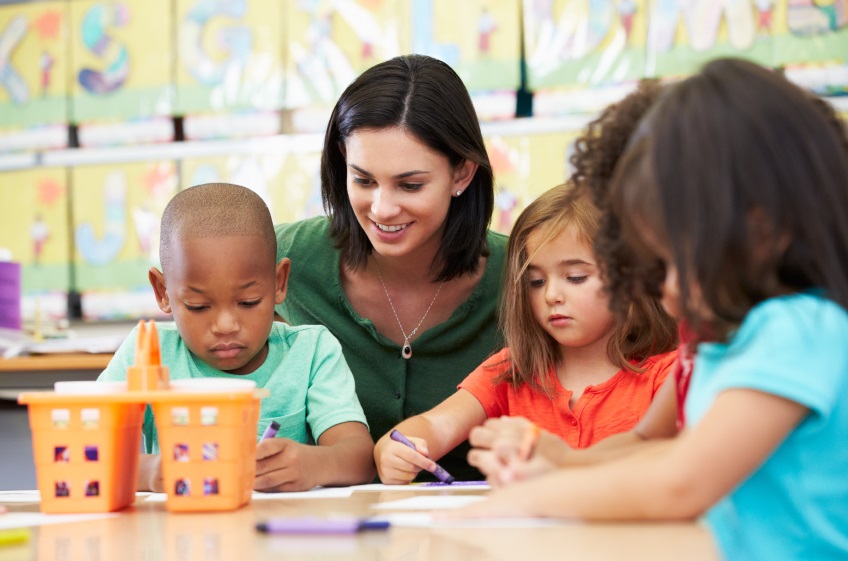 Your guide to undergraduate degrees in early childhood education
Early childhood education stands out as one of the most rewarding career fields you can choose. Professional educators work with children during their most impressionable years to help shape the person each child grows up to be. People with a background in early childhood education can teach in private and public schools, rise into school administration, or even start a school of their own in time. According to the Bureau of Labor Statistics, entry-level preschool teachers earned an average of $30,520 a year in 2019. Special education teachers with a bachelor's degree earned far more, or $61,030 in the same period. For many teachers, the first major step in a career spent working with kids is to get a bachelor's degree in early childhood education.
Is an undergraduate degree in early childhood education right for you?
Does a bachelor's in early childhood education suit your personal and professional interests?
If you are wondering whether a career in early childhood education is for you, ask yourself:
Do you enjoy working with preschool-age children?
Do you like getting to know parents and families?
Are you able to craft lesson plans that connect to children ages 3 – 8 years old?
Can you physically keep up with a dozen active preschoolers during play times and recess periods?
Do you want to create thematic units and daily class schedules that align with state standards?
Are you able to keep up with changing education requirements and standards, and are you willing to participate in professional development?
Does a bachelor's in early childhood education fit your career goals?
You also need ask if you could see yourself devoting your life's work to early childhood education:
Can the skills you learn help you grow your own career?
Can you make a difference in the community and with your students?
Are you okay with being a "go-to" person for early childhood education?
Consider these questions a starting point. After all, your own needs and desires are certainly unique, so there may be more you need to ask yourself. It's crucial to be honest with yourself and to ask probing questions that will help you decide if this is the right educational path for you.
How do I choose an undergraduate-level early childhood education program?
So, you know why earning a bachelor's degree is good for your career, and you're pretty sure that a bachelor's degree in early childhood education meshes with your interests and goals. This is a great start, but there's still more to think over.

First off, you need to explore the many program options in early childhood education. It is important to note that while an undergraduate degree in early childhood education may be well suited to teachers (especially those in the middle and high school grades), these programs also could be suitable for people in the corporate world.

Educational program titles — what you need to know
Early childhood education programs vary in their focus and intent, and institutions offer various programs that reflect this diversity. Individual universities offer programs with somewhat different names that revolve around the core subjects of ECE.
These are some of the more common program titles:
Early Childhood and Family Studies
Early Care and Education
Early Childhood Development and Inclusive Education
Early Childhood/Special Education Integrated B-K Endorsement
Early Childhood Intervention and Family Support
Early Childhood Development and Programming
What kinds of courses are offered in early childhood education bachelor's programs? What do they teach?
No matter how an early childhood education program is titled, it will include both foundation curriculum and hands-on learning that lets you try different strategies for sharing career-related knowledge with students of all abilities.
Sample courses in early childhood education programs:
While ECE programs vary in their points of emphasis, almost all four-year bachelor's programs include certain core requirements students must meet for the degree. In addition to the general education components of a bachelor's degree, these classes are typical of what ECE majors study:
Introduction to Early Childhood Education — Survey early childhood care and education, including historical perspectives, theories, practice, and current trends and developments.
Child Health and Safety — Study children's unique health needs and the best practices regarding preschool and classroom safety precautions. Topics may also include learning the signs of poor nutrition and potentially dangerous home environments that students may display during school hours.
Language Development in Early Childhood — Learn about the milestones of children's language development and the preferred ways for teachers to help them along. Topics in this course usually include speech and comprehension, phonics, and basic literacy studies.
Science for Young Children — Explore basic scientific concepts and the scientific method at a young child's cognitive level. Learn to devise simple experiments and engaging group activities to teach preschool-age children a scientific mindset and methods for productive investigations
Variations in coursework in early childhood education programs
Program curricula will vary depending on the school's goals. Some of the factors of your decision will include cost and time to complete, but you cannot underestimate the importance of the coursework in the program. Make certain to research all the courses in a program you're considering to make sure they are relevant to your goals.
What else makes undergraduate early childhood education programs unique?
Daily contact with children — Most careers for ECE graduates include daily contact with children. Working with kids is part of the curriculum for almost all ECE degree programs. If you enjoy playing with children, teaching them new skills and seeing them grow under your care, an ECE major can be especially rewarding.
Partnerships with families and other education professionals — ECE majors meet and learn from more experienced members of their field. Many of these contacts persist throughout an educator's career. Working with teachers, fellow students and families in the community, education students get a diverse perspective on the work of caring for and educating young children.
Insight into children's development and learning styles — A bachelor's degree in ECE gives a unique insight into the way children's minds develop and how they learn as they grow. Simple concepts, such as play time and friend groups, set the stage for later problem-solving and community behavior. Learning how these traits develop among preschool-age children casts light on how adults interact and the ways childhood behavior carries over into adult life.
Up-to-date information and training — Early childhood education is a fast-moving and constantly adapting field of study. ECE majors frequently learn cutting-edge information and best practices from leading child psychologists, educators and experts in social services and family studies.
What jobs are available to people with a bachelor's degree in early childhood education?
Education – PreK-12 and universities or colleges
Preschool Teacher
Manage classes of between 15 and 20 preschool-age children in group settings
Devise age-appropriate curriculum and activities
Purchase, manage, and maintain classroom supplies and equipment
Effectively communicate with families about children's development and behavior in class
Teacher's Assistant
Assist primary school teachers with lesson plans and classroom management
Answer students' inquiries and offer support as needed
Supervise classes during short absences by the teacher, and oversee classroom activities
Accompany classes on field trips and other outings, chaperone small groups of students, and maintain best practices for children's health and safety
Other corporations and businesses
Nanny
Provide in-home childcare for a single family or small group of parents
Care for children ages 0-5, with some services for older children before and after school
Cook, clean and perform other minor household tasks
Advise parents about their children's needs and development
Child Care Center Director
Manage the business of providing child care at a fixed location, including financial and human resources
Find and recruit qualified employees to work with children
Maintain a clean and safe environment for preschool-age children, as well as for older children in after-school programs
Comply with federal, state, and local laws regarding child care, background check requirements for staff, and other safety guidelines
Working in collaboration with other early childhood education students provides built-in networking and support. When you're researching the curriculum of early childhood education programs, ensure that it is current, relevant, and meaningful. This blog post details what you should learn in any early childhood education program.
---
Source
---