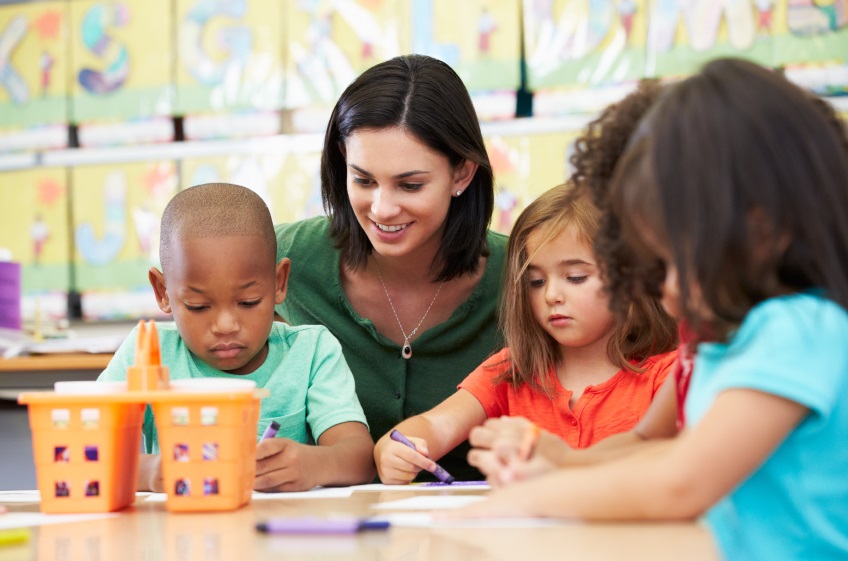 Your guide to undergraduate degrees in elementary education
By pursuing a career as a teacher in an elementary school, you have the opportunity to make a difference in the lives of the students in your community. Earning a bachelor's degree in elementary education is the first step to achieving your career goals, both in the classroom and beyond. In this article, we provide information to help you decide whether an undergraduate degree in elementary education is right for you.
Is an undergraduate degree in elementary education right for you?
Does a bachelor's in elementary education suit your personal and professional interests?
The U.S. Bureau of Labor Statistics projects that the demand for kindergarten and elementary school teachers will increase by 3% over the next decade. In regions with dense populations, the demand may be even higher.
As you're researching the many available undergraduate degree options, it's easy to become overwhelmed and wonder which path is right for you. Elementary education programs are rigorous, and before diving in, it's important to consider whether they fit your interests and career aspirations.
Does a bachelor's in elementary education fit your career goals?
The most effective educators are those who are highly educated and know how to equip their students with the tools and knowledge they need to be successful. To determine whether this career path may be a good fit for you, consider whether these statements fit you:
You are resourceful and eager to engage students in learning by adapting lessons to meet their needs.
You want to provide a supportive environment where students can discover their strengths and talents.
You want the opportunity to be a part of a vibrant learning community of educators.
You want a career that enables you to participate in continuous learning and incorporate the latest research and trends.
How do I choose an undergraduate-level elementary education program?
So, you know why earning a bachelor's degree is good for your career, and you're pretty sure that a bachelor's degree in elementary education meshes with your interests and goals. This is a great start, but there's still more to think over.
First off, you need to to explore the many program options in elementary education. It is important to note that while an advanced degree in elementary education may be well suited to teachers (especially those in the middle and high school grades), these programs also could be suitable for people in the corporate world.
Educational program titles — what you need to know
Elementary education programs go by several different names, depending on the university. Knowing the program titles to keep an eye out for makes it easier to research universities and understand what degrees they offer.
These are some of the more common program titles:
Curriculum and Instruction
Educational Technology
Education Administration
General Education
Elementary Special Education
Teaching English as a Second Language
Early Childhood Education
What kinds of courses are offered in bachelor's in elementary education programs? What do they teach?
No matter how a elementary education program is titled, it will include both foundation curriculum and hands-on learning that lets you try different strategies for sharing career-related knowledge with students of all abilities.
Sample courses in elementary education programs:
Students who earn a degree in elementary education have the opportunity to explore various topics on child development, learning styles, and curriculum development. Coursework requirements vary by state and the school's education program, but most programs include courses like:
Child Psychology and Development – According to the American Academy of Pediatrics, psychological issues play a significant role in a child's development. Effective teachers must understand how to identify and address these issues and recognize how they affect the learning process. This course examines the emotional, physical, motor, and social skills of children from infancy through adolescence.
Introduction to Education – This class is an introduction to the history and philosophy that laid the foundation of our current public school system. Students have the opportunity to reflect on their own public school experience and develop their own beliefs regarding teaching and learning.
Philosophy of Education – This course lays out various philosophical positions like Realism, Idealism, Pragmatism, and Postmodernism and explains how they shape our current education system. Students learn to identify and articulate their own philosophy of education.
Classroom Diversity – As the nation becomes increasingly diverse, so do its classrooms. This course outlines how diversity affects learning as well as covering interactions within the classroom and the role that cultural norms play in the learning process.
Variations in coursework in elementary education programs
Program curricula will vary depending on the school's goals. Some of the factors of your decision will include cost and time to complete, but you cannot underestimate the importance of the coursework in the program. Make certain to research all the courses in a program you're considering to make sure they are relevant to your goals.
What else makes undergraduate elementary education programs unique?
When it comes to finding the right elementary program, options are a very good thing. Do your research and find the best match for your interests and goals.
What jobs are available to people with a bachelor's in elementary education?
While teaching in a classroom may be the most obvious choice for those with an undergraduate degree in elementary education, it isn't the only option. Many of the skills that are necessary to become a teacher are sought out in other fields. These include leadership abilities, strong written and verbal communication skills, and a strong work ethic. Some jobs may require additional training, but having a degree in elementary education is an asset in many fields.
Education – PreK-12 and universities or colleges
Schools at all levels are realizing the benefits of elementary programs. You may be able to offer career-related education for students at nearly any level.
School Counselor
Use aptitude assessments, interviews, and individual planning to evaluate students' interests and strengths
Identify contributing factors for poor academic performance, such as low classroom attendance rates
Help students create academic and career goals
Report suspected cases of abuse or neglect
Instructional Coordinators
Develop and implement classroom curriculum
Train teachers and school staff to implement new curriculum
Mentor teachers to help them improve their skills
Review and suggest educational materials, including textbooks
School Librarian
Organize and manage collections of print material
Develop craft, storytime, and mini-lesson programs
Monitor the checking out and returning of books
Help students utilize the library's materials and resources
Other corporations and businesses
Organizations in other sectors realize the benefit of elementary training for employees at all levels. They want to boost their existing workforce by providing quality teachers. This is another employment opportunity for those with a teaching background.
Human Resources Specialist
Help employers identify employment needs
Hire or refer qualified candidates to employers
Contact references and conduct background checks for prospective employees
Keep employment records
Social Worker
Identify people and communities that need help
Develop programs and services to meet clients' needs
Connect clients with community resources like the Supplemental Nutrition Assistance Program, affordable childcare, and health care
Help clients adjust to life changes, such as relocations, job changes, or divorce
---
Source
---