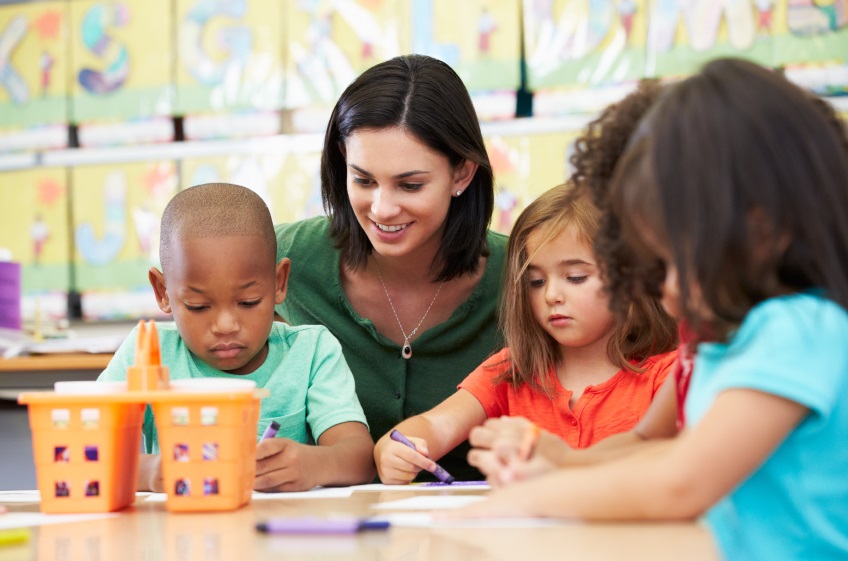 Your guide to undergraduate degrees in education
Teachers have opportunities to ignite a passion for learning in people of all ages, from birth through to adulthood. The lessons you teach in the classroom can help shape the minds of your students for the rest of their lives.
An undergraduate degree in education is a solid foundation for all teaching careers, no matter which age group you want to work with. You can also use it as the first step toward a career in special education, adult literacy, or school counseling.
The Bureau of Labor Statistics predicts that job opportunities will continue to grow for teachers at all levels. Educators who can use technology and new teaching methods to inspire students will continue to be in demand.
Is an undergraduate degree in education right for you?
There are a wide range of undergraduate degree programs to choose from, but for those considering a teaching career, a bachelor's degree in education is a good place to start. There are other pathways to the classroom, including graduate studies; however, an education degree gives students the skills and knowledge they need to teach. To help you decide whether an education degree can help you meet your career goals, start by considering your personal and professional interests.
Does a bachelor's in education suit your personal and professional interests?
Ask yourself if you have the attributes necessary to spend your days in front of a classroom. The following questions can help you determine if you have the drive and passion to succeed in a teaching career:
Do you enjoy helping people learn about different topics?
Do you enjoy working with young people and helping guide them in their educational journey?
Can you adapt your methods and techniques to be able to work with and support a wide range of personalities and learning styles?
Do you want to help bring new technologies and teaching methods to the classroom to enhance the learning environment?
Does a bachelor's in education fit your career goals?
You also need ask if you could see yourself devoting your life's work to education:
Can the skills you learn help you grow your own career?
Can you make a difference in the community and with your students?
Are you okay with being a "go-to" person for education?
Consider these questions a starting point. After all, your own needs and desires are certainly unique, so there may be more you need to ask yourself. It's crucial to be honest with yourself and to ask probing questions that will help you decide if this is the right educational path for you.
How do I choose an undergraduate-level education program?
So, you know why earning a bachelor's degree is good for your career, and you're pretty sure that a bachelor's degree in education meshes with your interests and goals. This is a great start, but there's still more to think over.
First off, you need to explore the many program options in education. It is important to note that while an advanced degree in education may be well suited to teachers (especially those in the middle and high school grades), these programs also could be suitable for people in the corporate world.
Educational program titles — what you need to know
The licensing requirements for teaching at each level of schooling differ widely, so people studying an education degree must decide what age group they wish to teach. The varied names of undergraduate education degrees reflect the different specializations available for students.
These are some of the more common program titles:
Education
Elementary Education
Secondary Education
Early Childhood Education
Education Specialist
Middle Childhood Education
Different types of degrees are also available. Most programs confer a Bachelor of Arts, but some institutions offer a Bachelor of Education. Bachelor of Science programs are also popular, especially when students are specializing in teaching math, technology, or science.
What kinds of courses are offered in bachelor's in education programs? What do they teach?
No matter how an education program is titled, it will include both foundation curriculum and hands-on learning that lets you try different strategies for sharing career-related knowledge with students of all abilities.
Sample courses in undergraduate education programs:
Classroom Management — This course helps students understand classroom management and teaches the skills needed to effectively manage student behavior.
Introduction to Child and Adolescent Development — This course explores the cognitive, emotional, and physical development of children and adolescents. Students discuss how developmental theories impact children's learning experiences, and how this interacts with culture, family, and school.
Technology for Teaching and Learning — In this course, students learn about available educational technology, and how to integrate it into the classroom to enhance teaching and stimulate communication and personal productivity.
Learning, Cognition, and Assessment — This course examines the principles of learning and cognitive development, and how different instructional and assessment methods can improve student outcomes.
Variations in coursework in undergraduate education programs
Program curricula will vary depending on the school's goals. Some of the factors of your decision will include cost and time to complete, but you cannot underestimate the importance of the coursework in the program. Make certain to research all the courses in a program you're considering to make sure they are relevant to your goals.
What else makes undergraduate education programs unique?
Student Teaching — Prospective students must have experience in a classroom to be able to obtain a state license. Education degrees have student teaching components that meet this requirement. Student teaching also allows young teachers to gain confidence in front of a classroom, and develop connections with schools and experienced teachers.
Specializations — Education degrees offer a range of specializations that help students meet their career goals. New teachers can focus on a certain age group, such as early childhood or secondary students, or different types of learners, such as special education. High school teachers must pick a specific subject to teach, although some subjects, like art or music, can be taught to all age groups.
Step to Other Careers — People who don't wish to teach, but do wish to work with students, can use an education degree to start their career. There are school-based occupations, such as school librarian or guidance counselor, that require post-graduate studies. An undergraduate education program is a good foundation for work in these areas.
License Preparation — Undergraduate degrees prepare students to meet all the requirements for a state teaching license. Requirements do vary from state to state, so it's a good idea to choose a program in the state where you wish to teach.
When it comes to finding the right education program, options are a very good thing. Do your research and find the best match for your interests and goals.
What jobs are available to people with a bachelor's in education?
Education – PreK-12 and universities or colleges
Schools at all levels require educators to at least hold a bachelor's degree. An undergraduate degree focused on education gives you a head start. You may be able to offer career-related education for students at nearly any level.
Elementary School Teacher
Establish and enforce classroom rules to support student health and a positive learning environment
Prepare curriculum, lesson plans, and classroom activities
Evaluate student performance, behavior, and social development
Communicate with parents regarding student progress and behavior
Middle School Teacher
Plan lessons that adhere to curriculum and learning outcomes
Grade student assignments and monitor progress
Work with individual students to overcome learning challenges
Supervise students outside the classroom, such as in detention or at lunchtime
Secondary School Teacher
Adapt teaching methods to meet the needs of groups and individual students
Create projects and activities to enhance learning
Keep records of student grades, behavior, and progress
Manage student behavior, including utilizing disciplinary measures
Head Start Teacher: a preschool teacher who coordinates with other Head Start workers to provide wraparound benefits to underprivileged kids, with many of the same responsibilities as an Elementary School Teacher. Learn more about Head Start teachers.
Other corporations and businesses
Organizations in other sectors realize the benefit of education training for employees at all levels. They want to boost their existing workforce by providing quality teachers. This is another employment opportunity for those with a teaching background.
Educational Program Developer
Design education programs for museums or other organizations
Plan programming and events that enhance experiences for young people
Work with teachers and education departments to develop educational experiences for excursions or summer camps
Assist with delivery of children's programs
Adult Education Specialist
Teach math, literacy, GED, or other courses to adults in a classroom setting
Evaluate student performance
Assist individual students to support learning outcomes
Prepare lesson plans using a range of teaching methods to meet the needs of students
Source
---
Bachelor's in Education Programs of Interest
---