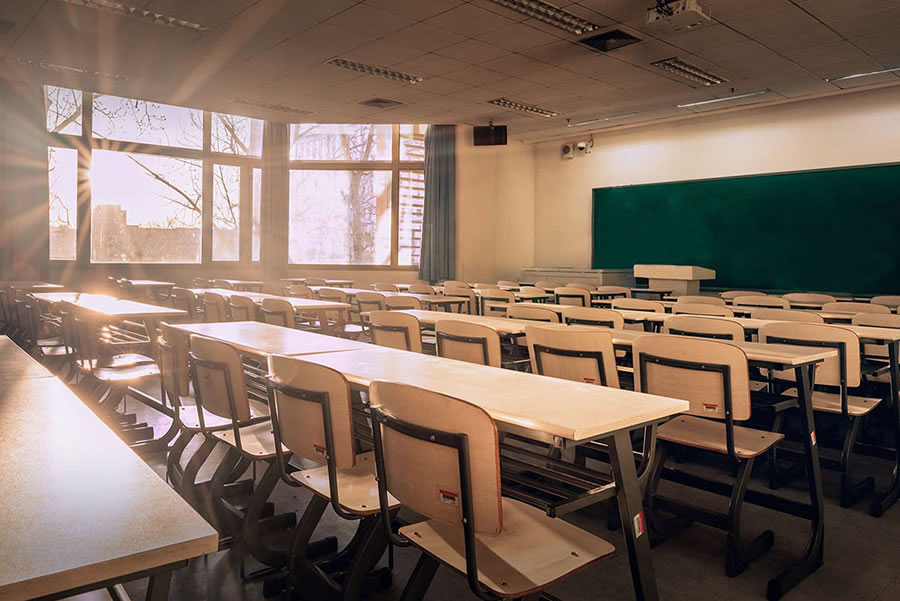 Master's in Secondary Education
Your guide to graduate degrees in secondary education
Secondary educators are a vital part of the country's education system. They help students acquire a basic level of knowledge necessary for civic engagement, professional success, and college readiness. Preparation for post-secondary education is a substantial part of the job. Secondary school educators teach a variety of core subjects and courses, including math, science, English, or social studies, as well as non-core subjects such as fine arts or technology and even skills-based classes like typing and personal finance.
Is an advanced degree in secondary education right for you?
Does a master's in secondary education suit your personal and professional interests?
There is plenty to think about when considering a master's degree in secondary education. Before committing to putting out the effort and time required to earn a master's degree, it's crucial to make sure the program and its outcomes are suited to your career goals and your lifestyle. Before you choose to pursue a master's degree in secondary education, ask yourself the following questions:
Does a master's in secondary education fit your career goals?
You also need ask if you could see yourself devoting your life's work to secondary education:
Can the skills you learn help you grow your own career?
Can you make a difference in the community and with your students?
Are you okay with being a "go-to" person for secondary education?
Consider these questions a starting point. After all, your own needs and desires are certainly unique, so there may be more you need to ask yourself. It's crucial to be honest with yourself and to ask probing questions that will help you decide if this is the right educational path for you.
How do I choose a graduate-level secondary education program?
So, you know why earning a master's degree is good for your career, and you're pretty sure that a master's degree in secondary education meshes with your interests and goals. This is a great start, but there's still more to think over.

First off, you need to to explore the many program options in secondary education. It is important to note that while an advanced degree in secondary education may be well suited to teachers (especially those in the middle and high school grades), these programs also could be suitable for people in the corporate world.

Educational program titles — what you need to know
Master's and other graduate-level degree programs in secondary education may go by other program titles, which often vary depending on the institution offering them. Some of the more common program titles you may encounter in your search for a program that suits your goals include:
Secondary Education
Middle and High School Education
Education (Secondary)
Teaching General Subjects at Secondary Schools
Compulsory Secondary Education
Elementary and Secondary Education
Education at Higher Secondary Schools and Colleges
In addition to a variety of program titles, there are also several types of master's degrees, including MAT, MEd, and MA programs.
What kinds of courses are offered in master's in secondary education programs? What do they teach?
No matter how a secondary education program is titled, it will include both foundation curriculum and hands-on learning that lets you try different strategies for sharing career-related knowledge with students of all abilities.
Sample courses in secondary education programs:
Curriculum Foundations – This course addresses the theory behind curriculum design and the role it plays in contemporary education.
Secondary Mathematics Education – This course provides a comprehensive look at the fundamentals of high school mathematics, as well as methods for effectively communicating theories and problem-solving techniques to students.
Research Design in Secondary Education – Students in this course learn to conceptualize and design a thesis proposal for their master's degree.
Technology in the Classroom – Technology in the Classroom examines techniques for integrating digital technologies such as computers, tablets, and educational software with traditional learning materials.
Variations in coursework in secondary education programs
Program curricula will vary depending on the school's goals. Some of the factors of your decision will include cost and time to complete, but you cannot underestimate the importance of the coursework in the program. Make certain to research all the courses in a program you're considering to make sure they are relevant to your goals.
What else makes graduate secondary education programs unique?
An understanding of social psychology – Secondary school educators work with students from all walks of life and at times, they may be required to recognize warning signs that a student is in crisis and know how to respond appropriately. This requires a unique understanding of psychology that's learned in graduate degree programs for secondary educators.
Curriculum development skills – A master's degree goes beyond basic lesson planning — individuals in this program learn the skills they need to develop and implement a curriculum that aligns with state standards and engages students in secondary school.
Data Analysis – Many graduate secondary education programs teach educators how to use data to improve teaching and learning. Teachers learn how assessments can reveal deficiencies in students' understanding and guide teachers in development of lessons to improve student achievement.
Leading educators – An important part of any master's degree program in secondary education is often teacher training and leadership. Many graduates go on to work in leadership roles, coordinating and supervising teams of other educators.
What jobs are available to people with a master's in secondary education?
Education – PreK-12 and universities or colleges
Schools at all levels are realizing the benefits of secondary programs. You may be able to offer career-related education for students at nearly any level.
High School Teacher
Prepare and teach lessons according to the school curriculum
Provide additional instruction and support to students who need it
Implement accommodations outlined in students' IEPs and 504 plans
Administer assessments and adjust instruction according to student outcomes
Communicate with students' parents or guardians
Collaborate with colleagues in Professional Learning Groups
Participate in ongoing professional development
Instructional Coach
Plan and organize professional development for teachers
Work with teachers and school principal to develop and implement curriculum
Train teachers and their assistants on new initiatives and curriculum
Act as a mentor to educators and recommend areas for improvement
Provide teachers with the latest research-driven instructional strategies
Elementary, Middle, or High School Principal
Supervise and coordinate activities of faculty and staff members
Administer the school's budget
Work with teachers to develop the school's curriculum according to state policies and standards
Monitor and report student achievement
Communicate with all constituents: faculty, staff, students, parents, superintendent, BOE, community members
Other corporations and businesses
In some cases, organizations may seek individuals with a strong teaching background to assist with employee training and other similar tasks. While these roles are not part of the education system, they may provide educators with a viable career option. In some cases, these jobs may pay a higher wage than those in the educational system. Specifically, as of 2020, training directors earned an average of $85,524 per year according to Payscale.com, which is more than $30,000 above the average high school teacher's salary.
Director of Corporate Training
Work with other directors and managers to develop training plans that address the needs of each department or function of the business
Evaluate employee performance and address weaknesses by providing additional training whenever possible
Research additional training methods and programs that may be effective
Evaluate the results of employee training programs and make adjustments where necessary
Director of Museum Education
Develop programs for museum displays and exhibitions that education museum visitors
Oversee services such as guided tours and school field trips
Develop training programs for museum staff that provide a comprehensive overview of the museum's displays and exhibitions
Collaborate with cultural and community-based organizations to diversify the museum's audience and discover new opportunities
Universities With A Master's Degree Program in Secondary Education
Location: Fort Wayne, IN - Google Maps

Quick summary about the university:
---
Location: California, PA - Google Maps

Quick summary about the university:
---
Location: Bowling Green, KY - Google Maps

Quick summary about the university:
---
Location: Orono, ME - Google Maps

Quick summary about the university:
Admissions Rate: 92%
Annual Net Tuition (full-time student): $10,635
Student Aid Calculator: www.umaine.edu/netpricecalculator/
Accreditation: New England Commission on Higher Education
---
Location: Honolulu, HI - Google Maps

Quick summary about the university:
---
Location: Milwaukee, WI - Google Maps

Quick summary about the university:
Admissions Rate: 90%
Annual Net Tuition (full-time student): $12,244
Student Aid Calculator: wlc.edu/Net-Price-Calculator/
Accreditation: Higher Learning Commission
---
Location: Spearfish, SD - Google Maps

Quick summary about the university:
---
Location: Norfolk, VA - Google Maps

Quick summary about the university:
---
Location: Cape Girardeau, MO - Google Maps

Quick summary about the university:
---
Location: Mobile, AL - Google Maps

Quick summary about the university:
Admissions Rate: 82%
Annual Net Tuition (full-time student): $9,198
Student Aid Calculator: usadev.southalabama.edu/npc/
Accreditation: Southern Association of Colleges and Schools Commission on Colleges
---
Location: Flagstaff, AZ - Google Maps

Quick summary about the university:
---
Location: Natchitoches, LA - Google Maps

Quick summary about the university:
---
Location: Dobbs Ferry, NY - Google Maps

Quick summary about the university:
---
Location: Monroe, LA - Google Maps

Quick summary about the university:
---
Location: Williamsburg, KY - Google Maps

Quick summary about the university:
---
Location: Magnolia, AR - Google Maps

Quick summary about the university:
Admissions Rate: 69%
Annual Net Tuition (full-time student): $5,361
Student Aid Calculator: https://www.saumag.edu/netprice/
Accreditation: Higher Learning Commission
---
Location: University Park, PA - Google Maps

Quick summary about the university:
Admissions Rate: 64%
Annual Net Tuition (full-time student): $5,556
Student Aid Calculator: tuition.psu.edu/CostEstimate.aspx
Accreditation: Middle States Commission on Higher Education
---
Location: Mississippi State, MS - Google Maps

Quick summary about the university:
---
Location: Kennesaw, GA - Google Maps

Quick summary about the university:
Admissions Rate: 61%
Annual Net Tuition (full-time student): $6,409
Student Aid Calculator: financialaid.kennesaw.edu/npcalc/npcalc.htm
Accreditation: Southern Association of Colleges and Schools Commission on Colleges
---
Location: Columbus, GA - Google Maps

Quick summary about the university:
Admissions Rate: 53%
Annual Net Tuition (full-time student): $6,610
Student Aid Calculator: finaid.columbusstate.edu/netprice.php
Accreditation: Southern Association of Colleges and Schools Commission on Colleges
---
Location: Hattiesburg, MS - Google Maps

Quick summary about the university:
---
Location: Clinton, MS - Google Maps

Quick summary about the university:
Admissions Rate: 39%
Annual Net Tuition (full-time student): $11,221
Student Aid Calculator: www.mc.edu/npc
Accreditation: Southern Association of Colleges and Schools Commission on Colleges
---
Location: Livingston, AL - Google Maps

Quick summary about the university:
Admissions Rate: 28%
Annual Net Tuition (full-time student): $8,192
Student Aid Calculator: secure.uwa.edu/calculator/npcalc.htm
Accreditation: Southern Association of Colleges and Schools Commission on Colleges
---
Location: Adelphi, MD - Google Maps

Quick summary about the university:
---
Location: Monticello, AR - Google Maps

Quick summary about the university:
---