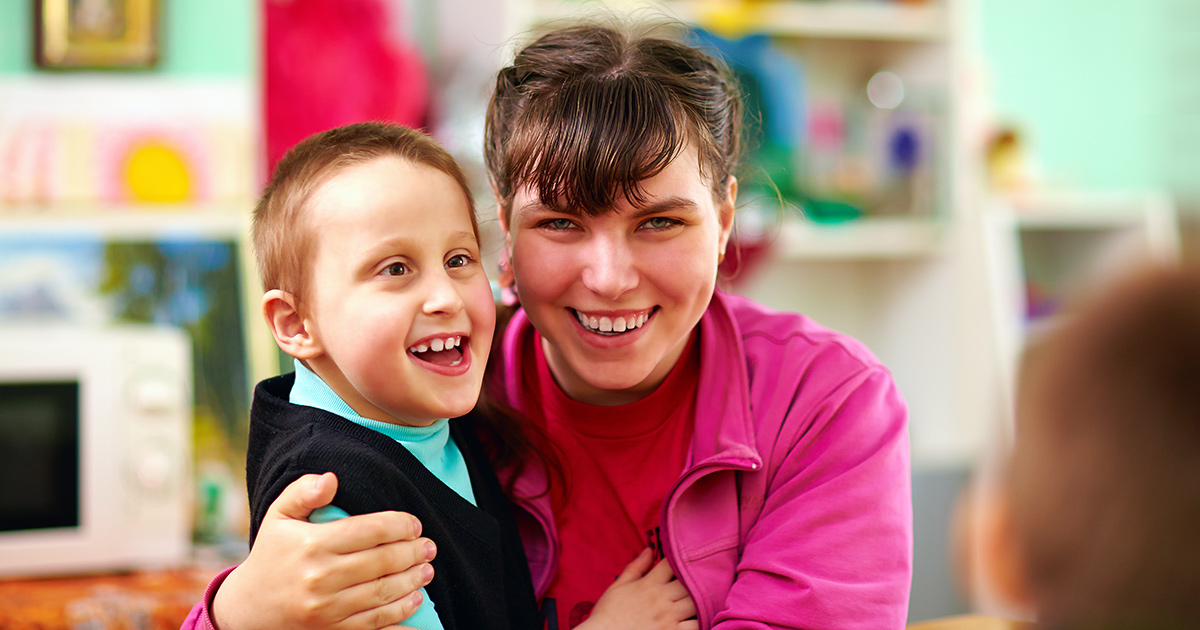 Your guide to graduate degrees in special education
Some teachers cannot resist the challenge of helping children with disabilities or other special needs. If you're that type of teacher, you're probably wondering what you could learn that would make you even better at your job. Or maybe you picture yourself supervising special-ed teachers or developing learning programs in the next few years. 
Earning a graduate degree in special education can help you accomplish any or all of those things. The challenge for you is that advanced degrees require substantial commitments of time, money and passion. If you choose badly, your investment can go to waste. But if you choose well, you can launch your career into a fascinating new phase. This guide will help you make the best choice.
Is an advanced degree in special education right for me?
Before you think about choosing a school or a degree program, you must start with two basic factors:
Your personal and professional interests.
Your personal and professional goals.
These questions will help you define your interests and goals:
Does a master's degree in special education match your personal and professional interests?
Do you have a deep passion for helping people with disabilities?
Do you strongly believe that all people with disabilities should have the opportunity to achieve their maximum potential?
Do you crave the opportunity to find creative solutions to difficult challenges?
Does an advanced degree in special education match your personal and professional goals?
Do you want a career that will bring personal and professional fulfillment?
Do you want to make a difference in people's lives while finding opportunities to improve your pay and expand work responsibilities?
Do you want to be in a position to not only teach students with special needs, but to also help your colleagues become better instructors?
Answering these questions honestly before taking another step. If you answered "yes" to most of the questions, you're probably a good candidate.
How do I choose a graduate special education program?
It's well-known that earning a master's degree can boost your career prospects. If you've answered all the questions above and you're pretty much certain you want to pursue an advanced special education degree, you're ready for the next step
Not if, but which: Now it's time to start looking for a degree program that dovetails with your interests and goals. You'll see a lot of names and descriptions for advanced special education programs because each college has its own ideas of the best way to design a program.
These are some of the most common programs in the field of special education:
Behavioral Support
Deaf and Hard of Hearing
Disabilities
Autism
Applied Behavior Analysis
Master's degree programs often fall under MEd and MAT degrees. If you're not sure what these mean, check out our quick guide about knowing the differences between master's degree in teaching.

What kinds of master's special education programs are available? And what will I learn?
There's many special education degree programs to consider. While researching programs and courses will be time-consuming, it will help make sure you find the program that matches your personal and career goals.
Common coursework in advanced special education programs
Though program and course titles vary widely from one school to the next, the foundations of the courses are pretty similar. Here's a look at the more common coursework required by most graduate special education programs.
Foundations in special education and rehabilitation — These programs typically teach you the fundamentals of pursuing a career in special education, making sure you understand the realities of working with children who have learning disabilities.
Assessment of special needs students — You'll learn to assess the academic level, behaviors, motor skills and cognitive abilities of special education students.
Applied behavior analysis — These courses focus on core concepts, strategies and approaches to treating and working with people who have behavioral issues.
Vocational and life skills — Courses teach how to help students develop skills they need to live independently as adults and hold jobs.
Variations in coursework in advanced special education programs
Some special education master's degree programs are highly specialized to help their students develop distinct skills that match their interests and goals. Many courses address specific disabilities or behavioral problems. For example, coursework for working with deaf children will be a lot different than coursework on teaching children with autism. A few samples:

Deaf education — These courses go beyond learning sign language, which is essential to teaching people who have hearing disabilities. You will learn sophisticated strategies for improving social communication with the hard of hearing and the deaf.
Language development and disabilities — Courses provide an understanding of speech and language and teach how to evaluate students with language disabilities and communication disorders.
Teaching students with autism spectrum disorder — These help you learn to identify and work with autistic students in a classroom.
Mild and severe interventions — Courses focus on teaching students whose behavioral disorders range from mild to severe.
Make sure you explore all the courses in a program before you enroll, and that every course you take gets you closer to your personal and professional goals.
Career opportunities for special education master's graduates
Earning a graduate degree in special education widely expands your career options because you have advanced skills that many employers need.
Who employs master's in special education graduates? And what jobs are available?
Schools are the major employers of people with advanced degrees in special education. Jobs may be in the classroom or at the district level. These are some of the available jobs:
Preschool special education teacher – Help schools and parents learn as soon as possible that their children have special needs, and be there for their children in the classroom.
K-12 special education teacher – Though more schools are trying to include special-needs children in mainstream classrooms, some students require a separate classroom and a dedicated special-education teacher.
Inclusion teacher – These teachers specialize in helping special-needs students work in a normal classroom environment.
Career and transition teacher — Special education graduates often work with developmentally disabled adults, teaching them basic job skills to help them transition into a real-world environment. These teachers also work with physically disabled students, including deaf or blind students, to teach them the job and life skills necessary to become more independent.
Special needs child care worker – These people care for special-needs children if their parents or legal guardians are unable to — including everything from feeding and assisting with general hygiene to helping with their educational needs. 
---