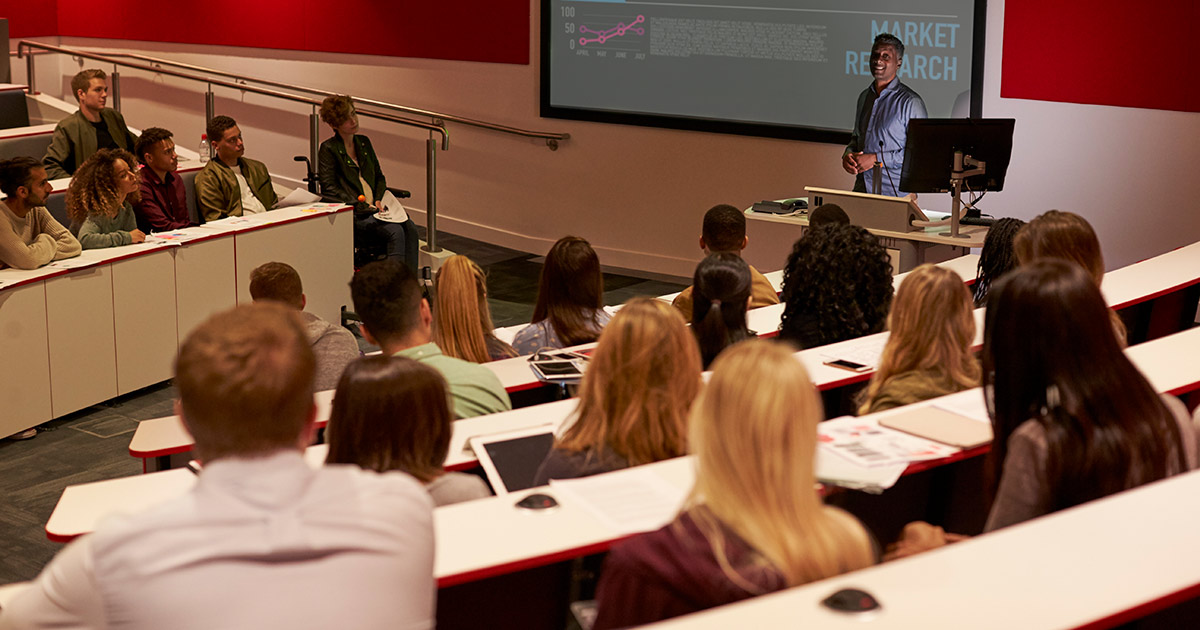 Your guide to a PhD in education
Obtaining a PhD in Education designates you as an authority on a specific topic or topics in that field. It invites you to take a deeper dive into teaching practices, learning environments, or whichever educational matters most interest you.
If you are an experienced teacher or an education professional, you already have a broad knowledge base and years of direct classroom involvement behind you. Your intellectual interests may have shifted, however. Perhaps you have discovered a greater passion for research and theory and are ready to specialize in a particular subject and move forward in your career.
Is an advanced degree in education right for you?
To help determine if this type of advanced degree is right for you, it's important to understand some of the reasons to pursue a PhD in Education. Decide whether the programs you're considering fit in with your educational and intellectual passions. Take a long look at the various programs, the courses offered, and consider the jobs and positions that may become open to you once you've achieved your goal.
Does a PhD in education suit your personal and professional interests?
Your particular research interests will guide you towards the PhD program and courses you'll want to undertake. Ask yourself whether your main goals and interests include one or some of the following:
You realize your key strengths lie in research, planning, and writing.
You have a passion to learn more about a specific topic in your field.
You want to move forward and broaden your career opportunities in the education field.
One of your passions is to make a difference in the world through educational research.
Does a PhD in education fit your career goals?
You also need ask if you could see yourself devoting your life's work to education:
Can the skills you learn help you grow your own career?
Can you make a difference in academia, the community and with your students?
Consider these questions a starting point. After all, your own needs and desires are certainly unique, so there may be more you need to ask yourself. It's crucial to be honest with yourself and to ask probing questions that will help you decide if this is the right educational path for you.
How do I choose a PhD in education program?
So, you know why earning a PhD degree is good for your career, and you're pretty sure that a PhD degree in education meshes with your interests and goals. This is a great start, but there's still more to think over.
Educational program titles — what you need to know
A PhD in Education can lead to different professional degree designations. Besides a Doctor of Philosophy in Education (PhD), there are also programs leading to an EdD degree (Doctor of Education). Both are designed for those pursuing leadership roles in the educational realm, but a PhD in Education prepares you for a leadership role in teaching and educational research. Common titles for a PhD in Education program include:
Curriculum, Instruction, and Assessment
Learning, Instruction, and Innovation
Counselor Education and Supervision
Education Policy and Evaluation
Educational Leadership and Change
What kinds of courses are offered in PhD education programs? What do they teach?
No matter how an education program is titled, it will include both foundation curriculum and hands-on learning that lets you try different strategies for sharing career-related knowledge with students of all abilities.
Sample courses in PhD education programs:
PhD programs for education have core areas of study, with most of the curriculum focused on research. The traditional courses of a PhD in Education program may include:
Research methods — This specialized course teaches advanced statistics and quantitative research methods, such as developing and evaluating tests, classroom practices, questionnaires, experimental designs, and statistical models.
Advanced qualitative research methods — This program typically involves readings, assignments, and group discussions on qualitative study design.
Education policy evaluation and application courses — These programs train students to create, analyze, put into action, and evaluate educational policies on federal, state, and local levels.
Variations in coursework in PhD education programs
Program curricula will vary depending on the school's goals. Some of the factors of your decision will include cost and time to complete, but you cannot underestimate the importance of the coursework in the program. Make certain to research all the courses in a program you're considering to make sure they are relevant to your goals.
What else makes PhD education programs unique?
Obtaining a PhD in Education provides you with a number of unique skills that can be used in a variety of fields, both within and outside of the academic field. The transferable skills you will gain upon completion of your graduate program include:
Written communication skills — While working towards your PhD in Education, you will gain written communication skills through writing research papers, outlining and completing your written dissertation, and penning journal and conference abstracts. Between the feedback from your thesis advisor, instructors, and peer reviewers, you will gain knowledge and experience to improve your written skills.
Research skills — The ability to perform research is easily transferred to many fields outside of education. With the advanced research courses taken in this PhD program, you will be able to quickly comprehend large data loads, figure the best approach to a question and ways to analyze your findings. Good research also gives you the skills needed to persuade others and defend your findings.
Public speaking — As a PhD student in education, you will get many opportunities to speak publicly at conferences, poster presentations, and in teaching environments. This practice develops your confidence to speak to large groups of people. It also teaches you how to engage audiences and ways to put forth complicated information in easy-to-understand ways.
Leadership — Through mentoring and teaching, you'll learn to become a better leader and manager. You'll achieve the experience of motivating others to fulfill a goal, assessing the performance of others, and providing constructive feedback.
When it comes to finding the right PhD program, options are a very good thing. Do your research and find the best match for your interests and goals.
What jobs are available to people with a PhD in education?
Education – PreK-12 and universities or colleges
A doctorate in education prepares you for a number of career choices that can positively impact students, an educational system, or a community.
Education — PreK-12 and universities or colleges
Tenure-Track College Professor
Specializes in teaching college-level students in one field of study, such as education
Understands and develops ways to educate students from diverse backgrounds
Is involved in research studies and publish findings
School Superintendent
Manages day-to-day operations of a school district
Works closely with the Department of Education and taxpayers
Oversees personnel matters
Advocates for school funding to manage district needs
Curriculum Coordinator
Helps schools develop curriculum and measure student progress
Works with faculty members to create measurement instruments for programs
Develops faculty skills to provide students with a powerful educational experience
Other corporations and businesses
Training and Development Manager
Recognizes and evaluates the training needs of a corporation
Creates personalized and group training programs and manuals for specific business needs
Assesses organizational performance to ensure training is enhancing performance and production
Community Service Manager
Organizes the activities of a community outreach organization
Oversees the organization's budget and program policies
Directs and evaluates the activities of professional staff members and volunteers
Survey Researchers
Collects on consumer preferences and behaviors for marketing purposes
Analyzes data and statistics to help businesses make decisions and solve challenges
Conducts quantitative and qualitative research to gather information and predict trends
---
Source
---