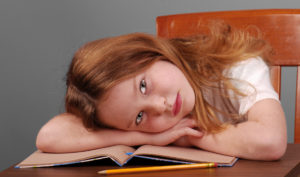 The fact that one in every 11 school-age children in the United States is diagnosed with Attention Deficit Hyperactivity Disorder (ADHD) has warranted plenty of attention. Much research has focused on the efficacy of behavioral therapy or medication as well as a list of symptoms — hyperactivity, impulsiveness and inattention — used to identify ADHD.
According to the New York Times, the United States has one of the highest ADHD rates in the world, and nearly two-thirds of diagnosed children are treated with medication. This increase may indicate that borderline cases are now identified and treated, bringing help to patients in need. However, doctors concerned with the spike in attention deficit disorder rates argue that the clinical criteria for diagnosis have blurred the line between normal and abnormal behavior — and question whether the well-known symptoms of ADHD can mask deeper issues in children.
Are some childhood ADHD symptoms actually a response to trauma?
The Atlantic reports that while completing her residency at Johns Hopkins Hospital, Dr. Nicole Brown observed that a high number of her low-income pediatric patients had ADHD diagnoses. However, "Despite our best efforts in referring them to behavioral therapy and starting them on stimulants, it was hard to get the symptoms under control."
Dr. Brown's questions about the phenomenon led her to believe that rather than suffering from clinical neurological issues, some children were manifesting symptoms of another issue: post-traumatic stress disorder (PTSD). She hypothesized that trauma-induced hypervigilance and dissociation were easy to mistake for inattention, a common attention-deficit symptom. Likewise, children with overburdened stress responses were likely to behave impulsively.
Four or more 'adverse childhood events' made children three times as likely to be on ADHD medication
Her research results, pulled from a survey on the health and well-being of 65,000 children in the United States, indicated that children with an ADHD diagnosis also experienced high levels of poverty, divorce, violence and substance abuse among family members. According to the survey, a history of four or more "adverse childhood events" meant a child was three times more likely to be taking ADHD medication.
In response to the data from Dr. Brown's study, the American Academy of Pediatrics is attempting to help clinicians identify and assess trauma in potential ADHD patients by revising their diagnostic guidelines. Such diagnoses should be made thoughtfully, particularly because the standard medication treatment for ADHD tends to be stimulant medication. This treatment could potentially further trigger anxiety and fight-or-flight reactions in PTSD patients, making symptoms worse, not better.
Differentiating between symptoms of ADHD and PTSD is complicated
Although Dr. Brown's research showed a significant correlation between childhood trauma and the rate of medication treatment for attention deficit disorder, it's important to note that establishing the correlative or causative relationship between trauma, symptoms, and disease is extraordinarily difficult. Still, the potential connection remains clear.
Unfortunately, the realities of the medical system make differentiating between symptoms of ADHD and childhood trauma difficult. With short appointment times and a heavy reliance on the parental disclosure of trauma, medical professionals may be unable to easily and quickly discern disease from dis-ease.
Does having an attention deficit disorder put children at greater risk for trauma?
While Brown's work seeks to discern attention deficit from PTSD, other researchers note the increased likelihood of trauma in the life and background of an ADHD patient. Many physicians acknowledge that there is little direct causal connection between post-traumatic stress disorder and clinical attention deficit disorders, but Dr. Ellen Littman's research attempts to clarify their interrelationship, noting a high possibility that the characteristics of the disease make trauma both more likely and more impactful in those with ADHD. This certainly complicates the issue of diagnosis.
Ultimately, diagnosis is a complicated assessment process, no step of which should be taken lightly. As the AAP releases new guidelines, clinicians will become more likely to identify what have come to be known as the classical symptoms of ADHD as potential symptoms of a variety of independent — or potentially interplaying — clinical issues. With clear adversity and trauma assessments, physicians can then establish a diagnosis which can ensure that children receive appropriate treatment with the least amount of side effects.
Monica Fuglei is a graduate of the University of Nebraska in Omaha and a current faculty member of Arapahoe Community College in Colorado, where she teaches composition and creative writing.