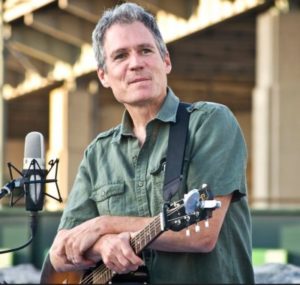 Early childhood arts-based learning is suffering at many schools. Despite recognizing the benefits of art instruction, teachers have less time for creativity and fun during class time. School budgets for visiting artists are tight as well.
"Cutbacks appear to be nationwide and beyond. Canadian schools, for instance, are dealing with the same budgetary realities," said Dave Ruch, a performer and teaching artist based in Buffalo, New York. However, he says that technology provides affordable ways to keep arts-based learning in the classroom.
Streaming technology allows students to interact with teaching artists online
"One of the bright lights in terms of arts-based learning's future," said Ruch, "is the availability of streaming programs and videoconferencing which allow students to participate in arts-based experiences from the comfort of their classroom and at a fraction of the cost of a traditional artist visit."
Connecting students with performing artists, including musicians, can be done via live-streaming programs on interactive whiteboards. Teachers can also connect computers, tablets or smartphones to projectors.
After performing in schools for 20 years, Ruch also began offering his concerts as distance learning programs on his website. He argues that virtual field trips are as interactive as an in-person visit. "This is far from a passive event where your students are watching some guy perform. I am talking directly to them…I treat the entire event just as if I'm standing right there in the room," he said. "I'm going to have them singing things back to me, I'm going to have them moving their bodies."
Creating musical history lessons for K-12 classrooms
The instruments Ruch plays include guitar, banjo, jaw harp and spoons. He enjoys weaving music and history together for students from preschool through high school. "Some of the things I do for early childhood classrooms include a concert called 'Traditional Children's Game Songs, Stories and Singalongs' and a 'World Communities' concert featuring songs, stories and musical instruments from around the globe," he said.
[vimeo]https://vimeo.com/119254503[/vimeo]
In addition to the ease of using technology to bring artists to classrooms, Ruch points to the mountain of research that affirms the power of the arts to engage students across disciplines and learning styles.
During an interactive performance for students, he said, "I'm going to be asking them questions, which they can answer in real time. They're going to have the chance to ask me questions at the end of the program, which I can answer. I'm going to be able to address them by name during that section, where 'John in Mrs. Smith's class is asking this.'"
Resources for virtual artist visits and online concerts
Ruch hopes online field trips will never completely supplant face-to-face experiences, but the feedback has been overwhelmingly positive from classrooms he's worked with in the past year. He shared a few suggestions for teachers on finding and using online concert resources and virtual field trips.
Videoconferencing
"More school districts than ever have installed videoconferencing equipment," he said. "If you're not sure about your district, by all means check with your IT or tech person and you may just be pleasantly surprised."
Ruch also recommends visiting the Center for Interactive Learning and Collaboration, which has thousands of low- and no-cost interactive programs from content providers around the globe.
Webcasts
"These live, interactive events require only an Internet connection — they're broadcast online and can be enjoyed on any computer, SMART Board, interactive whiteboard or other Internet-connected screen," said Ruch. Classroom settings are ideal, with students participating right from their desks or sitting on the classroom floor.
Because of the economies of scale (multiple schools can participate in the same event), these tend to be just a fraction of the cost of a field trip, assembly, or guest artist visit. Ruch delivers his distance learning programs using the Concert Window platform. While he's not aware of other presenters using this format, he thinks it's only going to grow in the years to come.
Erin Flynn Jay is a writer, editor and publicist, working mainly with authors and small businesses since 2001. Erin's interests also reach into the educational space, where her affinity for innovation spurs articles about early childhood education and learning strategies. She is based in Philadelphia.