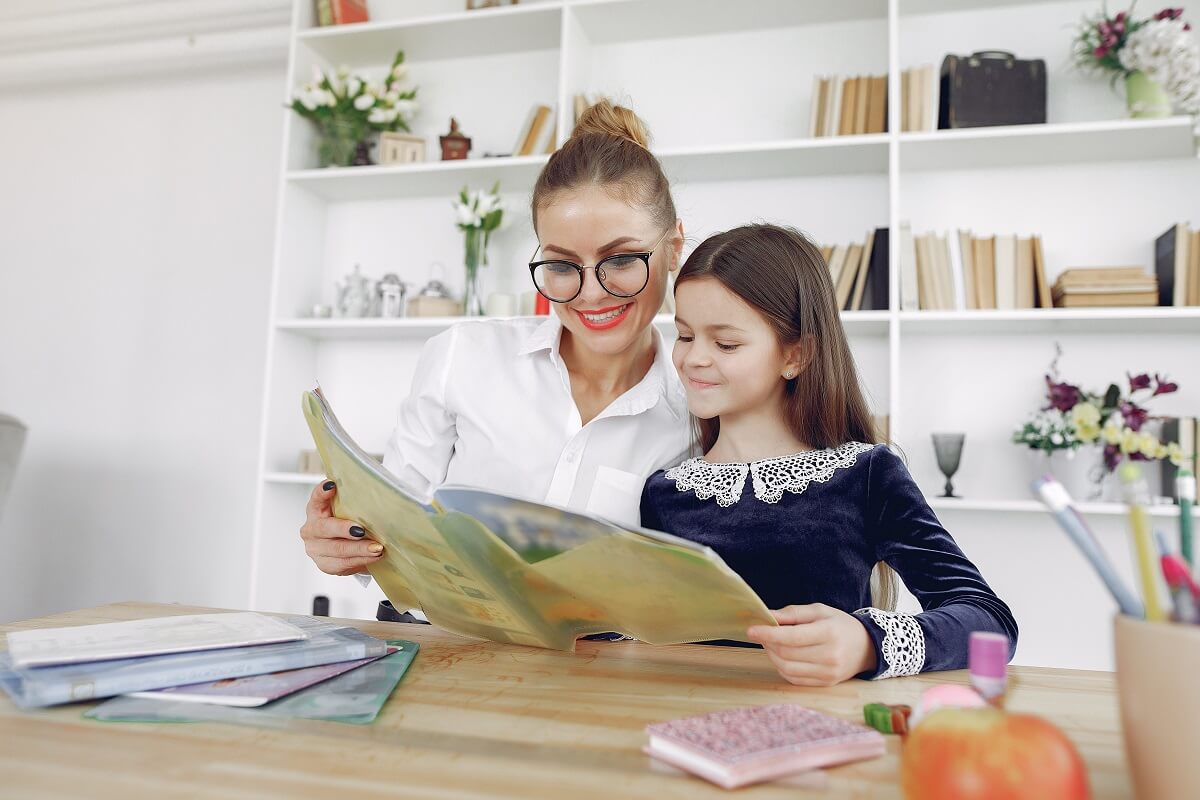 Your guide to earning Your Master's in Reading and Literacy Education
"Books are the quietest and most constant of friends; they are the most accessible and wisest of counselors, and the most patient of teachers." —Charles William Eliot.
Books, and by extension, reading, serve an important function in our lives. Early on, we begin reading for pure interest. Children pick up books, turn the pages, and are eager to see the story unfold. As we grow older, reading also serves a different purpose. Adolescents use books to enhance their concept of the world; to solve problems' and to discover new ideas.

Reading's purpose evolves throughout life; yet, books remain our closest friends, our most trusted counsel, and our kindest of teachers.
Of course, in today's world, books are not the only tool used to nurture a healthy literacy education – computers and mobile apps are everywhere you look these days. And, as our world's technology continues to progress, so must the teaching of reading and literacy.
A master's degree in reading education is designed for enthusiasts looking to impart the love and importance of reading to a wide range of learners. Graduate-level reading and literacy education programs strengthen your ability to develop and implement reading programs throughout your school, district, and community.
Is an advanced degree in literacy and reading education right for me?
When considering a graduate degree, it's important to research extensively to find the right program. This process can be overwhelming, so we cover the basics here. This section aims to help you understand whether an advanced degree specifically in reading and literacy education makes sense for you. Keep in mind two major factors consider as you continue your investigation:
Personal and professional interests
Personal and professional goals
Does a master's in reading education fit your personal and professional interests?
Are you interested in understanding how and why students learn to read in certain ways?
Do you enjoy teaching students how to communicate through text and words?
Do you consider yourself a people-person? Are you patient enough to work closely with students daily?
You are flexible, and you look forward to working with flexible learning styles.
Do literacy education programs align with the goals you have for your future?
How will you use what you learn to strengthen or change the established reading curriculum in your school?
Are you looking to make an impact on your community or surrounding schools' literacy and reading health?
Will your knowledge help you positively affect your school district?
Be sure to consider the above questions and statements to determine whether this program is the right fit for you. Your interests and goals are uniquely your own, so be sure to cater the questions to your specific circumstances. Honesty is the best approach.
How do I choose a graduate reading and literacy education program?
By now, you are aware of how master's degrees can help your career. What's more important is that you're certain earning a master's in reading and literacy education aligns with your unique interests and goals. You're well on your way!
Not if, but which: Now, your next step is to explore the various programs available under the reading and literacy education category. We'll show you some of the common program options as well as other important things to keep in mind as you continue your research.
By any other name: degree titles for literacy and reading education programs
Our guide frequently references "reading and literacy education" programs, as this is the most recognizable name for the category of degree programs. In reality, graduate programs in reading education and literacy education go by many names. Why? Two simple reasons: different programs serve different people and purposes and schools craft program titles in line with their mission statement.
Here is a list of common program titles:
Master of Education in Reading & Literacy Education
Master of Education in Learning, Teaching & Curriculum: Reading Education
Master of Arts in Reading
Master of Education: Literacy Studies
Master of Education in Curriculum and Instruction – Reading, Language Arts, and Literature Education
If you're confused about the differences between MEd, MAT, and MA, don't worry. You're not alone. We put together a simple reference guide that explains the various master's education program titles.
What kinds of master's literacy education programs are available? And what will I learn?
You have a lot of options—and that's a good thing. Colleges and universities consider both local and national trends to determine the specific coursework and curriculum of master's-level reading and literacy education programs. This means you have choices to meet your individual goals.
Common coursework in reading education programs
No matter the program title, your master's degree curriculum in reading education includes coursework specifically designed to enhance your understanding of reading and literacy pedagogy.
Here are sample courses found in most graduate reading and literacy education programs:
Reading assessment: It's important to understand the basics of the reading process and the many factors that can influence a child's reading development. Learning the proper role of assessment in literacy instruction is critical to success when working with many different types of learners.
The teaching of reading and literacy development: Pedagogy of reading development is likely the most practical course for this program. Here, you will learn how to develop appropriate reading and writing curriculum for various types of learners.
Current issues in literacy: Literacy instructors develop higher quality curriculum by keeping up to date on the modern research in reading education. This course encompasses new techniques for teaching, procedures for instruction, and reviews of new mandates for teaching as well as modern assessment ideas.
Organization of school reading programs: You will study the extensive role of a reading educator as a leader of curriculum, staff developer, and a reading professional. These types of courses prepare reading educators to construct long-lasting reading programs across all grade levels.
Variations in coursework amongst reading education programs
Different programs deliver different outcomes. It's important to realize that curriculum will vary from program to program. When considering all the components of a certain program, make sure you include coursework in your assessment. After all, that's what you'll be spending most of your time on!
Some key differences to remember when researching master's reading education programs:
Learner demographics: Coursework typically focuses on either the PreK-12 spectrum or adult learner populations. Sometimes, you'll see courses that cater to a specific subset of learners; for example, children or adults requiring special needs. Or, programs can be pertinent to only elementary-aged students.
Workplace settings: Reading education may cover one or more types of workplace environments. The most common settings are classrooms or childcare settings. You could find instruction specific to community center environments for adult learners attending literacy development classes. Your graduate program in reading education could also cover business and corporate settings.
Linguistic diversity: Literacy education programs may include special focus on non-native English speakers. A program with this focus imparts greater knowledge of linguistic nuances based on variations in cultural norms and expressions.
Psychology of reading: Why do some students enjoy reading more than others? What are social or sociological factors that deter reading and good reading habits? How can you make reading cool? Programs may focus on the theoretical and psychological principles that influence individual differences in the practices of reading.
If you're looking to up your skills in your current role as a reading teacher, look for a program where you can directly and immediately apply your newfound knowledge in the classroom. Or, if you want to move into a more authoritative role, look for a program that prepares you for leadership and organizational responsibilities.
New career opportunities with a master's in reading and literacy education
Earning your graduate degree can enhance many areas of your life–most obviously in your professional career. A graduate degree may lead to promotions, higher salaries, and more responsibilities at work. Again, here's the link detailing how your advanced degree can help your career.
We trust that earning your master's in reading and literacy education can help your efforts at your current job, or help you find one you don't yet have. If you are pursuing this program because you're interested in a new professional role or industry, this is the section for you. There are many distinct career possibilities that can be achieved with a master's in reading education.
Education: preK-12 schools and universities/colleges
Instructional Coordinator

Oversee school curriculums and standard of the teaching of reading
Coordinate the implementation of reading curriculum with teachers and principals
Assess the proposed effectiveness of changes to reading curriculum

Reading Consultant (K-12)

Work with teachers and principals to guide classroom in new literacy curriculum developments
Plan, model, and co-teach closely with lead teacher in the classroom
Assess effectiveness of students, learning models, and implementation of reading curriculum

Reading Tutor

Work closely with students in small groups or one-on-one
Focus on reading and literacy skills solely
Plan, teach and assess changes in tutored students

Reading or Literacy Coach

Leadership role of schoolwide literacy programs for different grade levels
Create sustainable processes that support development and implementation of literacy programs
Work with teachers on reading instruction and classroom implementation

Professional Development Leader, K-12

Work closely with teachers, grade level teams and other school leaders or administrators
Develop, advise, reform different areas of curriculum, specifically focusing on reading

Division or Department Chair (K-12)

Direct involvement with administrative tasks and duties across school district
Provides direction, coordination, development of school and district-wide reading curriculum
Helps improve reading instruction through professional development opportunities
Other than schools, who employs graduates of reading education programs? And what jobs are available?
Having a hard time picturing yourself in front of a group of students? Reading and book enthusiasts find that a master's in reading education opens many doors outside the classroom setting. For example, you could find yourself in a corporate position, advising established textbook publishers, or working with reading organizations to promote global literacy for underprivileged youth. You'll find a few careers below—note that official positions/titles differ from organization to organization.
Businesses, nonprofits, government, military
Advisor to Publishers of Reading Textbooks for K-12 Instruction

Plan, review, revise and advise curriculum and content for textbooks
Provide insight and ideas to help develop new reading and literacy curriculum

Reading program Advisor to State Legislatures/Congress

Provide counsel to various education committees
Knowledgeable about early childhood education as it pertains to reading and literacy
Work with teachers, students to better understand on-campus standards
Identify limitations in reading programs state-wide 
---