Researchers make a strong case for the value of homework for high school students.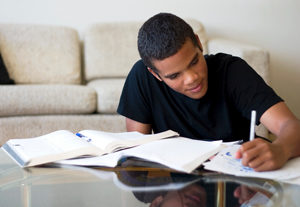 While debates still rage over the effectiveness of homework in lower grades, there's little question that well-designed homework boosts the achievement of high school students.
During the high school years, many students participate in extracurricular activities or take on part-time jobs — responsibilities that leave little time for families to connect, which remains important for this age group. Advocates for less-intense homework policies maintain that students should be able to balance school, activities and family life.
Homework helps high school students — but how much do they need?
High school students are better able to manage their time, stay focused and complete complex tasks, which enables them to tap the value of homework. In high school, the 10-minute per grade level rule still applies (students should receive 10 minutes of homework per night based on the grade level they are in). This rule allows up to 120 minutes of homework in the evening for upper-level students. While students occasionally need to do more than two hours of work a night, this should be the exception rather than the rule. Research shows that completing more than this amount of homework results in no further gains.
There is, however, a larger spread in the amount of homework students do each night, even among those at the same grade level. As students get further along in high school, they can select the rigor of their curriculum. Those who pursue higher-level work, such as AP, honors or college-level courses, will do more homework each night than those who have a less-rigorous course load. Still, students shouldn't be assigned more than two hours of homework a night on average.
High school students need real work, not busy work
Researchers agree that homework should serve a specific developmental or educational purpose. High school students should not get the impression their homework is just busy work; that increases resentment and reduces the likelihood they'll see homework as crucial to their education.
The goal of homework, especially in the high school years, is for students to spend more time studying a subject and engaging in the curriculum — assuming the homework is designed to be meaningful and engaging rather than passive activities that don't truly engage or promote understanding of new concepts. Purposeful homework should give students a deeper understanding of content and allow them to practice skills that they can master independently.
While some researchers suggest reducing homework for high school students, most researchers agree that homework at this age level is important because it has been positively linked to academic achievement. Yet it's important to remember that the amount and type of homework matters, and teachers should strive to give less homework when possible so long as it promotes academic excellence.
Caitrin Blake has a BA in English and Sociology from the University of Vermont and a master's degree in English literature from the University of Colorado Denver. She teaches composition at Arapahoe Community College.