Studying historical facts and figures has been a mainstay in elementary and secondary schools for generations. That's especially true in government and civics classes, where students learn about the U.S. presidents and their places in history.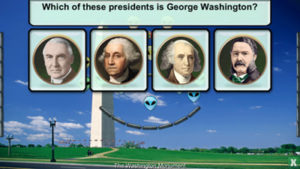 But memorizing this information can be a monotonous task for some students. Fortunately, technology can help make that job more fun by making a game out of it.
"Presidents vs. Aliens" is an educational gaming app for smartphones and tablets that focuses on helping students learn about U.S. presidents. The app is from Dan Russell-Pinson, the developer behind the popular "Stack the States" gaming app for K-6 students.
In this game, which is aimed at 9- to 11-year-olds, extraterrestrial aliens hover ominously over national landmarks, including the White House, the Washington Monument and the Lincoln Memorial. It's up to the player to choose a president to defeat the invaders.
Getting started
Before starting the game, players need to study the presidential biographical flashcards included in the app. The 44 flashcards include facts on each president that players will need to know when playing the game.
Presidential facts include:
Each president's name and years served.
Party affiliation.
Nickname.
Noteworthy events during each president's term.
Famous quotes.
Interesting facts and trivia.
The goal is to remove all aliens from the screen using a president's head as a projectile to destroy them. Each time a group of aliens is eliminated, the player earns a new president icon that is saved in a separate holding area. When enough icons are collected, players can advance to bonus games that require more skill and knowledge and offer more interactive features.
Bonus games include:
Heads of State. Portraits of president's heads float in space, and players need to match each portrait to the correct name.
Executive Order. Players drag and drop images of presidents and put them in chronological order.
Interactive elements
The app interface includes a host of interactive features to keep students engaged while they learn. Among them is the ability to add multiple players, each with a custom presidential avatar, to the game lineup.
Also included are high-resolution photos of national landmarks, colorful graphics and animated movements powered by a realistic physics engine. Fun sound effects respond to player movements and complete the interactive experience.
Download details
The "Presidents vs. Aliens" app costs 99 cents. It can be downloaded through Google Play, Amazon Appstore and iTunes. The app is compatible with smartphones and tablets running the Android operating system 2.3 or later. Apple users can play the app on iPhone and iPad tablets running iOS version 4.3 or later.