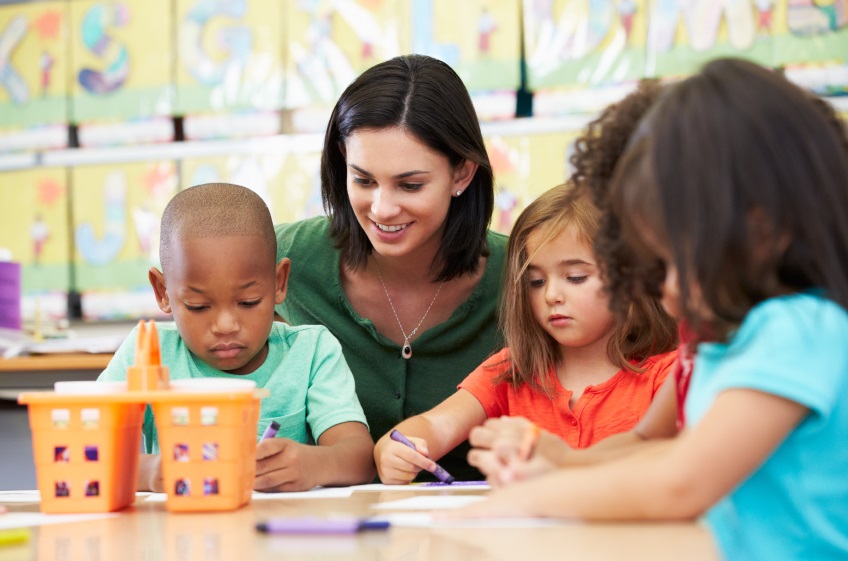 Your guide to certificates in early childhood education
Researchers began studying the effects of early childhood education in the 1960s and have consistently found that quality education brings long-term benefits to young children. Children who participate in prekindergarten programs are more likely to attend a four-year college, less likely to be arrested or struggle with substance abuse, and have higher incomes as adults. It also teaches children socialization, resilience, respect, and helps foster a love of learning.
Parents and communities are recognizing these benefits, which is why the Bureau of Labor Statistics predicts employment for preschool teachers will grow by 7% from 2018 to 2028. If you love the idea of working with young children, a certificate in early childhood education can help you start a career where you have the opportunity to influence children in ways that can improve their entire lives.
Is a teaching certificate in early childhood education right for you?
There are a wide range of certificate programs that can help you start your career working with children. This article can help you determine whether early childhood education is the best area for you to focus your studies. Start by considering your career goals and your personal and professional interests.
Does a teaching certificate in early childhood education suit your personal and professional interests?
These questions can help you establish whether you have the passion and motivation required to succeed in this field:
Do you want to work with young children aged from birth up to around eight years of age?
Do you want to help young children get the best start to their educational journey?
Do you enjoy using games and playtime to help children learn and develop new skills?
Are you ready to teach young children a wide range of topics, including social and physical development?
Educational program titles — what you need to know
Certificate programs in early childhood education go by many names. These reflect the different focuses of the programs, such as different age groups. Some schools also use unique naming systems.
These are some of the more common program titles:
Early Childhood Technology
Early Childhood Educator
Early Childhood Teacher
Preschool Management
Child Development Specialist
Early Childhood Care and Education
Early Childhood Infant and Toddler Care
Sample courses in early childhood education certificate programs:
Development in Early Childhood — This course explores human development through to middle childhood and helps students identify appropriate characteristics and activities for each stage of development.
Positive Guidance and Discipline for the Young Child — Participants examine why children behave in certain ways and learn various methods for correcting behavior in a positive, respectful, and developmentally appropriate manner.
Math Development in Young Children — The curriculum focuses on using hands-on activities and math games to help young children understand age-appropriate math concepts. Students also learn how to identify and support children who find math challenging.
Curriculum Development in Early Childhood Programs — In this course, students learn how to design and implement curricula for young children. It focuses on developmentally appropriate lesson plans and emphasizes the value of play and appropriate materials and activities.
What else makes early childhood education certificate programs unique?
Practical Experience — Many certificate programs require students to complete a practicum working under the mentorship of an experienced teacher. This gives students the opportunity to work with young children and gain experience and connections in a professional environment.
Understand Child Health Care — Certificate programs cover the early childhood health care policies and procedures in the relevant state, as well as topics covering nutrition, prevention of disease transmission and injuries, and identifying child abuse and neglect. Many programs also require that students take CPR and first aid courses.
Continuing Education — Many schools allow students who have completed a certificate in early childhood education to apply credits towards an associate or bachelor's degree. This is advantageous for students who want to enhance their career through further education.
License Preparation — A license is needed in most states before you can work in an early childhood environment. This is especially true for people who want to work in government facilities. Certificate programs generally give students the knowledge and experience needed for licensing. Make sure you check that courses in the program cover the knowledge needed in the state where you wish to work.
What jobs are available to people with a teaching certificate in early childhood education?
Education – PreK-12 and universities or colleges
Preschool Teacher
Organize and lead activities that promote physical, mental, and social development
Teach basic skills, including shapes, colors, numbers, and letter recognition
Evaluate student behavior, performance, social development, and physical health and communicate observations to parents and colleagues
Establish behavioral expectations and enforce rules to ensure order is maintained
Teacher's Aide
Work with students in small groups or individually to provide extension or remedial support
Maintain detailed records of attendance, progress, and grades
Prepare materials for lessons and demonstrations
Supervise students in the classroom, playground, and other settings as required
Early Childhood Tutor
Collaborate with parents and teachers to identify student needs
Develop personalized strategies to help students learn developmental skills needed for kindergarten
Assess student progress and report observations to parents and teachers
Provide encouragement and positive motivation to students
Other corporations and businesses
Nanny
Undertake appropriate activities with children, including creative, educational, and outdoor pursuits
Plan and implement daily routines, including mealtimes and bedtimes
Ensure behavior standards and household rules are maintained and enforce appropriate discipline as required
Manage bathing, dressing, and meals for children
Childcare Worker
Provide opportunities for children to discover new interests by introducing them to sports, art, music, and other potential hobbies
Monitor children for health, behavioral, and other issues and report concerns to parents and staff
Encourage age-appropriate socialization to help children learn basic skills such as manners and sharing
Provide care for children through grooming, feeding, changing diapers, setting schedules, and cleaning rooms and toys
---
Source
---