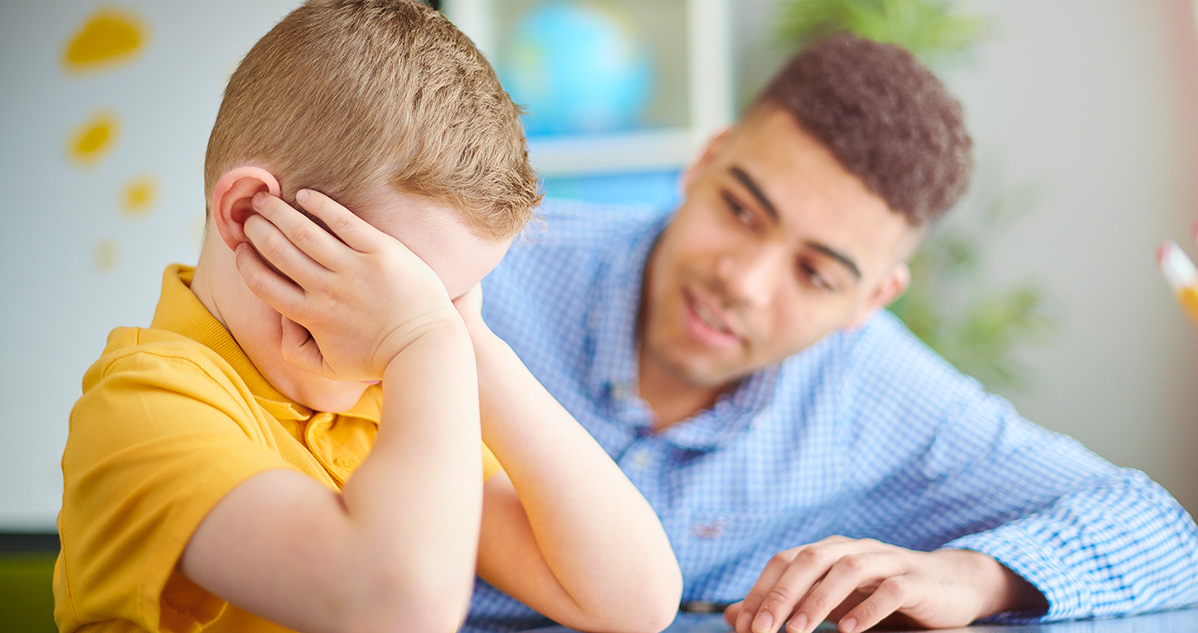 Your guide to certificates in trauma-informed education and teaching
A study by the CDC found that almost two-thirds of children have adverse childhood experiences (ACEs). A wide range of events can be categorized as ACEs, including neglect, experiencing or witnessing abuse, and mental illness and substance abuse in the home. The toxic stress of ACEs can lead to changes in brain development that affect attention, learning, and decision-making, which can have a big impact in the classroom.
Experts believe that when students feel safe, they calm down. This improves behavior and the learning outcomes for all students in a classroom, not just those impacted by trauma. A certificate in trauma-informed education can provide educators with the skills they need to create a safe learning experience that allows all students to thrive in the educational environment and in life.
Is a certificate in trauma-informed teaching & leadership right for you?
Trauma-informed certificate programs benefit a wide range of professions across many types of organizations; and program outcomes meet the demands of many individuals' personal goals as well. If you're already sold, see the list of schools we found that fit the bill. If you want more info, read on.
Does a trauma-informed education program suit your personal and professional interests?
Certificate programs give educators the opportunity to enhance their skills and knowledge through specialized courses. A vast array of certificate programs are available, and this article will help you determine whether trauma-informed education is the best area for you to pursue. Start by considering your personal and professional interests, as well as your career goals.
Does a certificate in trauma education fit your career goals?
Ask yourself the following questions to determine whether you have the passion to thrive in this field:
Do you want to improve educational outcomes for students impacted by trauma?
Are you interested in learning practical strategies that can improve classroom behavior and lead to better relationships between you and your students?
Do you believe that trauma-informed approaches can improve all educational institutions?
Do you want to help make trauma-informed practices an integral part of school environments?
Consider these questions a starting point. After all, your own needs and desires are certainly unique, so there may be more you need to ask yourself. It's crucial to be honest with yourself and to ask probing questions that will help you decide if this is the right educational path for you.
Other types of trauma-informed education programs
If you haven't already planned on it, we recommend comparing certificate programs with trauma education master's programs. Depending on your career and where you are in your career, master's programs can offer greater professional mobility and meet additional learning goals.
How do I choose a trauma-informed certificate program?
So, you know why earning a certificate is good for your career, and you're pretty sure that a certificate in trauma-informed teaching & leadership meshes with your interests and goals. This is a great start, but there's still more to think over.
First off, you need to explore the many program options in trauma-informed teaching & leadership. It is important to note that while a certificate in trauma-informed teaching & leadership may be well suited to teachers (especially those in the middle and high school grades), these programs also could be suitable for people in the corporate world.
Educational program titles — what you need to know
Trauma-informed education certificates are referred to by many names because they have different focuses. As this is a new field of study, many institutions also use unique names. These are some of the more common program titles:
Trauma-Informed Education and Intervention
Trauma-Informed Organization
Trauma and Resilience in Educational Environments
Trauma-Informed Approaches
Trauma-Informed Educational Practices for Children and Adolescents
Trauma-Informed Educator
Trauma-Informed Practice
What kinds of courses are offered in a certificate in trauma-informed programs? What do they teach?
No matter how a trauma-informed education program is titled, it will include both foundation curriculum and hands-on learning that lets you try different strategies for sharing career-related knowledge with students of all abilities.
Sample courses in trauma-focused programs:
Sustaining Trauma-Sensitive Systems — This course examines why trauma-sensitive systems should be developed, as well as creating and sustaining educational systems that are responsive to the needs of children exposed to trauma.
The Impact of Trauma on Brain Architecture and Child Development — Students enrolling in this course will learn how brain structure can be altered by the toxic stress associated with childhood trauma and how these effects can be mitigated by establishing a safe learning environment.
Restorative Discipline — Through this course, educators will learn about school discipline practices from a restorative justice lens. Participants learn how this approach changes the view of student misconduct and how different discipline measures can lead to a trauma-informed environment.
Variations in coursework in trauma-informed teaching & leadership programs
Program curricula will vary depending on the school's goals. Some of the factors of your decision will include cost and time to complete, but you cannot underestimate the importance of the coursework in the program. Make certain to research all the courses in a program you're considering to make sure they are relevant to your goals.
What else makes trauma-informed certificate programs unique?
Self-Care for Educators — Teachers who work with children who have experienced trauma are at risk of developing compassion fatigue, burnout, and other negative consequences. Trauma-informed certificate programs often explore how to identify the signs of these problems and give teachers practical self-care and resilience techniques to effectively manage stress.
Connections with Practitioners — Some institutions teach core subjects about trauma-informed approaches to professionals from a variety of industries, including health care, psychology, and criminal justice. This allows educators to network with and learn from people with different specializations and experiences.
Practical Skills — Certificate programs in trauma-informed education generally have a strong focus on practical applications. Educators learn specific methods and techniques that they can take back to their classroom or school to begin building a trauma-informed organization.
When it comes to finding the right trauma-informed teaching program, options are a very good thing. Do your research and find the best match for your interests and goals.
What jobs are available to people with a certificate in trauma-informed education?
The study and resulting impact of trauma is bringing about new programs and education around the critical need to deliver trauma-informed training. The demand for trained trauma-informed specialists is on the rise, and so too is the demand for professionals who can deliver trauma-informed care and education in school and community settings.
Education – PreK-12 and universities or colleges
Schools at all levels are realizing the benefits of trauma-informed teaching & leadership programs. You may be able to offer career-related education for students at nearly any level.
Secondary School Teacher
Use trauma-informed approaches to establish and enforce rules for behavior in the classroom
Adapt teaching methods and instructional materials to meet the needs and learning styles of each student
Collaborate with other faculty and school administrators to resolve students' behavioral and academic problems
Observe and evaluate students' performance, behavior, and development and communicate progress and problems to parents
Trauma-Informed Schools Coach
Design and facilitate training for educators and administrators to support the implementation of trauma-informed approaches in schools
Provide individual classroom-based coaching to help teachers build supportive relationships with students that promote success and empowerment
Provide expert knowledge and advice to school administrators and districts to ensure policies and procedures reflect trauma-informed approaches to education
Provide ongoing assistance to schools through regular on-site visits and written communication to ensure a sustainable implementation of trauma-informed practices
Student Services Coordinator
Collaborate with outside mental health providers to improve the school's capacity for on-site mental health services delivery
Manage school-wide data collection to track and evaluate the implementation of trauma-informed approaches
Cultivate strong relationships with school stakeholders, including principals, teachers, parents, students, and community members, to better meet the needs of learners
Support teachers and administrators in creating trauma-informed classrooms, improving student engagement, and enhancing the students' voice in the school
Other corporations and businesses
Organizations in other sectors realize the benefit of trauma-informed teaching & leadership training for employees at all levels. They want to boost their existing workforce by providing quality teachers. This is another employment opportunity for those with a teaching background.
Not-For-Profit Community Education Specialist
Develop and implement a strategic community education plan to expand access to resources for underserved schools and community groups
Maintain a calendar of outreach activities, including community events, workshops, and appearances, to educate the community about trauma-informed approaches to education
Represent the organization at networking events, meetings, and outreach events
Facilitate classes and workshops for teachers and community groups on trauma-informed practices in schools
Trauma-Informed Care Coordinator
Create a caring, safe, and healing environment that keeps clients and families engaged during their healing journey
Collaborate with other members of the client's treatment team, including doctors, social workers, and psychologists
Facilitate workshops to educate staff about trauma-informed practices and help support the implementation of a trauma-informed workplace culture
Provide expert advice on issues relating to clients affected by trauma, including coping mechanisms, recovery procedures, and behavioral impacts of trauma
---
Sources
---
Universities With A Certificate in Trauma-Informed Education
Here is a list of universities offering certificate programs in trauma-informed education geared toward professionals working in school and community settings.
Online trauma-informed certificates
Campus-based trauma certificate programs