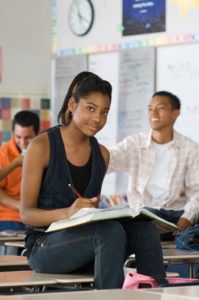 During Black History Month, educators teach about African-American leaders and movements that are not included in the traditional curriculum. As we seek to develop strong critical thinking skills in our students by problematizing and connecting history education with today, this year presents an excellent opportunity for students to consider the role of race in America's history — and perhaps more importantly, its future.
The impact of Michael Brown's death and Ferguson on Black History Month lessons
When clashes between protesters and police erupted in Ferguson, Missouri, educators wondered how to address this issue with students. Due to the high profile of the protests in the wake of Michael Brown's death, students of all ages had questions, not just about the events in Ferguson but the larger national crisis of race and policing in America.
In response, college professor Dr. Marcia Chatelain used social media to help dedicated teachers collaborate online under the hashtag #Fergusonsyllabus. It developed into a set of resources for the complex conversation every teacher needed to have.
The #Fergusonsyllabus created age-appropriate opportunities to address students' stress or confusion as well as larger social issues about societal tensions, their own rights and responsibilities, and citizen engagement in the United States. News coverage of Ferguson and police violence against people of color has died down, but the opportunities for learning from the #Fergusonsyllabus remain.
The #Fergusonsyllabus for elementary and middle school students
For younger students, navigating the difficult space of Ferguson is about calming anxieties and creating opportunities for empowerment. Educator Roseli Ilano suggests students follow in the footsteps of NFL player Benjamin Watson and find words for their emotions, creating images that allow them to express how they are feeling using phrases such as:
"I'm angry because…"
"I'm hopeful because…"
"I'm encouraged because…"
These conversations allow students to access and express their feelings, and can be a good way to contextualize a historical lesson that includes both Ferguson and major historical events leading up to and beyond those protests.
Using the #Fergusonsyllabus in high school and college classes
Older students, particularly those in rhetoric or communication classes, can follow Dr. Chatelain's suggestion to closely examine the word choices and language used to create the perceptions of Ferguson. By turning a keen eye on style, tone and other rhetorical strategies, students could examine grand jury testimony to understand how many voices crafted the narrative. My own students, college freshmen who happened to be discussing definitional arguments at the time, worked with the complexity and weight of various phrases like "racism" and "civil disobedience."
These opportunities seep into conversations about visual literacy as well. By examining images from the Ferguson protests or the hashtag #ifIweregunneddown, students can talk about how images create arguments. These discussions seamlessly unite with the rhetoric discussions on the media's impact on perceptions of injustice, which links directly with historical conversations like the Selma to Montgomery marches. With the recent release of the movie "Selma," the topic will be even more relatable for students.
Connecting Black History Month to literature, political science, criminology and civics
Educators have found numerous ways to connect the #Fergusonsyllabus to classic literary narratives as well as political science, criminology, and civics. Incorporating these lessons into Black History Month activities is incredibly important to create context for students and make it clear to them that the history of African-Americans in the United States runs through images in a history book and into our lives today.
Monica Fuglei is a graduate of the University of Nebraska in Omaha and a current faculty member of Arapahoe Community College in Colorado, where she teaches composition and creative writing.
Learn More: Click to view related resources.