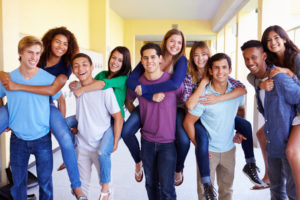 High school is often viewed as a period in which students focus on preparing for higher education rather than as a period of development in and of itself. While college prep is one of the major goals of high school, there are many other ways that students can use their high school experience to develop the skills and knowledge they'll need for whatever future they might pursue.
Strategies for exploring career paths
While changing majors in college is expected as students learn more and are exposed to new opportunities, it is beneficial for them to enter universities with a general idea of what they want to study or pursue as a possible profession. In order to help students to better choose a major or career path they are likely to stay on, they can begin exploring job options during their high school years.
Job shadowing helps students experience a typical day in their chosen profession
Job shadowing programs help teenagers gain a better idea of what the typical day looks like in certain careers. For instance, if a student is interested in going into the medical field, it would be helpful for them to spend time shadowing various personnel at a doctor's office or clinic.
This process can either intensify a student's interest in a field or enable them to pursue other options earlier on. In order to find professionals to shadow, students can ask parents, friend's parents, teachers or post-graduate offices to help them network and find opportunities.
Gaining experience through part-time employment and internships
In addition to (or as a result of) shadowing, students can search for internships or part-time, entry-level jobs in the fields they hope to study and work in. A high school student might be too young to work the front desk at a doctor's office, (and this would probably be during school hours anyway), but they might be able to find a job filing documents, entering data, or doing other low-level tasks after school or during summer break. This will allow them to begin gaining experience in their chosen field at an early age.
Options for maximizing academic development
In addition to career exploration, high school is a time to develop academic skills and create a record of achievements that will help students to get into the college of their choice. Students who are able to handle advanced coursework have a number of options to help them to stand out academically.
AP classes and IB programs
Most parents are familiar with well-known programs such as Advanced Placement (AP) courses or International Baccalaureate (IB) programs, but there are additional ways students can earn college credit while in high school. AP and IB programs are beneficial in that they allow students to show their desire and ability to pursue academically rigorous coursework, and, depending on the AP or IB exam score and the college's regulations, the courses also count as college credit.
AP courses are offered at many public and private high schools, and there are a number of different subjects available for students to take. However, many students have faced difficulty in getting specific universities to accept the AP or IB credits, which can result in frustration if the course must be repeated during their freshman year of college. However, enrolling in these courses illustrates a student's desire to push themselves in academic achievement.
Concurrent enrollment programs
Alternatively, concurrent enrollment programs enable students to receive high school and college credit for the same course, often at no cost. Instead of going to their high school English class, for instance, students either attend an English class at a local community college or take a college-level class that is taught at their high school. Students must pass exams to illustrate they are ready for these courses in order to enroll. Concurrent enrollment classes also help students learn to navigate college coursework.
Growing cultural, athletic and community service experience through extracurricular activities
Finally, if students have an interest in participating in clubs or sports, they can take the opportunity to develop skills in teamwork and leadership. These activities help illustrate a student's cultural, athletic and community involvement to college admission committees. Extracurricular projects also demonstrate their ability to collaborate with adults and peers to achieve a goal or provide a service.
Ultimately, high school is whatever students make of it. It's a time of change where students enjoy rites of passage, but also when they can push themselves to explore numerous interests and potential careers. Students can use high school to begin building their resume and skill set, in order to enter college or become competitive in the job market.
Caitrin Blake has a BA in English and Sociology from the University of Vermont and a master's degree in English literature from the University of Colorado Denver. She teaches composition at Arapahoe Community College.