While PowerPoint remains an industry standard for creating effective and engaging presentations, several new and innovative options enable students and teachers alike to create presentations for in-person and virtual audiences.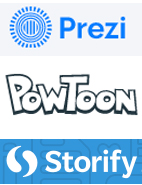 Presentation options used to be much more limited. Either we needed certain software or a specific computer type, or the cost was prohibitive. That's all changed thanks to new web platforms that students and teachers can use to present course material or research projects.
The free versions of these platforms are not as robust as the paid versions, but there's a lot you can do without spending a dime. All of the options outlined below allow us to create interactive presentations that can be viewed on computers, offering students a unique way to culminate and present a research project, and enabling teachers to walk students through difficult content.
Prezi
Prezi is popular in educational and business settings. The creators of this software call it a "blank canvas" as opposed to a slide-based platform, emphasizing Prezi's ability to illustrate relationships between larger and smaller ideas through a variety of technical options.
Users can pick from a variety of ready-made designs or create a template all their own that is visually interesting and engaging. From there, they can zoom in and out to demonstrate relationships using a variety of information sources.
Prezi allows users to get creative with the canvas while integrating the support of images, texts or videos from YouTube. Users also can add voiceovers to make the presentations more accessible online. Visit the website.
PowToon
Attempting to break free from the presentation slide box, the makers of PowToon wanted to create presentation software that was user friendly and captivating to its audience. Users start by selecting from a variety of templates, which come with a number of premade slides. From there, students can select any field to edit or reformat the text as needed. The characters, other images and colors are also customizable, allowing students to make their design suit the precise needs of their presentation.
Users also can create their own templates and use a voiceover to guide the audience through the presentation. The creators advise students to first write a script, then generate the presentation and finally record it. Visit the website.
Storify
Like Prezi and PowToon, Storify provides free and for-pay options, enabling users to determine their needs and what they are willing to pay for. What makes Storify unique is the blog-like format, which is noted for its ability to create content and tell a story rather than just "reblog" or post images and videos.
Recognizing that multimedia sources are often a part of the story, Storify provides many options to bring in news and information from a variety of sources, including tweets, live TV and other social media sources.
Users can add voiceovers to walk the viewer through the story, increasing the interactive nature of this type of presenting. Many students will enjoy this medium because the presentation format resembles a social media timeline. Visit the website.
Online tools take some of the stress out of presentations
Ultimately, a great deal goes into making an effective presentation: audience awareness, knowledge of subject matter, ability to maintain tone and appropriate pacing, as well as many other factors. While none of these options will compensate for a lack of presentation skills entirely, the presentations themselves are engaging, ultimately promoting the audience's interest. Reducing this stressor from their minds will help presenters focus more deeply on their content and delivery, ensuring a more effective speech.
Caitrin Blake has a BA in English and Sociology from the University of Vermont and a master's degree in English literature from the University of Colorado Denver. She teaches composition at Arapahoe Community College.