Much of our anxiety these days comes from the unknown. A recent Harvard Business Review article, "That Discomfort You're Feeling is Grief," highlights the work of grief expert, David Kressler. Kressler speaks "anticipatory grief," where we get caught in a whirlpool of future's what if's.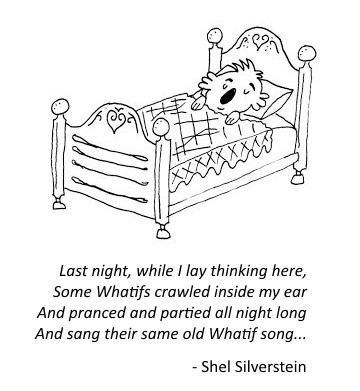 He recommends acknowledging the grief in order to then manage it, since with acceptance comes a better sense of control. Kressler also recommends to "come into the present," in order to recognize that most of what we're anticipating hasn't yet happened in the here and now. Then, he suggests taking action of what is in your control.
Schedule your daily routine
So how can you make such an action plan? One aspect that has been turned upside down for most is our daily routines. The threat of COVID19 has thrown everyone's typical schedules into disarray. As educators, we know first hand the benefit of having a routine. Scheduling provides predictability, a sense of organization, and reassurance. Structure shouldn't be synonymous with the idea of restriction or loss of free will. Rather, structure and routine can provide a sense of focus, help eliminate distractions, and provide consistency, which helps us form habits; and we humans are habitual creatures.
"You'll never change your life until you change something you do daily. The secret of your success is found in your daily routine."

– John C. Maxwell
Yet nothing is normal right now, so show yourself some compassion and give yourself permission to throw your usual day-to-day expectations out the window. As an individual, a professional, and a family member, you need to determine new ones, however temporary. Work with those close to you to set a new schedule at home. One suggestion is to mimic a schedule you're all quite familiar with – the block schedule.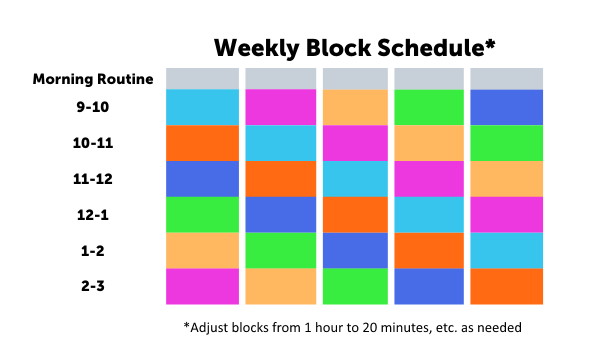 Begin by brainstorming a list of your daily responsibilities. List both personal and professional to-do's. Then assign time allotments to each. Keep to chunks of time, say 30- or 60-minute blocks, and then combine as needed for tasks that require longer spans of attention. Especially in these times, strive to make your schedule a well-rounded one, balancing personal and professional tasks.
Also consider trying to learn something new by setting short-term goals and feeling a sense of achievement. And allow yourself thoughtful mental and physical breaks throughout the day. Once you've mapped out one day, you can shift the main blocks of activities by an hour each day if you want to add a bit of variety to the regularity.
Once you have a schedule set, consider how you can start each day with intention. Steve Jobs and Ben Franklin each asked themselves a question each morning.
"What good shall I do today?" and ended his day by asking, "What good have I done today?"

– Benjamin Franklin
Reattach, detach, repeat
UC Berkeley's Greater Good Science Center recommends starting each day with mental "reattachment" – devoting those minutes at the start of each day to reflecting on and setting work goals. Reattaching can help focus and energize you, which can lead to deeper engagement and productivity. Similarly, consider then similarly disconnecting or "detaching" at the end of a day. And consider how you can maintain these practices not just Monday through Friday, but seven days a week.
Nurture creativity through routine
Now with your new morning routine, daily schedule, and nighttime routine, see if you find a renewed sense of control. Then, armed with your own action plan, turn your attention to your students, and help them and their families create a distance learning schedule by mapping out a well-balanced routine of academic, such as reading, writing, math, social studies, science, languages, and extra-curricular activities, like visual arts, music, exercise, tinkering. Share the Family Tip Sheet to provide simple guidelines such as offering a balanced sense of screen time with online and offline activities.
And don't forget to build in "free choice" time and some "voice and choice" about what will keep your students motivated to learn on their own. It was William James, a forefather of modern psychology, who theorized that imaginations could be unleashed by strict routines. Ask students to design their own schedules with the Student Activity. By inviting families to be part of the process, you'll help to empower your school community during these next few months.
Darri Stephens is a former member of Teach for America and a seasoned educator, with more than 10 years' experience in Los Angeles and New York City public schools. She's a published author, who has also worked for education-focused media companies including Nickelodeon, IMAX, EdSurge, and Discovery Education. With master's degrees in education from both Harvard and Stanford, she's passionate about creative curriculum development that pushes boundaries, especially considering the influx of today's technologies. Her most recent positions as Senior Director of Content at Common Sense and Director of Education at Wonder Workshop underscore her love of instructional design, writing, and the ever-changing edtech world – so much so that she has now founded her own content consulting agency, Darrow Ink.