Why do we need calming strategies?
Overall wellbeing takes into account your mental and physical states. In trying times, our personal sense of balance can easily be thrown off. We all have different ways to calm ourselves. Share the ones that work best for you, but also help kids identify which strategies work best for them.
What can I do now?
Practice each of the following to find the suite of strategies that works best for you and your family. Each family member may require his or her own "toolbox" of techniques, from which they can pull as needed.
1. Breathe
When we get stressed or feel anxious, our heart rate increases and we tend to breathe fast and shallow. Deep breathing helps slow our heart rate and delivers calming oxygen through the body. Sometimes you just need to breathe deeply and with intention. Try counting forwards or backwards can help structure this exercise. Also, putting your hands on your belly can help emphasize the need to engage your diaphragm as you breathe in through your nose and out through your mouth.
If you search online, you will see many breathing techniques framed for children:
"Elephant breathing" is when you stand with feet apart, arms hanging down like an elephant's trunk. As you inhale, you raise your arms high above your head, and then lower as you exhale slowly.
"Bumblebee breathing" is when you breathe in through your nose and then hum (or buzz!) as you breath out through your mouth.
"Bunny breath" is when you breathe in with three short sniffs through the nose followed by one long exhale through your mouth.
2. Express
It always helps to get your feelings out. Find an outlet for such self-expression. Try drawing or painting a picture – artistry doesn't matter. Carve out time each day to write, type, or dictate into a journal; there are many kid-friendly formats off and online. And sometimes, you just gotta sing! Music can be healing, so search for which tunes best puts you most at ease.
3. Do
The activities that help calm you are the ones that engage you mentally and physically. So, in short, get your hands moving as you think! Follow directions, as in cooking, to keep your mind busy as you measure and mix. Use logic, as with puzzles, to stretch your brainpower while you reach for a solution. Try a new hobby by building or tinkering.
4. Exert
Physical exertion can help release stress, especially when you incorporate resistance. It can be as simple as putting hands in pockets, pushing against a wall, or squeezing a stress ball. Try pushing your thumbs and middle fingers together on each hand to center. Another similar exercise is to clasp your hands and invert your arms to rest your chin on them.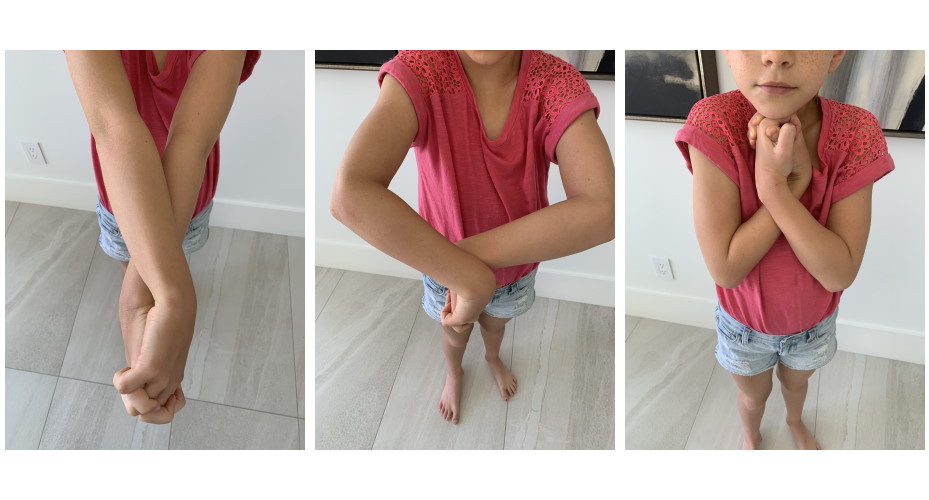 5. Squirrel away!
Have you heard about the concept of a "Calm Corner"? Think of it as a "time in" versus a timeout. Try designating a corner in your home that you and your kids can share as a Calm Corner. When someone in your family needs some quiet time, they can escape for a few minutes of peace by themselves (you could even use a timer). Maybe add a pair of headphones to be used to drown out noise or invite in music. Think about how you can address all the senses to recenter as well: a weighted blanket, a fidget device, a sleep mask, or aromatherapy. Or snuggle up with your favorite book. There is no right way or wrong way to have a time in – the set up is up to you!
Darri Stephens is a former member of Teach for America and a seasoned educator, with more than 10 years' experience in Los Angeles and New York City public schools. She's a published author, who has also worked for education-focused media companies including Nickelodeon, IMAX, EdSurge, and Discovery Education. With master's degrees in education from both Harvard and Stanford, she's passionate about creative curriculum development that pushes boundaries, especially considering the influx of today's technologies. Her most recent positions as Senior Director of Content at Common Sense and Director of Education at Wonder Workshop underscore her love of instructional design, writing, and the ever-changing edtech world – so much so that she has now founded her own content consulting agency, Darrow Ink.