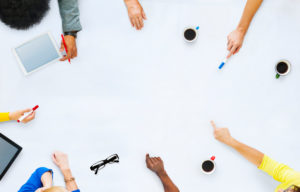 In my last piece, I discussed why content curation was an essential skill and discussed ways teachers could use Pinterest to curate content for students. Modeling this skill for students is important, but giving them the knowledge to do it themselves is crucial.
The ability to sort through many sources for high-quality information was always the goal of library time and research notecards, but today's students need tech-based content curation skills. Many of the best and most popular programs for this are widely available for free online.
Students can learn to manage information with Pinterest
Pinterest can be an excellent place to begin teaching students to do their own content curation, though the site's minimum age requirement of 13 can interfere with younger students' ability to use this technology. For students over 13, though, teachers can create a group board for specific classes, units of study, or individual projects. Through collaborative effort, students can add to and expand information for each unit based on their individual needs rather than a predesigned curriculum.
In addition to actively engaging students in learning, this method also ensures that specific student needs are being addressed. One final benefit: It can be far more interesting for the teacher. While every class must cover certain material to meet curriculum standards, the personalities and needs of individual students can and will drive the information they filter in radically different directions.
Because group members have a place to park information and house discussions on those links, Pinterest boards can also aid in group projects. Pinterest's search feature yields powerful results, and the act of filtering these links gives students yet another way to understand why evaluation is an important part of their information-gathering process.
Diigo: the No. 1 content curation tool for educators
According to a survey on The Edublogger, Pinterest ranks fourth in content curation tools used by instructors. Ranked first was Diigo, an information organizing and sharing tool that provides essential annotation options many other curation sites do not.
After students have installed Diigo's toolbar, they have the capability to store personal or shared bookmarks and add highlights and sticky notes to them. This ability to create shareable commentary on the websites and articles they've collected encourages the "mindful consumption" that Beth Kanter, a voice for social media innovation, identifies as an essential piece of content curation.
Using Diigo also helps students practice difficult critical thinking tasks of evaluation and synthesis in a way that is social and collaborative. Students are more likely to read websites that include real-time, conversational marginalia from their classmates. Just as students can collectively contribute to the knowledge base using Pinterest, classes can collect bookmark lists together with the added benefit of communicating within the text itself.
Webmixes: creating embeddable charts of shared information
While it ranks lower on The Edublogger's use survey, Symbaloo is another excellent visual-based tool for content curation. The education side of their popular bookmarking website, Symbaloo.edu, allows users to create a webmix, which is a visual chart of different bookmarked websites and can be a quick (and colorful!) way to share content.
Classroom webmixes can be organized topically and easily embedded into classroom websites or blogs, allowing for easy access. Students can also use their webmix to create a personal learning environment. While constant Web access can be distracting, these student-designed webmixes can help students focus on the sites they should be accessing with regularity. Students can easily search for related webmixes while sharing their own with their teacher or each other.
The social learning environment of TheHubEdu shelves
Lesser known,  but very visually interesting, is a platform called TheHubEdu. This site strives to create social learning environments where students can "organize, share, and discuss class resources both within and outside of classroom walls." The resource allows instructors and students to create specifically organized "shelves." Teachers can have students collect relevant material during a unit, post it to their shelf, and then explain how and why it's relevant to their in-class learning.
By following classmates' shelves, students can create a socialized network of learning. When students follow their teacher or each other, they receive updates when resources are added to their subscription shelves and can comment on or interact with that information. This can also be an excellent way to connect with other classrooms that are studying similar material elsewhere in the country, expanding access to information and ideas while reinforcing the idea that content curation and learning happens everywhere, not just within the classroom's four walls.
Find the platform that best fits your classroom
Teachers and students don't need to be comfortable using all of these platforms. However, using at least one can deeply expand the content available for any given subject or unit and provide opportunities for flipping the classroom as well.
Additionally, using some sort of content curation program on a regular basis encourages the routine practice of information management, evaluation, and seeing connections between what happens within and without the classroom. Finally, in the age of 1:1 technology or BYOD days, it allows teachers to use the Internet and apps in a way that reinforces, rather than distracts from, learning.
Monica Fuglei is a graduate of the University of Nebraska in Omaha and a current faculty member of Arapahoe Community College in Colorado, where she teaches composition and creative writing.