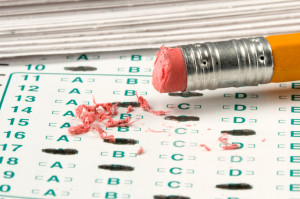 It's standardized testing time, and while students at every level are taking some sort of exam, high school juniors and seniors are anxiously taking, retaking, or awaiting their results from the ACT or SAT. While these tests aren't usually required for graduation, they are often necessary for college admissions.
Historically, SAT and ACT scores have been thought to predict a student's future college achievement. Thus, students with the highest scores are more likely to earn admittance to prestigious schools. But recently, critics and researchers have called this relationship into question and are wondering what value lies in ACT or SAT scores.
Are SAT and ACT methodologies outdated?
Critics of the ACT and SAT point to their archaic vocabulary in the verbal section or the focus on getting a specific answer in the math section as signs of the tests' outdated methodology. While such questioning is expected from critics, hearing the president of the College Board criticize the value of the current SAT preparation training and scoring should be disconcerting.
In an interview discussing the SAT redesign, David Coleman admits that the test itself needs to change from one of "picking the right answer" to a test that measures a student's solid understanding of material and evidences critical thinking. The SAT and ACT both intend to change their tests in the near future to modernize and account for global changes in educational philosophy and testing.
Do the ACT and SAT fairly predict college success?
Several critics maintain that changing the test won't eliminate the fact that these standardized tests do not accurately predict a student's future performance. Some experts have criticized the idea that ACT or SAT scores can function as indicators of higher education success, pointing out that the costs of testing and test preparation create an unfair burden for less wealthy students.
Test-optional college applications are on the rise
Recent research by William Hiss, former dean of admissions at Bates College, supports the idea that ACT or SAT test performance is a "negligible" predictor of overall student performance. The United States is home to increasing numbers of test-optional colleges, offering a larger dataset by which to establish the predictive value of ACT or SAT testing.
This data has unearthed the importance of overall grade point average through high school rather than performance on individual standardized tests. Hiss maintains that student discipline, persistence, and critical thinking abilities are better indicators of long-term student success than the standardized bubble test. While the SAT and ACT were once intended to help non-traditional students, Hiss believes that making standardized testing optional is now the best chance for equality.
While the SAT and ACT go through growing pains, the increasing number of schools open to a test-optional application process is a sign that the creators of these tests must modify them in a way that is predictive of overall student success. As a result, students will trend away from taking the SAT or ACT and pour their energy, anxiety, and effort into other, more effective means of establishing their value to different colleges.
Monica Fuglei is a graduate of the University of Nebraska in Omaha and a current adjunct faculty member of Arapahoe Community College in Colorado, where she teaches composition and creative writing.