Current Events
Colorado Voters Recall School Board Members, Oust Incumbents in Midterm Elections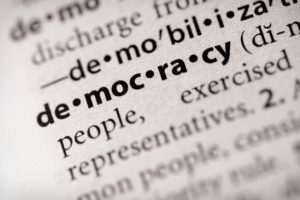 Election Day, as I often tell my students, is like the Super Bowl for me. The commercials aren't as exciting, but watching the returns is an interesting process, particularly when local elections have consequences that matter to us. Last Tuesday's results, including several Colorado school board races, were no exception.
Two Colorado school boards served as a testing ground for conservative education reform
Last year, I wrote about controversial school board moves in two Colorado districts, Douglas County (often referred to as DougCo) and Jefferson County (shortened to JeffCo). Both boards had, in the past four years, elected members who used their positions as a testing ground for conservative education reform. 
A significant amount of out-of-state campaign funding went to reform-minded candidates in both districts. Once elected, their proposals made national headlines, especially JeffCo's intent to review the AP United States History curriculum and DougCo's performance-based teacher pay system.

Supporters felt that both boards were moving their districts in the right direction and that any pushback to their actions was being driven by union interests. They also argued that after years of more liberal-leaning policies, the school boards needed change to improve.
Problematic school board policies ignited protest
However, a significant number of parents, students, and teachers felt that these district changes were not positive. Teacher sick-outs and student walk-outs lowered confidence in the JeffCo school board, and accusations that the board was behaving inappropriately by holding private meetings further reduced faith in the board's conservative majority.
One Douglas County school board action — the creation of a district-level school voucher program — was found unconstitutional last summer by the Colorado State Supreme Court. Dropping test scores in DougCo caused parental concern. Higher-than-usual teacher turnover in both districts was troubling as well.
Controversial school board members ousted by voters in 2015
Ultimately, opponents of conservative education reform looked to the 2015 election to unseat candidates in the Douglas and Jefferson County school districts. Last Tuesday, three Douglas County school board incumbents ran for reelection. In Jefferson County, voters had to elect two new candidates and decide whether to recall school board members Ken Witt, Julie Williams, and John Newkirk.
JeffCo voters recalled Williams, Witt and Newkirk by a 64 to 36 percent margin. In Douglas Country, the incumbent candidates lost their seats on the school board.
Post-election, new school boards must focus on serving students and their communities
Soon, the Douglas County school board will swear in three new members. Jefferson County's school board will be in the unusual position of starting from scratch with all new members. There will certainly be adjustment for each as they find their public voice and readdress district-policy goals. Board members in both counties must now turn their attention to repairing their relationship with parents, educators, students and others in their communities.
As JeffCo candidate-elect Susan Harmon told Business Insider, "This is the largest rift I've ever seen in the district." This is true for the new school board members in both counties. Board members in both of these districts will not only need to learn to work together, but must work with teachers, students, and parents to ensure that their policies focus on improved student learning.

Monica Fuglei is a graduate of the University of Nebraska in Omaha and a current faculty member of Arapahoe Community College in Colorado, where she teaches composition and creative writing.