DIRECTIONS
Have you ever wished upon a star?
Starlight, star bright,
First star I see tonight…
Sometimes you might wish for things to happen, but you can help make them happen by taking steps forward towards your goals. Sometimes that means you have to challenge yourself to get out of your comfort zone.
Part 1: In the rings, commit to steps forward that you want to take tomorrow, in a month, in a year, and in five years! What do you want to try? What do you want to accomplish? Where do you want to be? Sky's the limit!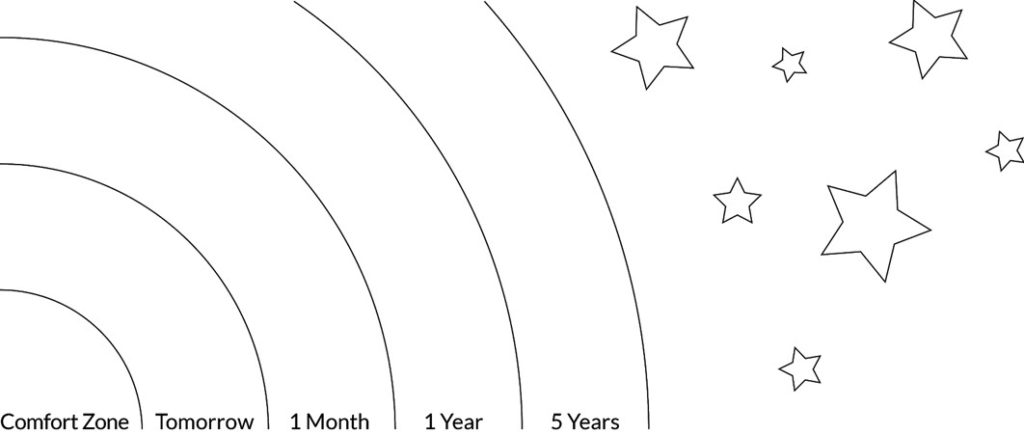 Part 2: Now, use painters tape or sidewalk chalk to make these rings on the ground outside (you can make the whole bullseye). Stand in the center, and as you take a step out of your comfort zone and into the first ring, ask yourself, "What do I need to do to reach this step?" Say your answer out loud. Then take your second step, and repeat. You may want to invite a friend or family member to join you in this activity to reflect upon their goals too.
Download your own version of the materials!
Darri Stephens is a former member of Teach for America and a seasoned educator, with more than 10 years' experience in Los Angeles and New York City public schools. She's a published author, who has also worked for education-focused media companies including Nickelodeon, IMAX, EdSurge, and Discovery Education. With master's degrees in education from both Harvard and Stanford, she's passionate about creative curriculum development that pushes boundaries, especially considering the influx of today's technologies. Her most recent positions as Senior Director of Content at Common Sense and Director of Education at Wonder Workshop underscore her love of instructional design, writing, and the ever-changing edtech world – so much so that she has now founded her own content consulting agency, Darrow Ink.