In life, I often find myself turning to popular media, literature, or movies for a balance of inspiration and reassurance. Whenever my sister or I am having a bad day, we'll mutter to each other, "Some days are like that … even in Australia." (Can you name that children's book by award-winning author, Judith Viorst?) However, sometimes those ehh days can add up, and it all can become a bit overwhelming. And during these days, in particular, it is easy to feel that we're caught in a rut, trapped on a hamster wheel, experiencing groundhog's day over and over and over again.
"Whew! Watch out for that first step. It's a doozy!" 

– Ned Ryerson, Groundhog's Day
But one of life's biggest lessons is mastering the art of moving forward. It's one of life's greatest oxymorons, for as simple as the behavior is – it is difficult. For some reason, it can be tough to take a step outside of one's comfort zone, no matter the direction.
"I always get to where I am going by walking away from where I have been."

– Winne the Pooh
Regardless of age, one's comfort zone is neither a good thing nor a bad thing – it's a neutral space. It is our own definition of that natural intersection – that sweet spot – of security, plus low anxiety, plus happiness. And mediocracy can suit us all from time to time. There's little stress and little risk. Yet, just outside one's comfort zone is the area of "optimal anxiety;" or relative anxiety, which is the state that poses some challenges.
Feelings of "optimal anxiety" and "productive discomfort"
Optimal anxiety actually leads to more productivity and better performance. Author Daniel Pink speaks of it as a place of "productive discomfort," and he gives the analogy of Goldilocks: too little challenge is too comforting; while too much challenge can backfire and cause a negative result, often that of disengagement. But as we continue to develop our own sense of self-awareness and self-regulation, we can begin to push ourselves and our students in a healthy way to try the new, embrace the different, and take a calculated risk. For us, it can be as small as ordering a different dish off a new menu or as large as picking up and moving to a new city. For students, it can be as small as picking up that next-level reading book or as big as changing schools.
"You have brains in your head. You have feet in your shoes.
You can steer yourself any direction you choose.
You're on your own. And you know what you know.
And YOU are the one who'll decide where to go … "

– Dr. Seuss, Oh, the Places You'll Go!
Life is designed with dynamic twists and turns. I've always believed that you can't have the highs without the lows. We can't let indecision or fear paralyze us. There is no "right time" to move forward. It doesn't depend on a mood or particular circumstances. You just want to be well-poised to take advantage of an opportunity when it arises. I still get the chills watching Robin Williams wax poetic about pushing up daisies in Dead Poets Society's famous carpe diem scene:
Bottom line: We can't wallow in the land of regrets – it's too often synonymous with the past. Life takes grit and hard work, and mistakes are the hallmark of trying and learning. We all need to reach beyond our own horizons, challenge our confirmation bias, and problem-solve through different lenses. In doing so, we will strengthen our sense of self-belief and self-confidence, and own the notion of being a lifelong learner. And we must encourage our students to adopt the mindset of celebrating how to fail forward.
"You must never feel badly about making mistakes … as long as you take the trouble to learn from them. For you often learn more by being wrong for the right reasons than you do by being right for the wrong reasons."

– Norton Juster,The Phantom Tollbooth
As educators, we are in the spotlight to help guide students through these difficult times of COVID-19. We need to model moving forward even in the shadow of doubt and uncertainty. By being ever vigilant about our own well-being, we can, in turn, help others. This graphic illustrates the mental shift to propel us forward figuratively and literally, but all with the grace and strength of resilience: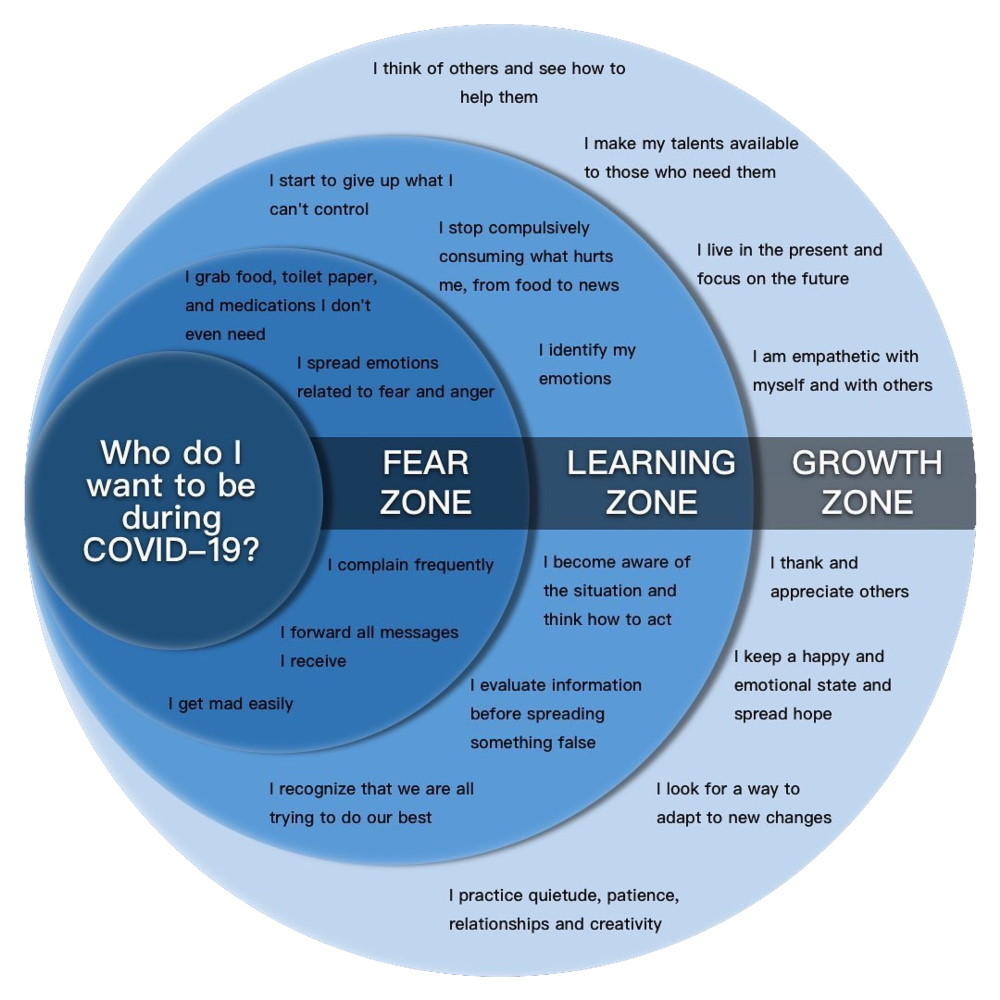 Moving forward needs to be a habit of practice. It is the last topic in our COVID-19 Toolkit for a reason, as it relies on and is a culmination of owning the nine other themes we addressed:
So now … go ahead … take a deep breath and MOVE FORWARD.
Darri Stephens is a former member of Teach for America and a seasoned educator, with more than 10 years' experience in Los Angeles and New York City public schools. She's a published author, who has also worked for education-focused media companies including Nickelodeon, IMAX, EdSurge, and Discovery Education. With master's degrees in education from both Harvard and Stanford, she's passionate about creative curriculum development that pushes boundaries, especially considering the influx of today's technologies. Her most recent positions as Senior Director of Content at Common Sense and Director of Education at Wonder Workshop underscore her love of instructional design, writing, and the ever-changing edtech world – so much so that she has now founded her own content consulting agency, Darrow Ink.